Problems accessing the application? Find out what's wrong with Gmail today 2022 and how to fix it as soon as possible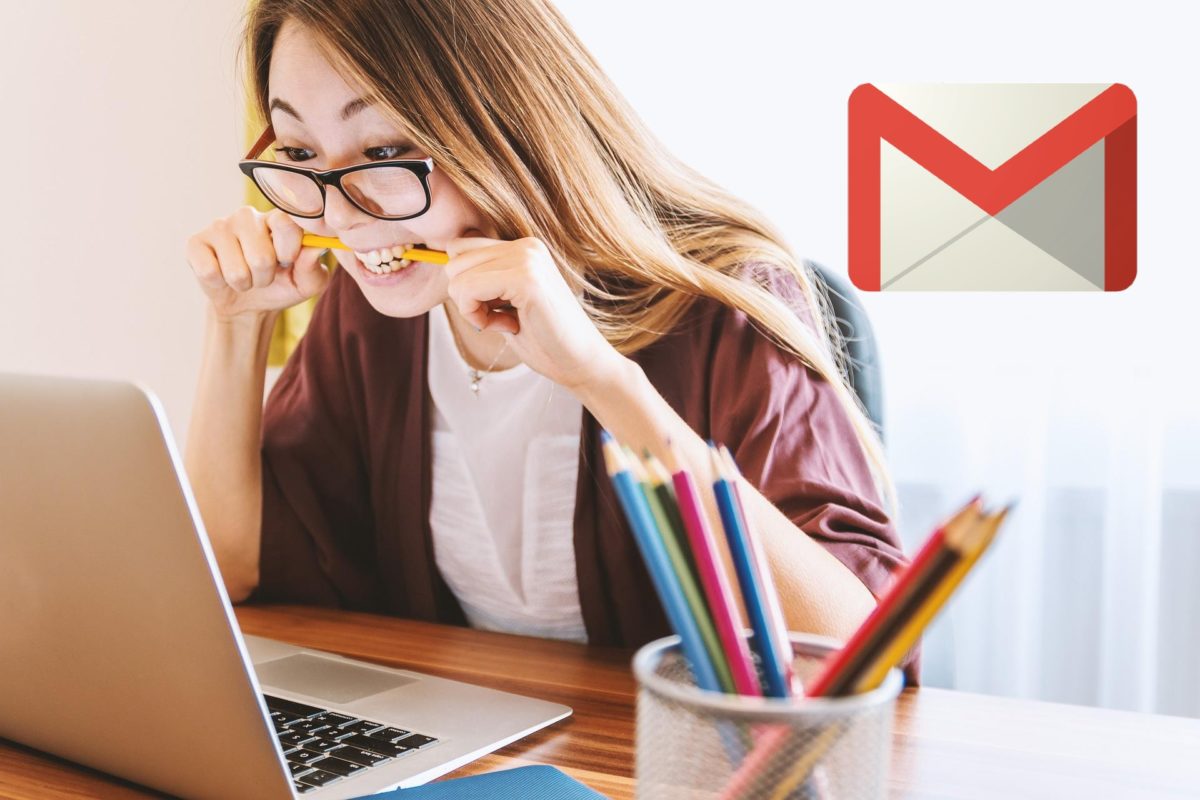 The most used email application is not infallible, far from it, that's why this article will collect some problems that explain what's wrong with Gmail today 2022 . Synchronization problems, emails that fall into the wrong folders or, simply, a service outage usually explain why Gmail does not work correctly most of the time.
PROBLEMS WITH GMAIL: I DO NOT RECEIVE THE EMAILS
Of all the inconveniences that can arise, this is one of the biggest problems with Gmail: I do not receive emails . The frustration that comes from knowing that the application is not working as it should can be combated by following some of these steps.
The first steps to follow are to check the stability of the connection, either via Wi-Fi or via data. Sometimes we tend to think that applications fail when we are facing a connection problem pure and simple. In case this is already checked, storage is often another source of headaches, especially if we use a professional account. Delete several old emails to ensure that the emails have space when they arrive in your inbox .

Another technique you can use is to clear the app's cache , as it can sometimes affect the app's performance. On your phone, go to 'Settings', 'Applications and notifications', choose Gmail and clear the cache, this will also free up some space that can be useful in the future.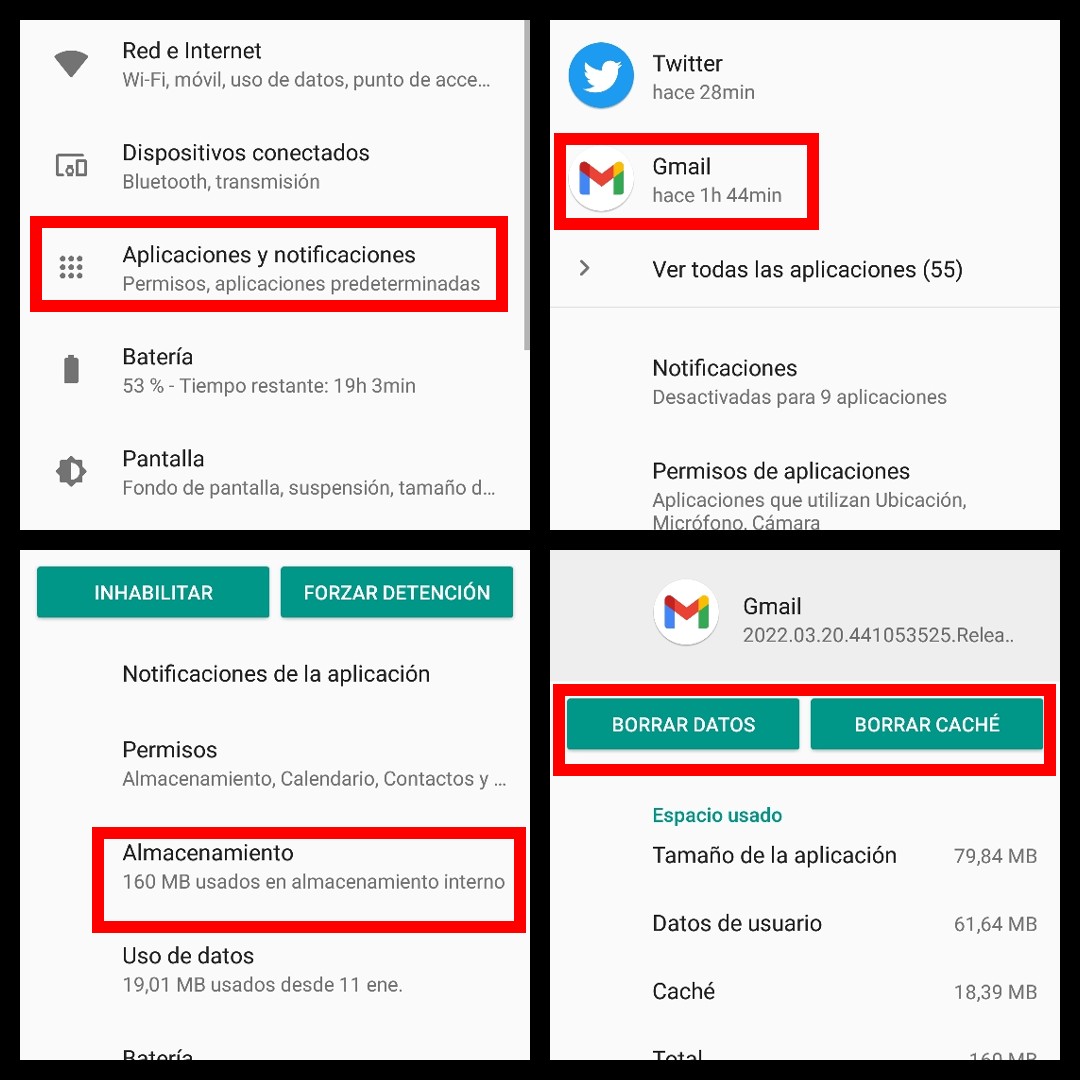 Gmail 's automatic filters can also work against us and end up classifying an email that could be very important as spam . From time to time it is advisable to look at the spam folder to check that something useful has not arrived there , and in that case we will have to mark that email and indicate that it is not spam so that it does not happen again.
GMAIL NEWS TODAY: IS GMAIL DOWN?
The first impulse when we detect that the application is not working is to look for news from Gmail today: is Gmail down? In general, unless it is a generalized crash worldwide, these crashes do not appear in the news, but there are specialized web pages such as Downdetector that will allow us to know if there are more users reporting failures in its operation.
Another good alternative is to enter Twitter and type in the search box 'Gmail'. Elon Musk's social network is characterized by being the place to consult users of all kinds of applications when they fail: from Facebook to TikTok, and Gmail was not going to be less. These two sources of information, Downdetector and Twitter, will be your best allies .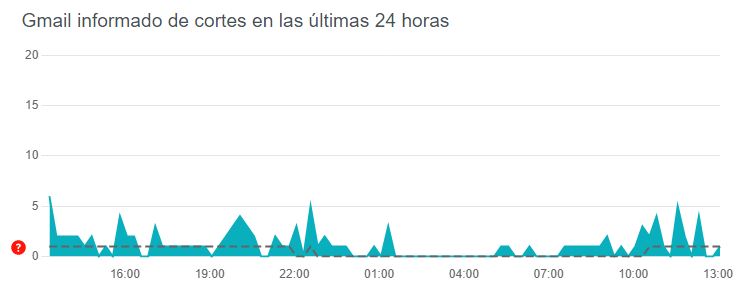 GMAIL DOESN'T WORK FOR ME ON MOBILE
There is nothing more annoying than verifying that Gmail does not work on my mobile . It is one of the most used applications on a day-to-day basis and any error can greatly affect our day, especially if we do not have a computer at hand to access the web version.
When this happens, in addition to following the previous steps in order to check the stability of the connection and clean the cache and/or the inbox to save space, it is interesting to check if we have the latest version installed . If we don't have it, it's a good idea to download the latest Gmail update as soon as possible, as older versions are likely to have bugs. Another alternative, more effective than it seems at first glance, is to restart the mobile, a step that usually fixes many problems without the need to dive into uninstalls or the phone's Settings menu.