In favor of aesthetics, the imposition of Instagram to allow only a square format for photos and videos, has generated many inconveniences for conventional users. You often hear things like "I can't upload a photo to instagram", "how to upload a vertical photo" or "how to upload a photo without cropping it".
According to what they say on the Instagram blog, statistics indicate that one in five photos that are uploaded to the system are not square and always have a black or white border on one side. This must have helped a little to make things a little more flexible: in addition to the square format, you can now upload photos and videos in horizontal or vertical, landscape or portrait, portrait or landscape , or whatever you want to call it.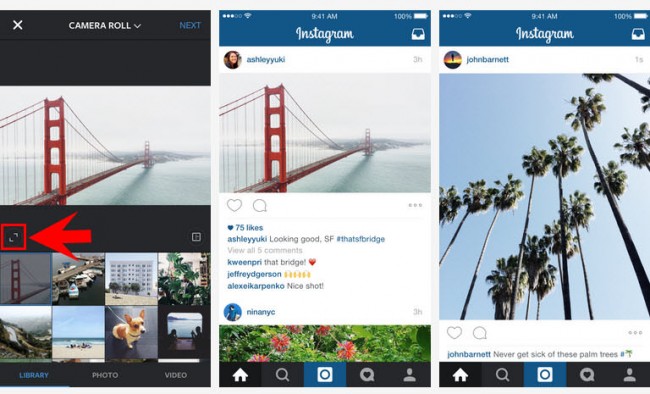 In practice, this means that you can now upload a photo or video without being forced to crop to a square size, as was the previous requirement.
When selecting a photo from the Gallery, version 7.5 of Instagram for Android and iOS (already available on Google Play and the App Store respectively), now has an icon that allows you to choose a horizontal or square, or vertical or square format.
Of course, you should not expect too much from this new possibility because there is a limit: the ratio of the photo or video must be in the range of 1.91: 1 and 4: 5. If the image exceeds these proportions you will have to choose the portion of the image that you want to show and forget about the rest.
This version 7.5 of Instagram also brings two more novelties: now all the available filters will be applicable to both photos and videos (before the filters for one thing and another were separated), and it will also be possible to adjust the intensity of the filters in the videos .
Thus Instagram ends its "square mind", giving photographers more freedom and avoiding that users have to break their heads finding a way to crop their photos, looking for software or using tricks.
How to use Instagram without the Internet
The 3 best APPS to erase imperfections in your photos, body or face
Download Retrica Camera: Live Photo Editor for Android
Receive updates: SUBSCRIBE by email and join 10,000+ readers. Follow this blog on Facebook and Twitter.