My problem is that I have to erase text and back down time after time as I type. I wish I had the ability to write brilliantly  at once .
I'm glad Windows is imperfect proof: it allows me to easily undo and redo all the changes I make to the text constantly, with a couple of keyboard shortcuts: I just have to press Ctrl + Z keys to undo a change and Ctrl + And to remake it.
Android does not come with something like this, but you can have something similar to those Windows keyboard shortcuts on your mobile: the answer is  Inputting + «Universal Undo Redo».  The requirement is that your phone must have the Android 5 system or a higher version.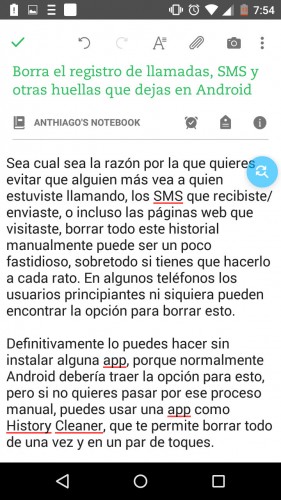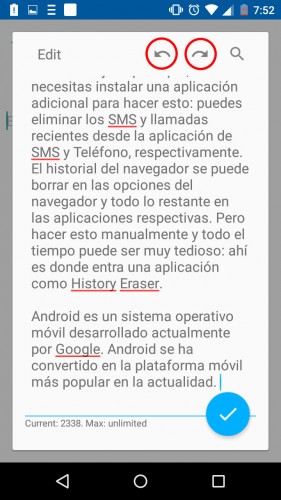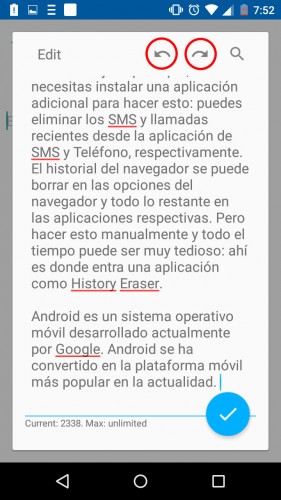 This application offers you these options of Undo and Redo text through a small bubble that appears at the edge of the screen, in any application where you are writing (except in web view: for example, within the Google Chrome browser). This bubble appears automatically when you start typing and disappears the same way when you finish.
Tapping on it will display a floating window where you can undo or redo the changes in the text. You also have the Search and Replace text option: yes, it basically allows you to replace one word or phrase with another, no matter how many times it is repeated within a text. Once you make the changes you need, save them and continue writing in the application that you were.
Everything said is available in the free version of Inputting +, but the paid version (which can be purchased within the application) offers the benefit of integrating Inputting + with the ClipStack multiple clipboard.
Inputting + is the only application that offers something similar to Windows Ctrl + Z and Ctrl + Y on Android. Something is better than nothing, true, but the application should definitely improve. It is not optimal that an alternate window is opened to make the desired changes to the text. These options should appear immediately when you tap on the Inputting + bubble. Hopefully this issue will be improved when the final version of the application comes out (it is currently in testing or "beta")
Note : To use the application you must give it permission to read all the text you write on the screen (Settings> Accessibility), permission that will be requested after opening it. This can be alarming, but you must be calm because your data is not going anywhere: this is a local application, that is, it does not connect to the internet. The application also does not read password fields (default setting) and even allows you to disable it in certain applications. Just as a precaution, you can disable it in the Play Store and other applications where you have the need to write sensitive data.
Download : Inputting + (Google Play, Free, Android 5 or higher)
How to use the keyboard and mouse of your PC on Android
5 APPS to see and control the PC from the cell phone
5 APPS to control Android from PC
Receive updates: SUBSCRIBE by email and join 10,000+ readers. Follow this blog on Facebook and Twitter.