The main reason to add an Android device as one more hard drive of the PC ( Mount ) is to transfer files between the mobile and the PC easily. This can be done simply by connecting the phone to the PC with the USB cable, but here we will indicate how to do it wirelessly or without cables.
To mount the Android cell phone to the PC and manage its storage as another hard disk without cables, the NetDrive software pack ( netdrive.net ) will be used, which consists of the AirDrive mobile application (AirDrive is on Google Play) and the Windows NetDrive PC program (available at netdrive.net ).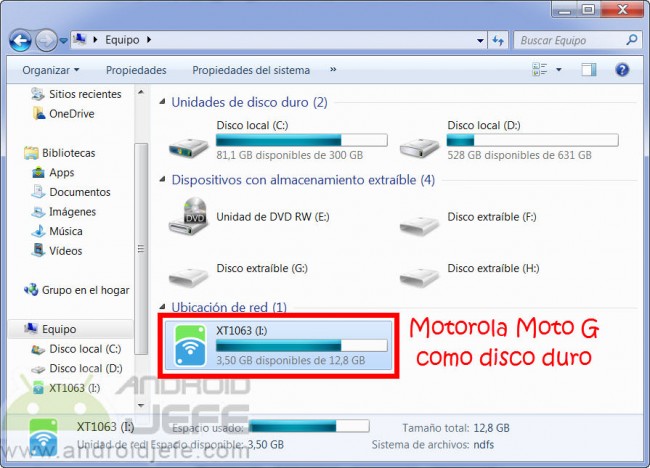 The process is the following:
Step 1 . Install NetDrive in Windows and open the program.
Step 2 . Install AirDrive on Android. Open and choose a name for the device. This will be the name under which it will appear on the PC.
Step 3 . After doing the above, the name of the PC should automatically appear in AirDrive. Establish the connection by pressing the Allow button.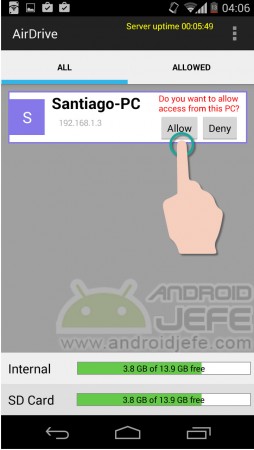 Step 4 . The device will automatically appear in Windows Explorer as another hard disk and you can start managing its storage (copy files from the phone to the PC and vice versa).
It should be noted that the mobile device and the PC must be under the same Wifi network.
From the PC you can see the music, photos, videos and internal memory of the phone. To view the files and folders in the phone's root directory, check the Show [device] folder box in AirDrive settings.
PC software apparently has a problem loading new or recent device files and image thumbnails.
NetDrive also allows Google Drive, Dropbox, OneDrive and Box cloud storage services to be mounted as hard drives. After the month of use, the user can only mount an Android device or one of these services at a time. To overcome this limitation, you must purchase the paid version of NetDrive.
AirDroid
is a great alternative. Allows you to transfer files between Android and PC via Wifi. File management is done from the PC browser or from your desktop client available at airdroid.com . It's free. It has nothing to do with the AirDrive application cited here, which curiously has a low rating on Google Play at the time of writing, despite working relatively well.
How to PASS files from cell phone to PC (and vice versa)
5 APPS to control Android from PC
How to use the keyboard and mouse of your PC on Android
Receive updates: SUBSCRIBE by email and join 10,000+ readers. Follow this blog on Facebook and Twitter.