The WhatsApp Messenger: problems, solutions, tips and tricks at a glance
The large WhatsApp Guide with numerous tricks, tips and problems and solutions for Android smartphones and the iPhone at a glance. Almost standard in Germany is WhatsApp Messenger, which Facebook bought in 2014 for around $ 19 billion. We had already presented you with alternatives to WhatsApp .
Now we want to show you all the tricks in this article, as well as discuss problems and solutions for the popular messenger. It is about both the Android and iOS version. Among the tricks you will find, among other things, how you can delete the chat history, how you create a backup and much more.
If you still have problems with WhatsApp or questions, just get in touch in the comments. We will then try to help you.
Tricks and tips for WhatsApp
First we come to the tricks and tips around WhatsApp. Even if some functions can be found quickly, there are some options that are not immediately apparent. In the second section we go into problems and errors and their solutions, so that WhatsApp works again without problems.
How to delete a chat in WhatsApp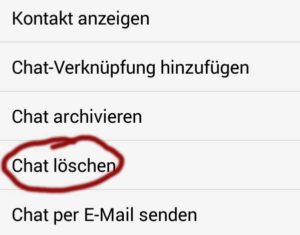 After a long press on a profile picture, the chat history in WhatsApp can be deleted
To delete a single WhatsApp chat, you have to do the following:
Go to "Chats". You can do this by using the back button on your smartphone (Android only) or by clicking on the arrow at the top left until it no longer goes back.
You will see an overview of your chats with other people. Press and hold on the person whose chat history you want to delete. Now a new menu is created. Here you will find the point "delete chat"
It should be mentioned that you are only removing the chat history from your smartphone. Your contact will continue to see the messages from you. However, you cannot delete individual messages from a chat.
However, if you want to delete all chat histories, proceed as follows:
Go to the WhatsApp settings (top right three dots (Android / iOS) or via the menu button on your smartphone (Android only))
There click on "Chat Settings"
At the bottom you will find the point "Delete all chats". This will remove all chats in your WhatsApp account.
Create and restore a backup of the chat history
Anyone who has received a new smartphone (iPhone / Android) will certainly want to transfer their chat history. However, this is not as easy as possible. A transfer from iPhone to Android and vice versa is also not possible.
However, if you switch from Android to Android, you can do this easily. The only requirement: the phone number must be the same for the old and the new one, otherwise the backup will not be imported. Here's how you do it in WhatsApp on Android :
Open WhatsApp settings
Open chat settings and click on "Backup chat history"
Load a file manager like ASTRO File Manager or file manager onto your smartphone
With this you search for the following file: "msgstore.db.crypt7" or "msgstore.db.crypt8" under / sdcard / WhatsApp / Databases
You either send this file to yourself by email or copy it via PC (connect via USB)
Install WhatsApp on the new device and then uninstall it. Now copy the file into the same directory (steps 4 and 5) and then reinstall WhatsApp
Now WhatsApp asks you whether the backup should be restored. Confirm this and all chats are copied over.
With the iPhone under iOS, the whole thing works via the iCloud. To do this, you need to activate iCloud Drive in the iOS settings. If a backup is now created, it is immediately loaded into the cloud. When you reinstall WhatsApp, you will be asked if the backup should be restored.
Change background of Messenger
If the standard background in WhatsApp has become too boring for chat, you can also choose a different background. Unfortunately, the customization option only applies to the background. Unfortunately, colors cannot be adjusted.
Customize the WhatsApp Messenger background
This is how it works:
Go to the WhatsApp settings and select Chat settings there
Tap the Background menu item there. Now a menu opens, from which program the picture should be selected. Select "WhatsApp" and the WhatsApp Wallpaper app should be downloaded. However, if you want to select an image from your device, use "Android System".
Here you can download the WhatsApp wallpaper app with numerous wallpapers for free from the Google Play Store. However, the application was last updated in 2011.
Synchronize WhatsApp profile pictures with the contacts
Now we come to how you can synchronize the WhatsApp profile pictures with the contacts. Often your friends or contacts have saved a profile picture in WhatsApp. You can synchronize this with your contacts on Android, so that the pictures can also be seen there when they call you. The whole thing works on any Android smartphone (Samsung Galaxy, HTC One, Sony Xperia and Co).
To do this, you must download the "Sync Contact Photos" app, which is available free of charge from the Google Play Store. In a few steps you can now synchronize the contacts with the WhatsApp picture.This could be of interest to you Our smartphone recommendations for Christmas 2019 – Find out more!ADVERTISING
Start a group chat
If you want to coordinate with several people, the group chat is ideal, but how do I create one? This is easily solved and works as follows with WhatsApp:
Go to the chat overview. Click on the menu icon in the top right and then select "New Group"
Now create a group name and optionally a group picture can also be defined
The next step is to add the people you want to join the group
If messages are now written in this group, all group participants receive information
Of course, group members can also unsubscribe from the group.
How to update WhatsApp to the latest version
Finally, a guide on how to bring WhatsApp up to date. For iOS, click on the App Store. At the bottom right you will find "Updates". You can use this to update WhatsApp (if an update is available).
On Android, click on the Google Play Store, then on the icon with the dashes in the top left and there then "My Apps". Here you can update WhatsApp.
WhatsApp problems and solutions: Install, storage and more for Android and iPhone
Next, let's go over some WhatsApp issues that may show up over time. Sometimes the error message comes that the memory is full, other times the messages do not arrive at the friend. You will also find a way to install WhatsApp without the Google Play Store on your Android smartphone.
memory is full
A common problem, especially with Android, can be that the following error message appears "Memory is full". In this case, it may or may not be due to your own smartphone. Starting with Android 4, there are often problems with the phone memory or device memory, because apps can no longer be easily moved to the SD card.
But what exactly can the problem be and how do I know if my Android memory is really full?
If WhatsApp shows that the memory is full, take a look at the space usage. To do this, go to the Android settings and there on Apps (for iOS under Settings -> General -> Find it). There you will see your memory graphically below, on iOS you can see how much memory is still available.
If there is really little space left, you should remove apps that waste a lot of space. Here we describe how to remove apps on Android ! And here the whole thing under iOS !
If you find that there is actually still enough space available, it may also have been due to the WhatsApp server, which initially does not let the file through when it is downloaded. In this case, you should simply try again later. Perhaps the error will go away on its own. Only in an emergency should you uninstall and reinstall WhatsApp from your smartphone.
My WhatsApp messages are not arriving
Another common problem: Messages sent via WhatsApp simply do not reach the recipient. Only in the rarest of cases is it actually WhatsApp, in most cases the Internet connection is to blame if WhatsApp messages do not arrive at the recipient. A check mark indicates that a message has been sent. A double hook indicates that the message has arrived on the recipient's smartphone and two blue hooks show that the recipient has already read the message.
Here are some variants of why messages do not arrive regardless of WhatsApp:
You have no internet connection (check whether the mobile internet is active and there is also a network). To test, simply open a website in the browser.
You are at a major event so that the transmission tower can be overloaded. If many people access it, it cannot let WhatsApp messages through. Here you have to try again later.
Another option can of course be WhatsApp itself. Your contact may have blocked you here, for example. If you can no longer see his profile picture, then you will be blocked and of course you can no longer send messages to them.
If it's not because of that, then it will really be related to WhatsApp. Then try the following:
Quit the app completely (press twice on the iOS home button and then move WhatsApp up – on Android via Settings -> Search apps for WhatsApp and force stop)
Then start WhatsApp again and hope that it works now.
Otherwise you should simply try again later. As a rule, such a problem always disappears after a certain time.
WhatsApp only works in WiFi – what can that be?
If WhatsApp only works in the WLAN, this does not necessarily have to have to do with the app. Instead, your mobile internet may not work. Either it is due to the bad network or if that can be ruled out and the mobile internet still does not work, it is because of your settings.
This problem occurs frequently on Android. Simply open your browser on the mobile internet and simply enter a random search. If nothing opens, then you have no access to the mobile Internet and WhatsApp can therefore only work in WiFi. You can find out in detail in our tutorial how to set up the mobile Internet.
Install the app without the Google Play Store
If Android is installed on your smartphone but no Google Play Store is visible, you can still download WhatsApp. To do this, simply go to the following page (with your smartphone):
You can use this link to download the so-called APK file. In order to be able to install them, the item must be activated in the Android settings "Unknown origin". You can find out how to activate this in this tutorial .