Do you need music to fall asleep and want it to switch off automatically after a certain time? We show you how the music on Android, iPhone and iPad (iOS) can be stopped automatically after a certain time.
While an app is required for Android, iOS already comes with this functionality. So this function has been around for quite a few iOS versions, but integrated relatively hidden. Therefore, we also have a tutorial for iOS in this article, while we present the corresponding app for Android.
How it works: Turn off music on Android and iOS automatically
But how can you switch off the music automatically on Android, iPhone and iPad. As an example, it should be mentioned that you want to listen to music again shortly before going to sleep and so that it does not run through the night, the music can be stopped automatically after a certain time.
With iOS, this is integrated directly as standard, but somewhat hidden. An additional app is required for Android. We want to cover both systems in this article.
For iOS: Use the timer function to stop music playback after a certain time
With iOS, i.e. on the iPhone, iPad and iPod touch, this is directly integrated. To do this, simply click on the clock. At the bottom of the tabs you now select "Timer".
Now you can select the time for how long the music should continue to be played. Below this you can set the "timer end".This could be of interest to you Our smartphone recommendations for Christmas 2019 – Find out more!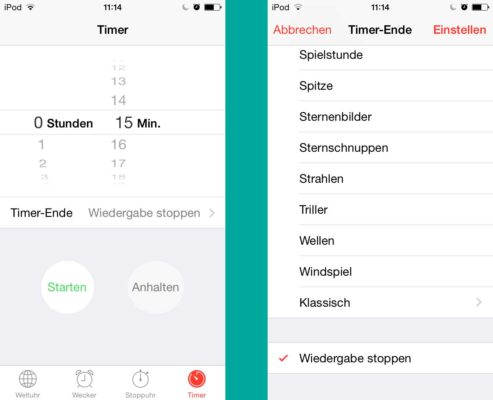 So you can stop the music playback with the timer on iPhone and iPad automatically
Not only does it have to be playback of the music that is to be stopped, but there are even more options in connection with other apps.
To stop music playback automatically, go to the bottom and find "Stop playback". After you click on "Start", the timer is active and the music stops automatically after the time. In the screenshot you can see the steps again individually.
On Android via the Sleep Timer app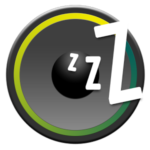 Sleep timer by pboos for Android
With Android, you have to download a separate app to play the music and stop after a certain time. Our recommendation for this is the "Sleep Timer" app, with which you can quickly and easily set the time after which the music should be stopped. It is also possible to increase the time as desired.
What is special about the Sleep Timer for Android: It supports various apps, including YouTube or Google Play Music. So you can listen to the music to sleep and then let it stop automatically. Here you can download the app for free from the Google Play Store: