The purpose of this article is to reassure people who have used the tricks we have shared to delete WhatsApp messages, circumventing the limit of seven minutes (currently 68 minutes) to delete messages for everyone after that time, and even hours or days after. Also to inform all the media that have echoed this news.
A few hours ago, WABetaInfo, the best source in terms of WhatsApp news, turned on the alarms with a tweet. He advised not to extend that time limit with modifications, because WhatsApp could ban you or delete your account:

We have spoken with this important source of information to clarify this matter. What has been concluded is that there should be no problem if you use the tricks that we mentioned.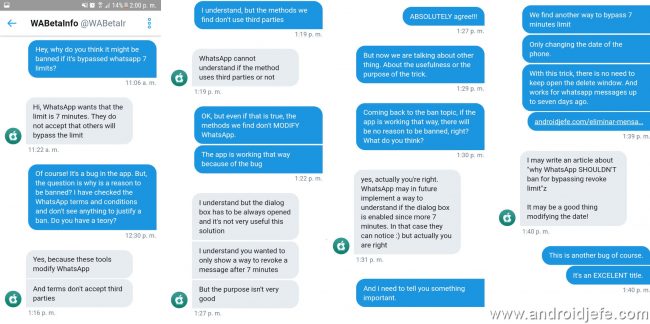 The tricks are NOT "MODS"
The WABetaInfo tweet captured in the first image clearly says so. Suggest not to extend the 7 minute limitation by MODIFICATIONS (GBWhatsApp or WhatsApp Plus maybe?). The two tricks that we disclosed DO NOT MODIFY WhatsApp in any way. It is the WhatsApp application that works like this, due to failures. In any case, if there must be a culprit here, that is WhatsApp.
Indeed, the WhatsApp terms and conditions do not allow the use of third-party tools for the purpose of modifying the app or its operation. But again, the tricks do not modify the application, much less make use of third-party tools. The same original WhatsApp app is used.
To block your WhatsApp account for using the tricks would be absurd
If we think about it well, it is ABSOLUTE that by keeping the dialog to eliminate WhatsApp open you can ban your account. You can leave it open by accident, and not with the aim of circumventing the 7 minute limit to delete messages.
Changing the system date could not be a WhatsApp justification to block your account either. You are not acting on the application, but on your phone.
The two tricks that we discovered only take advantage of the possibilities that WhatsApp allows. Who can be held responsible? The company that overlooked them in the application code, or us who are using them? In fact, all this could be considered an aid to WhatsApp in detecting the faults so that it can correct them.
Obviously, you would not have to fear to see the messages deleted by the other person, something that is not contrary to the WhatsApp terms and conditions.
How to delete WhatsApp messages "FOR ALL" after hours, days
Telegram also «FAIL» deleting messages (and it is WORSE than WhatsApp)
This WhatsApp message DAMAGES the other person's cell phone (Bug SOLVED)
Receive updates: SUBSCRIBE by email and join 10,000+ readers. Follow this blog on Facebook and Twitter.