On its official Facebook page, the manufacturer BLU has finally published something about the update to Android 6 "Marshmallow". Surprisingly and incomprehensibly, he has indicated that this version of Android is now available for the BLU Studio Selfie 2. He has mentioned absolutely nothing else.
It will not only be impatient that the company has spoken of a single device. Many users will surely be upset that it was Selfie 2 that received this update. Other BLU devices for which their customers paid much more have not received this preference. The Selfie 2 is a low-end device, $ 70, without LTE support and with just 1 GB of RAM.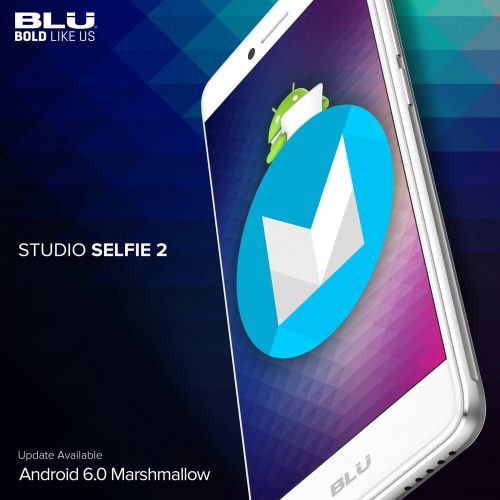 BLU ignores its flagships
Manufacturers typically give upgrade priority to their most expensive devices, for obvious reasons. This is not the case here. The logical thing would have been for BLU to work on updating more expensive equipment first. The BLU Vivo XL or Vivo 5 were also released this year, for example. Even teams from 2015, like the spectacular BLU Pure XL or Life One X would make more sense to update than Selfie 2. For now, all of them will have to continue with Android Lollipop.
The BLU company has not responded to comments from users on Facebook about this strange decision. A month ago, we privately contacted them about this update to Marshmallow. By the same means, they mentioned the following: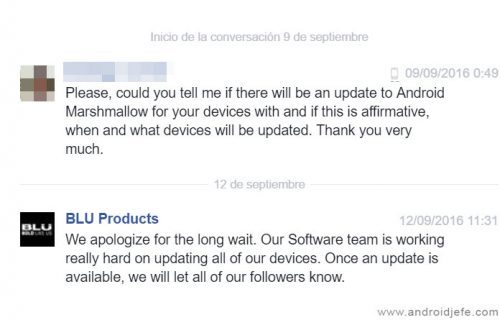 We apologize for the long wait. Our software team is working really hard to update all of our devices. Once the update is available, we will let all of our followers know.
Lollipop was announced much faster the year before
Upgrading to Android Marshmallow for BLU devices has taken longer than expected. At this point in the previous year, the update to Android Lollipop had already been announced for ten devices. Some were already receiving it. If BLU is working on Android 6 update for other teams, hopefully the software has enough stability. Software updates in recent years have not been very well received by users. The flaws they have presented have been the problem.
Those who want to keep an eye on the Marshmallow update for other BLU devices can like their Facebook page. In this way they will receive news on their social profile. This article will also be updated when the company announces new devices that will receive Android 6 and possible dates, if so.
BLU announces Lollipop 5.0 update for 10 Android phones
These are the 8 BLU phones that can officially download Android 4.4 KitKat
Mediatek SU, exploit rooting nearly 100 devices, inc. Sony, Nokia, Alcatel, BLU and Amazon
Receive updates: SUBSCRIBE by email and join 10,000+ readers. Follow this blog on Facebook and Twitter.