WhatsApp is a fairly simple application to stay in touch with loved ones, share photos, videos and documents, or make video calls. But it is possible to go far beyond the traditional framework of use to enrich your conversations, and better control, for example, the way you appear to your contacts or your data in the application. Follow our tips to become a real WhatsApp power user!
It is easy to understand how WhatsApp became the most used messaging application in the world. But not all users know how to make the most of its possibilities. Trying these tips is adopting them!SUMMARY
How to display and delete the amount of data downloaded per contact?
Go to Settings> Data and storage usage> Storage usage
You will see a list of your contacts and the weight of each conversation: touch one then Manage… to clean up!
How to format bold, italic, strikethrough or constant-spacing text in WhatsApp?
It is possible to format on the fly the text that you write in your messages, the whole thing is to know how since WhatsApp does not have a bold, italic, strikethrough or underlined button. You must in fact surround your text with certain special characters:
* Bold *
_Italics_
~ Crossed out ~
```Espacement constant```
How to export your settings, contacts and other personal data?
Like Facebook, it is possible to export your personal data:
Go to Settings> Account> Request account info
Tap Request report
The request takes between two and three days – after this period you will receive an email with a link allowing you to download the archive, like what is possible to do at Facebook, Google and Apple.
How to quote a message in a response?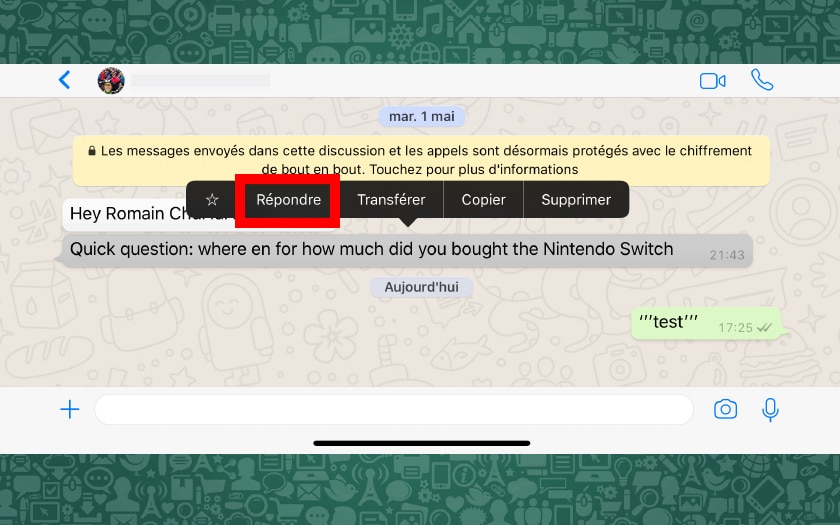 Want to quote a message in a response? It is very simple :
Touch and hold a speech bubble
Tap Reply
How to deactivate acknowledgments?
To not let your contacts know by the second when you read their message:
Go to Settings> Account> Privacy
Disable Read receipt
How can you see who is reading your group conversation?
Please note, this only works if you have started the group conversation yourself:
Long press on the message for which you want to consult the people who read it
Touch Info
How do I enable two-step verification?
By default, WhatsApp requires quite a few things to secure your account other than your phone number. This is why, for security reasons, it is better to activate two-step authentication, which prevents someone else from hacking your account if you have your smartphone stolen or change your number.
To activate two-step verification:
Go to Settings> Account> Two-step verification
Tap Activate
Create your six-digit code
Now you must enter the six digits of the PIN code when you first connect to a new device.
It can be very convenient to share your location data with your contacts to make it easier to find yourself, share real-time updates on your journey, or make your interlocutor wait in case of delay, among other examples.
Sharing your location is very simple: just choose "Location" from the menu – you can then choose to share your live location in the range of 15 minutes to 8 hours. It is possible to stop sharing directly in the conversation.
How do I choose who can see my profile photo?
You do not assume your profile photo in front of a potential employer? No need to immediately replace it with a photo of you in a three-piece suit: it is possible to choose a bit like on Facebook, the public who can see your photo.
To do this, go to Settings> Privacy> Profile photo . It is then possible to choose between Everyone , My Contacts , and Person – in order to limit its visibility.
Did you find these tips useful? Of course, do not hesitate to share yours in the comments, we will regularly add others to this file!