Audible is a service of the Amazon company, through which you can buy books that you don't have to read . These high-quality "audiobooks" are narrated by people (no Loquendo here) so you should just listen. The service also has an application for Android and iOS .
How Audible Works
Audiobooks can be purchased directly from the mobile app and downloaded to the device to listen to them. Audible has a huge catalog that you can explore. Before buying you can listen to a preview of each audiobook . If you become an Audible member (discussed below) for $ 15 a month, you can get a free audiobook every month.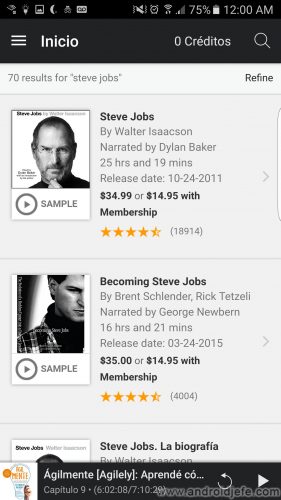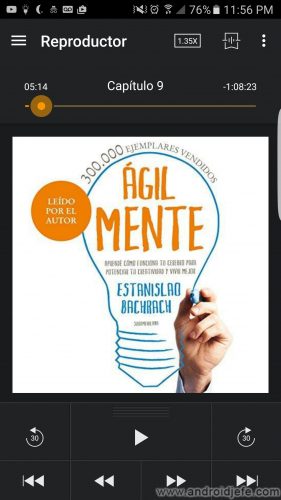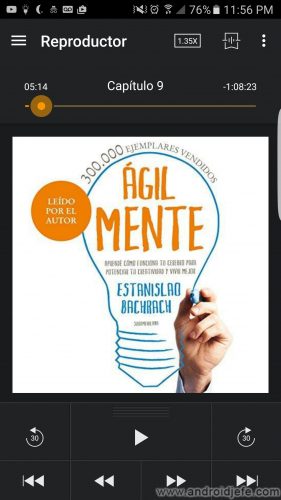 Audible also has a Channels section . This content can be listened to for free, although only for 30 minutes a day, as well as download to your cell phone. Here you can find podcasts, comics, news on various topics. The big disadvantage is that there is only English content here.
The application is quite satisfactory. It offers several useful functions such as a sleep timer , adding notes at any point in the audiobook or changing the reading speed . It can be accurately advanced and reversed in 30 second intervals. Audiobooks can be downloaded to external SD card , choose download quality , force to keep screen on during playback, as its most relevant functions.
Audible Price
Paying $ 15 a month , membership offers the advantage of getting a free audiobook monthly. Any additional audiobook can also be purchased for $ 15. Without this membership, one would have to buy the audiobooks at the normal price, which depending on the audiobook may double.
Audible and its high prices
Certain audiobooks can be purchased cheaper by other means. For example, for Audible members, the Bright Side audiobook is available for $ 15. But you can buy the same audiobook on Amazon for $ 7 . The Kindle Edition version of Bright Side costs $ 4. This audiobook can only be listened to on certain Kindle devices, but if you add the "narration for Audible" for 3 dollars in the purchase, you can listen to it on your Android or iOS mobile. You would be buying the same book at half the price .
Audiobooks downloaded from the mobile app, in the Android / data / com.audible.application / files directory (internal memory or SD card) are in .aax format , so they can only be played there.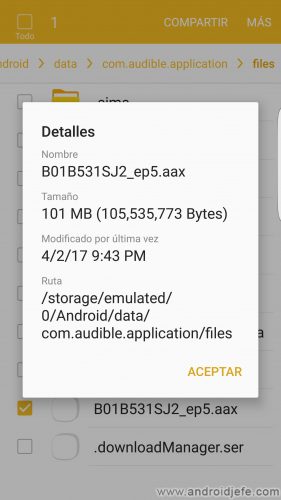 Audible is, in several cases, an intermediary between clients and publishers of audiobooks. In the audiobook information you can verify your publishing house and buy directly there if possible. For example, some Audible Spanish audiobooks belong to fonolibro.com and can also be purchased there, in certain cases at a similar price. The advantage is that, apparently, Fonolibro offers audiobooks in audio format compatible with any player .
The paper books can often be cheaper than audiobooks from Audible, but certainly here we're comparing two different things.
My opinions on Audible
Audible has a good database of audiobooks that are of unmatched quality. The app's features complement the listening experience. It is definitely one of the most practical alternatives to take advantage of all kinds of literature, although not the most convenient for the pocket in some cases. You may find certain audiobooks at a lower price using other resources, as noted above. Apps like iVoox  offer some audiobooks totally free, though not commonly Audible quality.
Links : 1 (audible.com), 2 (Android APP).
How to install the Amazon App Store on Android, WITHOUT credit card
3 ways to record INTERNAL Android audio
How to increase the volume of your cell phone (even beyond the limit)
Receive updates: SUBSCRIBE by email and join 10,000+ readers. Follow this blog on Facebook and Twitter.