Visual effects that move to the rhythm of the music. This can be an interesting extra to add to a music or dance session. There are Android applications that offer this feature. There are music players that integrate this functionality, as well as independent apps, rich in possibilities, that even allow you to bring these animations or visual effects from the cell phone to a large screen. They are in charge of visualizing the audio spectrum, using multiple geometric figures such as bars, auroras and other types of abstract figures.
Audio players with integrated spectrum display
AudioVision Music Player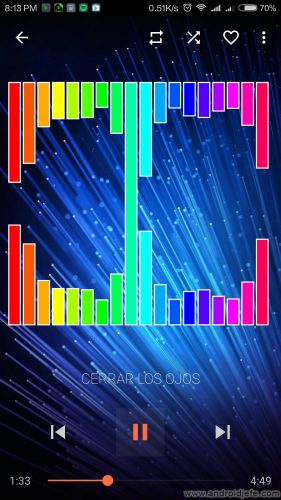 It offers 5 visual effects, including the popular animated vertical bars effect. You can customize the appearance of each effect, as well as the wallpaper within the player. The effect display can work even if you play music from another application. It can be configured to be viewed in full screen.
Unfortunately there are no more settings available. It is a relatively simple application but with a nice design.
Download Audio Vision Music Player: play.google.com
Music Visualizer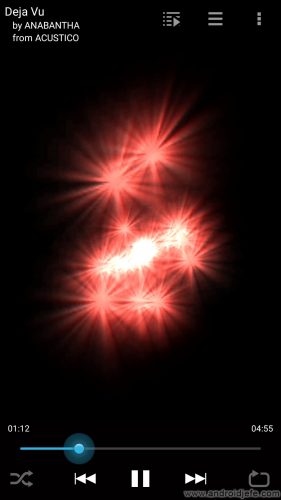 Another music player that offers up to 11 effects, including various spectra with different geometric shapes and a bar animation. This application is more configurable. You can choose a specific animation or let the 11 animations change automatically and randomly. You can adjust the transition time of the effects, their textures, background, position, etc. You can also modify the appearance of each of the effects. It offers full screen mode.
You can take advantage of the built-in music player to play content, or set the app to listen to audio from another player or from the device's microphone.
Download Music Visualizer: play.google.com
Avee Player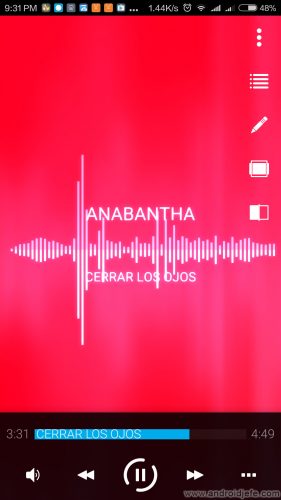 Music player with 9 spectrum animations and bars. They are relatively simple animations, the appearance of which can be slightly varied. In Spectrum display mode you can configure the frequencies, the appearance of the lines, modify the background color, etc. The display can be put on full screen.
There is another free music player with spectrum effects and bars called Anytime Visualizer, but unfortunately this application has unexpectedly crashed or stopped during testing. Neutron Music Player is an advanced audio player that hardly features a bar-style spectrum display.
Download Avee Player : play.google.com
Music Visualizers
These types of applications do not allow music to be played, but they can show the spectrum of the audio that sounds on the cell phone or in the environment, capturing the audio through the mobile's microphone. The advantage of these applications is that they are specialists in the subject and offer many functionalities and more elaborate animations.
ProjectM Music Visualizer
When music is playing on the cell phone or in the environment, open this application to see the musical spectrum. ProjectM offers up to 40 great free animations, some with a mesmerizing twist. They can be changed manually with gestures or activate the automatic random change. It has advanced controls that allow you to adjust the texture of animations, meshes, FPS, duration of the effects and transitions.
An excellent feature of ProjectM is that it supports Chromecast, so the spectrum image can easily be brought to a TV. This can be an interesting extra during a party. In the case of other apps that do not support Chromecast, it would be necessary to clone the cell phone screen on television.
Like other similar apps, ProjectM captures the audio that reaches the microphone of the Android phone.
The free version of ProjectM shows advertising while viewing the animations. To remove these annoying ads and get an additional 250 animations you can buy the PRO version for $ 2.99.
Download ProjectM Free : play.google.com
Audio Glow Music Visualizer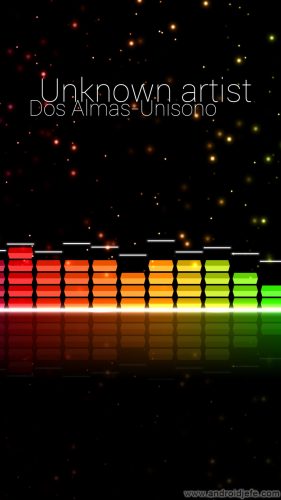 Although this application does not allow you to play music directly, it does allow you to control the used player from there. You can change the music or pause play. You can even use gestures for these actions.
Its downside is that it only offers two free spectrums (Bars and "Retro Geometric") and two paid ones ($ 1.99). As for customization, it allows you to adjust the information text of the song as well as change the colors of the effect and save them as a theme.
Wallpaper or animated wallpaper
Audio Glow offers the possibility of configuring the spectrum as a wallpaper on the home screen, although this requires an extra app that costs $ 1.49. If you want a wallpaper of this type that is free, Music Visualizer Live Wallpaper (N7 Mobile Sp. Z oo) is an option. Reacts with the ambient music. Unfortunately, this background has only worked well in the first test and then the animation has not responded.
Download Audio Glow Music Visualizer : play.google.com
Spectrum analyzers
There are more professional tools that not only show an animation based on sound, but also allow frequencies to be analyzed. Applications like Advanced Spectrum Analyzer PRO from Vuche Labs (link) or Spectrum Analyzer (Raspberry Wood) are two applications in Play Store that do this job.
This APP puts an audio spectrum on your Android
Best MP3 Music Player for Android (Apps)
Music player by FOLDERS for Android
Receive updates: SUBSCRIBE by email and join 10,000+ readers. Follow this blog on Facebook and Twitter.