Do you know what happens when you are using an application and press the start button on your phone to exit it? It is "minimized" and it works silently (in the "background"). In that state, even if you do not see it, said application will be using the CPU or processor of your Android (the main electronic chip in charge of executing all the tasks that the user orders on the device).
This is how Android apps normally work, but there may be times when apps abuse CPU usage. Ideally, this chip is not working to the limit (to avoid slowing down the mobile device and also to avoid wasting valuable battery) applications that consume too much CPU are not good in this regard.
Now, how to know which applications are the ones that use the most CPU or processor in my Android, you will wonder … Well, we have been talking about WLD for a long time, an excellent application that I recommend to know this and other important information about how applications are behaving in your Android. You can also alternatively use Watchdog Task Manager Lite.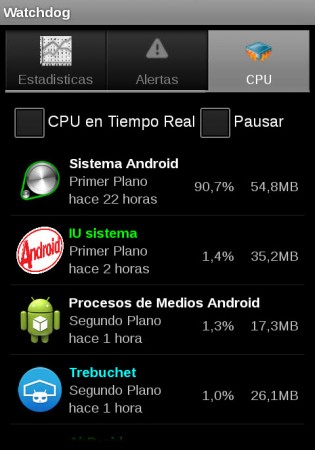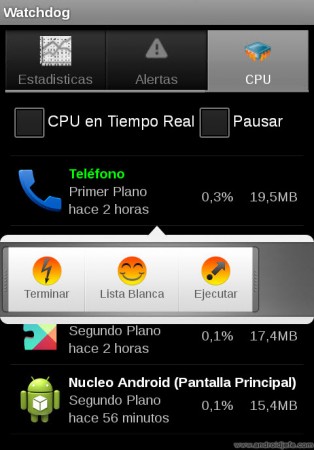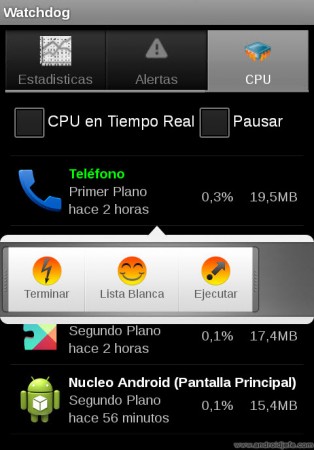 Do not be fooled by its somewhat ugly name: it is a very simple application to monitor the CPU of your Android and find out which applications are consuming the most resources of this chip. Just install and open it once to configure the monitoring profile (Moderate is the most recommended profile to start with). There's not much to do after that: When an app is abusing CPU usage, Watchdog will generate a notification alert to let you know.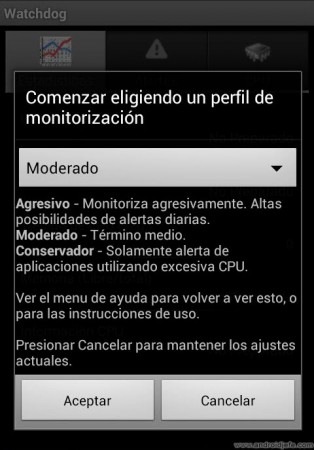 Monitoring is done for both background and foreground applications (with which the user is currently interacting).
How WatchDog Works
When you open Watchdog to see details of the monitoring of the applications you will find an interface in Spanish. Basically this is what you have there:
You have three tabs in Watchdog. The first, as you can see, gives general details of how the CPU works. The second tab shows a history of the alerts (list with all the alerts that have been generated since this monitor was installed) and the last tab, which is used to see the applications that are currently running in the background and how much CPU is consuming each one (in percentage. Less is better).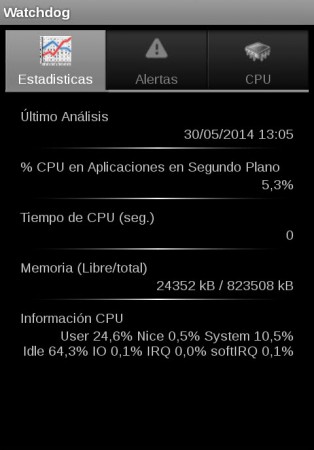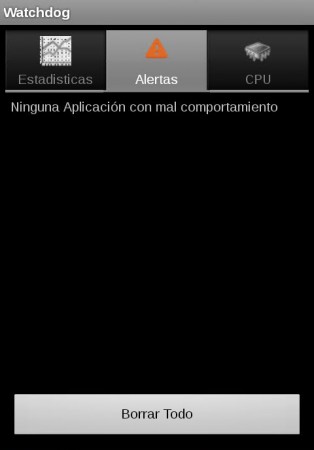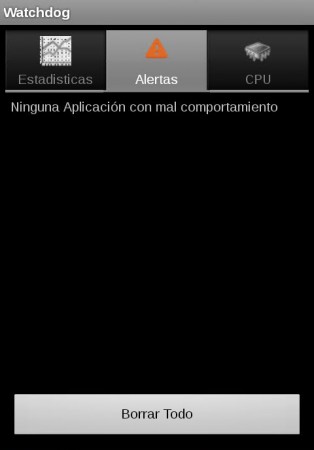 In that last tab you can click on each application and "Finish" or close it in case it is behaving abusively. You can also open the application from right there. For advanced users there is the possibility of putting applications on a White List, to prevent Watchdog from generating alerts when these apps are exceeding normal CPU use.
On that screen you also have the option to activate the CPU in Real Time box, which serves to know the precise data on how much CPU the applications are consuming at that exact moment, and the option to Pause to stop monitoring.
conclusion
With Watchdog you can practically know which applications are slowing down your Android. Of course, higher CPU usage implies higher battery usage, so with this tool you can also directly know which applications are using the most battery, just like WLD.
Watchdog Task Manager Lite is free and does not require any permission on your Android to work, which guarantees that it will do nothing on your phone other than inform you of what is indicated here. The PRO version available for $ 3.49 has the same functions as the Lite version, but it also has no advertising and allows you to create a Black List of applications, to which you can assign a percentage limit of CPU usage. When they exceed this limit, they will be closed automatically.
WatchDog Task Manager Lite Download : APKPure
Wakelock Detector notifies you which APPS activate the screen, CPU and consume battery
The screen is running out of your cell phone battery, but there is a solution
How WiFi influences battery consumption and how to control it
Receive updates: SUBSCRIBE by email and join 10,000+ readers. Follow this blog on Facebook and Twitter.