Turning off WiFi when you're not using it and turning it on only when necessary can help you save a bit of battery by avoiding data sync. It will be useful when you go to sleep, if you want to avoid being distracted during work hours, or there is no WiFi there, so it would not make sense that the cell phone is constantly scanning or searching for networks.
If you are tired of lowering the notification bar to turn off or on the WiFi constantly, you can automate this task, so that it is deactivated during certain hours and activated at X time. In some devices that have this feature integrated in their settings. In case your cell phone does not have it, you can use a third-party application, such as WiFi Auto Connect or WiFi Automatic , the Wifi Auto Off app or better yet Tasker, or where you can turn WiFi on or off depending on the state of the display (off or on).
Android system settings (NO apps)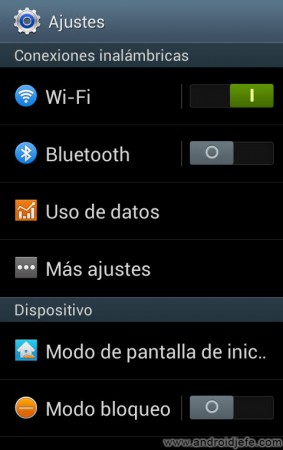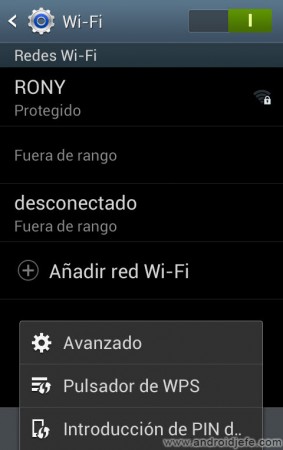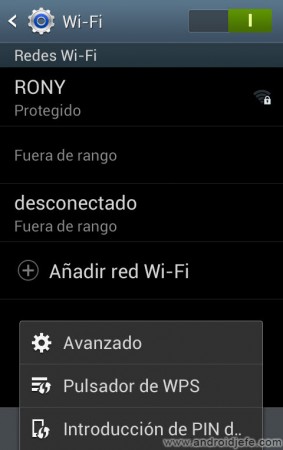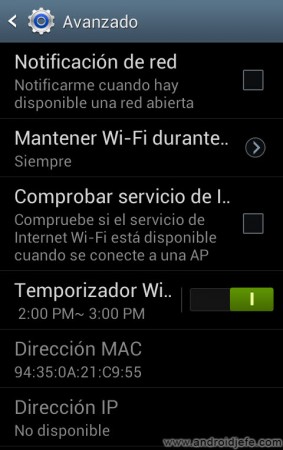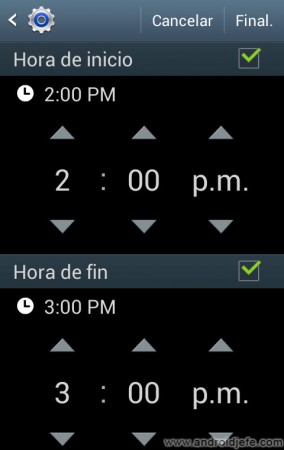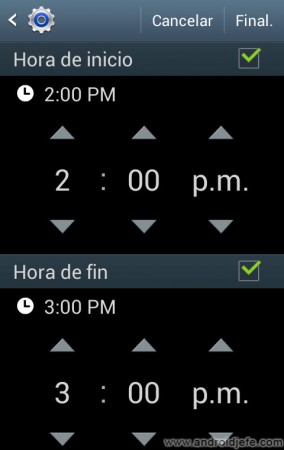 Images above : Activate WiFi according to schedule on Samsung Galaxy S3 mini with Android 4.1.2 (Jelly Bean). Wifi Timer Option ( Automatically connect / disconnect from the Wifi network must be activated.
For example, some Samsung mobiles incorporate an option in the Android system settings, Wireless connections, WiFi, Advanced, WiFi timer , which allows you to turn the WiFi on or off according to the time of day. This setting is likely to be on a similar path in other makes and models as well.
In this case, the start and end time corresponds to the time when the WiFi will turn on and off respectively. If both are activated, it means that the WiFi will remain active in that period of time and outside of these hours it will turn off. If you only activate the start box, it will always light up at that time. If you check only the end box, the WiFi will turn off whenever that time comes.
Once WiFi is automatically activated, a notification will appear in the status bar. Similarly when the WiFi hardware is automatically turned off.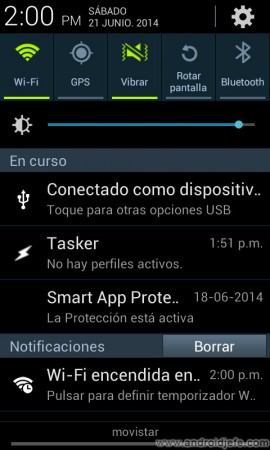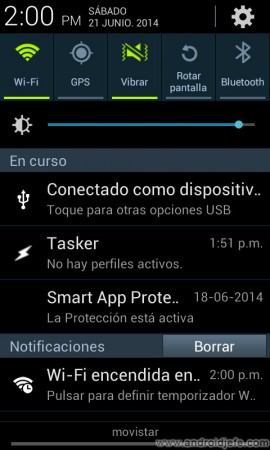 Wifi Timer Notification
Third party applications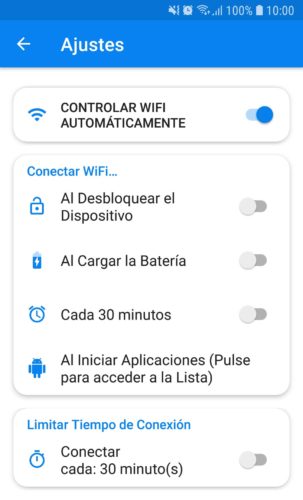 WiFi Auto Connect – Automatic WiFi (Download) : Among several WiFi timer apps that exist in the Play Store, I have tried this one that is updated, it seems the most complete and best rated. It has been required on my new Samsung Galaxy S7, which does not have a timer option.
You simply have to activate it and select any of the available conditions. The only thing I should clarify about it is that it does not turn off the WiFi immediately at the scheduled minute. In my tests it has been done several seconds after the established time.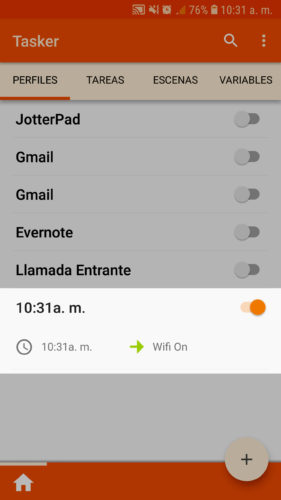 Tasker : Although this is a paid app, it's worth it for its ability to schedule any task, including the ability to turn WiFi hardware off after a certain time or automatically turn it on at X time.
In this case the program is simple. Tap the "+" to create a profile, choose "Time" and select the time span (or the same time). Now click on the return arrow, tap on "New Task" and enter any name. Finally tap on the "+" to add an action, choose "Network", "WiFi" and indicate if you want to "Turn it off" or "Turn it on". If you go back a couple of times your profile will already be created and ready to start running at the scheduled time.
If you have problems with this type of apps, try going to the system settings, Applications, Application name. Almost at the end there should be the section "Apps that change system settings". Tap there and then enable the "Grant permission" switch.
How to know the password of WIFIs!
How to see WiFi passwords on Android
How to know who is connected to my WiFi
Receive updates: SUBSCRIBE by email and join 10,000+ readers. Follow this blog on Facebook and Twitter.