A few days ago, a supposed Sony Xperia Z4 cell phone came into my hands and I was asked to solve its almost full memory problem. At first glance this equipment looked good and did not raise suspicions about a fake or clone. Things changed with a few minutes of use. The paragraphs below will not only come in handy to anyone claiming the original version of this kit, but even anyone trying to buy the fake, as even there are pretty well-covered lies.
Physically, this clone or counterfeit of the Sony Xperia Z4 is difficult to recognize, especially if the authentic device has never been seen (as is my case). Currently clones take very good care of typography and exterior finish, which were previously key points in detecting them. In this case, the Sony and Xperia brand logos are quite well finished and the exterior finish feels top notch with its glass finish and glossy black color. At first glance, you definitely think of an original phone.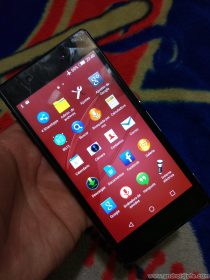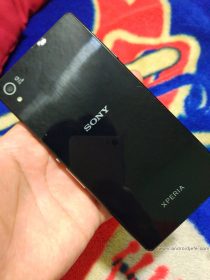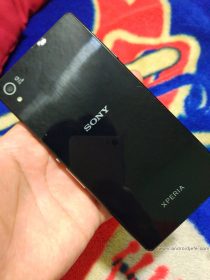 Things are also not entirely obvious if you review the computer software and the information it provides. To realize that it is a fake, you have to keep in mind at least some specifications of the authentic device, such as internal storage, which was originally 32 GB. In the software of this fake device, going to Settings> Storage, you can see that it has just 8 GB of internal storage. And this gets worse.
Previously, applications were recommended to detect replicas or counterfeits of cell phones. These apps are key to completely unmasking these phone trinkets and also to knowing what you really have or buy. Even a person who is aware that he is buying a counterfeit, is deceived on a higher level, because the software of these devices is manipulated.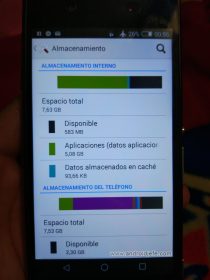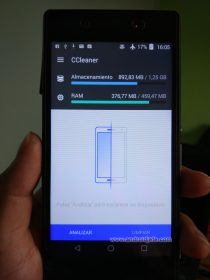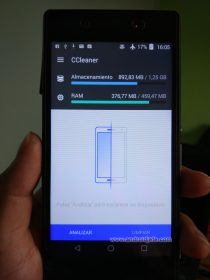 In the images above you can see how the software of this device claims that it probably has 8 GB of internal storage, but with an application like CCleaner you can see that it really only has 1.25 GB of internal storage and just 512 MB of RAM. Of course, the rest of the specs aren't even close to the original cell's, either, starting with the processor: a 1GHz dual-core Mediatek MT6562. The original Xperia Z4 comes with a powerful eight-core Qualcomm Snapdragon 810, which has a Speed ​​up to 2 GHz, and it's paired with 3GB of RAM.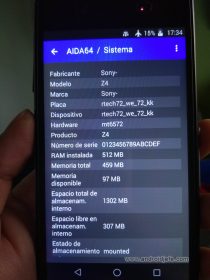 The manipulation of the computer software (apart from the startup software that comes in Chinese language) is quite well synchronized in various menus and information of the computer. As storage is consumed, that consumption is displayed based on the fake 8 GB. Here a phenomenon occurs that is curious for the user: the five or ten applications that he has installed, or the few multimedia files that he has, consume several GB of space and he ran out of available storage too soon. Add to this that the phone has become too slow (something obvious considering the limited processor and minimal amount of RAM).
Once the computer has little storage, things get complicated, since the user cannot download applications from the Play Store (not even the Aida 64 application or similar to verify its real specifications). Even if you try to install APK files, you may get an installation error for unknown reasons (in this case you have to try the APKs of different applications to see which one works). This can be solved by cleaning the memory, deleting data from the installed applications (incidentally, some applications like Facebook come suspiciously pre-installed) or cleaning the memory with applications like CCleaner. Due to the limited amount of memory, this procedure must be done fairly frequently.
What are CLON phones and how to differentiate them from the original ones
Original Xiaomi vs. False: How to identify those phony clones?
Samsung Galaxy S5 clone, "exact" and cheap replica appears 48 hours later
Receive updates: SUBSCRIBE by email and join 10,000+ readers. Follow this blog on Facebook and Twitter.