Samsung has attacked again by launching its best high-end smartphone to represent it during 2014 in the face of stiff competition from all sides. How could it be otherwise, many of us want to have a Samsung Galaxy S5 in our pocket right now, although, perhaps our economy does not allow it for one reason or another.
Not everything is lost because, as always, the replica of the S5 has already been released in record time, and is designed to meet the needs of those who can not buy the authentic Samsung phone but want to feel like the owner of one .
The Goophone brand has presented its own replica of the Samsung Galaxy S5, Goophone S5 (Oops! It seems that it is no longer in the inventory of Goophone and the official website goophone.cc appears as restricted), which has been able to copy and make it reality just 48 hours after the official announcement of the Korean company, although bringing Android 4.2 as an operating system instead of KitKat.
Update : Well it seems to be sold out. But of course, it is not the only clone. If you are looking for another replica that is similar to the Galaxy S5, the  S7 No.1 (Link deleted because the page has been removed) is another option. The link takes you to the page where you can buy. Apparently it has a Mediatek Quad Core processor, 13 MP of camera, 1 GB of RAM and 8 GB of internal memory. All this for approximately $ 155. Of course, neither the Goophone replica nor this other clone can recommend it because we have not tested them so, the possible purchase is at your sole responsibility.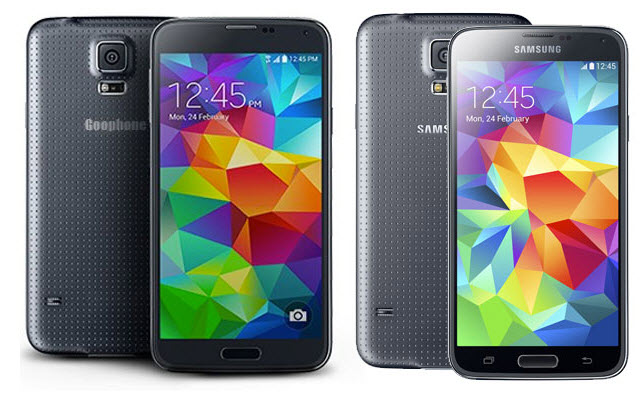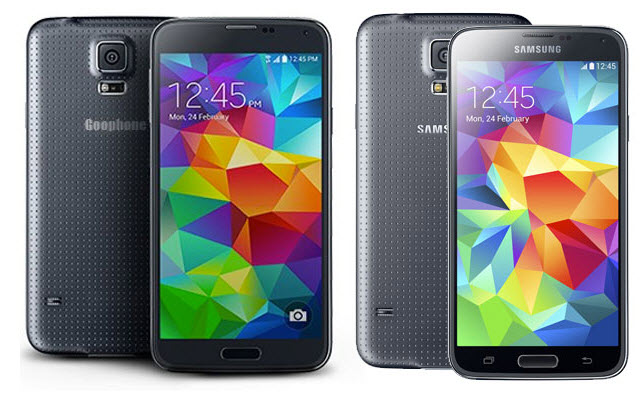 Goophone S5 vs. Galaxy S5 (left and right, respectively)
It is a fairly similar copy as far as external appearance is concerned; exact some might say. It has the same dotted surface on the back and the same geometric pattern, apparently. As far as technical specifications are concerned, we will not be disappointed at all: it has a 5-inch full HD 1920 × 1080 px screen, an incredible 2-GHz octa-core 8-core MediaTek processor, and 2GB RAM. Recall that the version presented by Samsung was quad-core, and shyly announced afterwards the octa-core version, although possibly limited to the Korean market.
Exploring the rest of its main features, we will see the classic dual SIM support, 32 GB internal storage and support for micro SD, rear and front camera of 13 and 5 MP respectively, 2800 mAh battery and finally Wifi 802.11 b, g and n.
This replica of the Goophone's Galaxy S5 would cost $ 300, although not much is known about its availability yet.
Of course, the heart rate sensor and the fingerprint sensor are missed, but for that price and the smug hardware, it would be a good cheap alternative; of course much better than the future Chinese version replicas that will appear later.
Update 2 : Alarming report on a Chinese replica of the S4, the Star N9500 ​​has been published by the security firm G Data, stating that said mobile comes with malware installed from the factory, to spy on users.
What are CLON phones and how to differentiate them from the original ones
Real storage on Galaxy S5 vs Xperia Z2
Samsung Galaxy S4 clone comes with dangerous factory installed malware
Receive updates: SUBSCRIBE by email and join 10,000+ readers. Follow this blog on Facebook and Twitter.