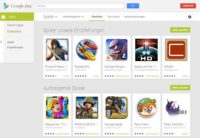 In this tutorial we show you how you can display your Google Play balance. To make the whole thing easier to understand, we have of course added screenshots.
Google Play cards have been available in stores for some time. This allows you to buy paid apps with the credit. We have already published an extensive article on these maps .
But how much credit do I actually have left to buy apps? Unfortunately, this is not so easy to see on Google Play. For this reason, we want to bring this closer to you in this tutorial.
So you can display your Google Play balance
The fastest and easiest way is to simply tap a paid app and click on the euro price. A second option is to go through the Google Wallet Interface.
There are two ways to display your Google Play balance and we want to show you below how these two methods work.
Variant 1: View your credit via the Google Play Store
Go to the Google Play Store and simply select a paid app. There you tap on the price and then on "Accept" (where the permissions of the app are concerned).
In the next step you have to choose the payment method. If the Google Play credit is not shown here, tap on the arrow in the top right and the payment options are listed.This could be of interest to you Our smartphone recommendations for Christmas 2019 – Find out more!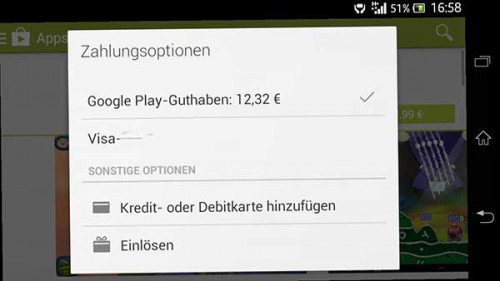 Get Google Play credit in the app
There you can also see the available Google Play credit. Now you just cancel the whole process, because you don't want to buy this app after all. So you can display the Google Play credit quickly and easily.
Variant 2: Call up the Google Play credit via Google Wallet
If you are currently working on the PC, you can go to Google Wallet. You can reach this via wallet.google.com . There you have to go to "Payment Methods" after logging in with your username and password.
Depending on what you have already used to buy apps, these payment methods are available. There you will also find your current Google Play credit, which you can use to buy apps or in-app purchases.