In this article we want to introduce you to 5 tips for Android, which will make your battery last longer. Nothing is more annoying if the battery of your smartphone or tablet runs out during the day. However, there are some tips to save electricity and so the battery lasts significantly longer. This allows you to increase the battery life many times over.
Of course, it should be said that the battery life can vary due to the different use of the device. Nevertheless, there are numerous settings in Android that can be rotated. We want to present these valuable tips to you as a list.
If you have more tips for more battery life on Android, just let us know in the comments. We will then expand the article accordingly.
Android: How your battery lasts longer – 5 tips for more battery life
Below we present 5 tips to make your battery last longer – I promise. If you have already implemented these tips, there are also separate energy-saving settings depending on the smartphone manufacturer. Often, free apps that are financed through advertising also suck the electricity. Accordingly, you should first check which application is responsible for power consumption.
Here is an overview:
content
To do this, go to Settings -> Energy (options) -> Battery and you can now see which applications used the most electricity. If this is the media or media server, our article " High battery consumption through media app " recommended.
Tip 1: Reduce screen brightness for more battery life
Battery killer number 1 is clearly the screen on a smartphone. So of course also with Android. The greater this is, the more energy is required and this is obtained from the battery. Accordingly, you should first take a look at the screen brightness.
Sure, this will be higher in sunlight, but when you're at home, a low screen brightness may also be enough.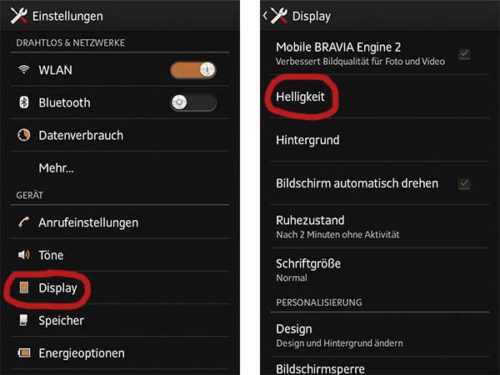 Reduce screen brightness on Android for more battery life
In Android you go to Android Settings -> Display (or screen). There is also the point "Brightness". There you can use the slider to lower the brightness. Basically, the lower the brightness, the longer the battery of the Android device lasts.
It is also recommended to deactivate the "Automatic brightness" or "Adapt to light conditions" option.
Tip 2: Remove widgets, live wallpapers and Co.
Another power guzzler are the widgets and live wallpapers on the homescreen. Widgets have to be updated regularly with current data, live wallpapers need rich performance at all times and the more active the processor, the more power is required.
If you want or need to save battery, you should avoid these live wallpapers or mobile wallpapers. This also includes the animated wallpapers that react to touch. Of course, it is nice if the background on the Android homescreen does not always look the same, but keep in mind that this also reduces your battery life.
The same applies of course to the widgets. Accordingly, only pull those on your homescreen that you actually use. You often receive emails, then such a widget is worth its weight in gold. But if you only get a few emails, you should probably do without it. The same applies to news, Facebook and Co. Constantly updating / synchronizing sucks electricity (see also tip 5).
Tip 3: WLAN, GPS, 4G / 3G empty the battery
All communication interfaces also go to the battery. WLAN, GPS, 4G / 3G, Bluetooth and Co require electricity to be able to send and receive. For example, if you are on the train or bus, the Android device automatically receives WiFi networks.
Accordingly, you should deactivate the WLAN function when you are on the go. When you are at home, you can also do without GPS. Bluetooth should usually be switched off anyway.This could be of interest to you Our smartphone recommendations for Christmas 2019 – Find out more!
Where you can still save battery, 3G / 4G is not necessarily to be used. If you are in the village, the faster internet connections are not available anyway. Then you can tell the Android system to do without it.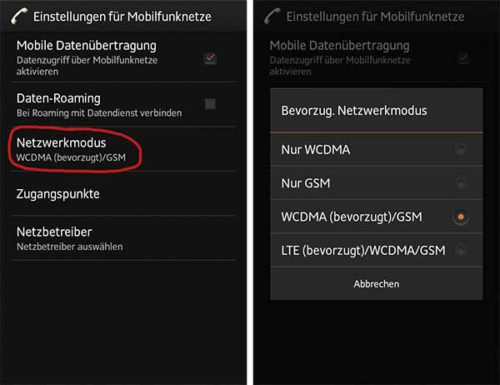 Cellular networks consume electricity – choosing the preferred network saves electricity
Under Android 4 you go to Android Settings -> More… -> Mobile Networks. At the point "network mode" you can now specify your preferred network. For example, if you don't have an LTE contract, you don't have to go to LTE. If you can do without 3G, you should probably choose "GSM only".
Tip 4: Activate energy saving options from the Android device
There are also energy saving options from manufacturer to manufacturer, although there may be differences from device to device. For Sony and Samsung, there are energy options in the Android settings that are more extensive or spartan.
Nevertheless, it is worth taking a look at these energy options. So there is the possibility at Sony to go into the "extended standby mode". This will automatically disable traffic if the screen is off for a few minutes.
Tip 5: Check synchronization and apps
And last but not least, tip 5 with regard to synchronization and checking the apps. Even if it is nice that new mails are automatically received and you do not have to actively check whether a new message has been received, this can shorten the battery life.
In Android 4 there is the item "Accounts" in the settings. Depending on what you have installed, Dropbox, Google and WhatsApp appear here, for example. With all accounts you can specify what should be synchronized. With WhatsApp, the synchronize contacts function can be deactivated. There are more products on Google. There is app data, Gmail, Google+ and much more.
If everything should not be synchronized continuously, this can be deactivated here. This also extends the readiness of your battery enormously.
You should also check which apps are responsible for high power consumption. Free apps are financed through advertising, but data is constantly being exchanged for this. The flight mode is recommended here, as a result of which the app cannot call home.
Less work with Android apps
If you do not want to implement all tips separately, you can also use various Android apps that should increase the battery life. We present two of them below. Whether you really use it is up to you.
Battery Doctor app for energy management
The Battery Doctor app helps you save electricity. Apps can be closed via Task Manager which are inactive but still suck on the battery.
Furthermore, the remaining battery life is displayed after a while and how much it extends if you deactivate WLAN, Bluetooth and Co. Tips are also given when the battery should be charged. With the energy-saving mode, the battery life is increased enormously by switching off all the essential functions of the Android device. Only SMS and calls remain active.
You can download the Battery Doctor app for free from Google Play: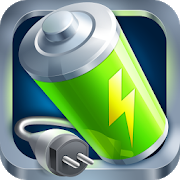 Easy Battery Saver: Save electricity for longer battery life
The Android app Easy Battery Saver is also free of charge, which is also intended to save electricity and thus increase the battery life. There are numerous tips for optimization by switching to different power-saving modes.
You can even use the automatic mode, which adapts intellegint. Of course, you can also customize everything yourself according to your own taste.
Do you know of other apps that help save battery and thus extend the battery life? Then get in touch in the comments and share your tips and tricks with us.