Today's tutorial is about how to properly end apps on Android and iOS (iPhone, iPad, iPod Touch). We can also find several statements in the game tips to end an app correctly. But what does that mean anyway?
If you come back to the home screen in iOS and Android via the home button, the app is still open in the background. So if you're wondering why the system is slowing down, you should check whether the apps are closed correctly. As a rule, simply shutting down the smartphone or tablet and restarting it again.
However, in most cases you don't want to do that, which is why we want to show in this tutorial how you can end the apps correctly.
Tutorial: How to end an app correctly on Android and iOS
Now we come to our tutorial on how to properly end apps on Android and iOS. In the introductory text, we already mentioned some scenarios why apps should be closed correctly. Every now and then, especially with game apps, this is inevitable when the game just doesn't want to start.
But since not everyone is so familiar with the technology, we have a tutorial with screenshots for you. First of all the tutorial for iOS, i.e. iPhone, iPad and iPo Touch with iOS 7 as well as the possibilities under Android to end apps correctly.
Quit app on iOS
If you want to end an app under iOS, press the Home button twice briefly in a row. You don't even have to be on the homescreen in iOS 7, it also works out of apps.
Now, as shown in the screenshot on the left, an overview of the opened apps opens. With iOS 7 you can even see a screenshot of the app. Now you have to tap this and swipe up so that the app can end. If you just tap up, you immediately jump into the app.This could be of interest to you Our smartphone recommendations for Christmas 2019 – Find out more!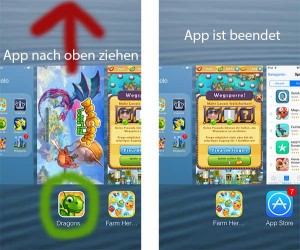 Quit the app on iOS 7
Android: More options for ending the app correctly
This is similarly solved on Android, but there are numerous options. The first option, which we will give you, works on Android 2 to Android 4, the second option should also be similar for most devices.
Let's get to the first option:
Goes to the Android settings
There you will find the menu item "Apps" (Android 4) or applications.
Now the list of installed apps opens.
Tap the app you want to quit. There you will find the "Force stop" button at the top. This ends the app
There are also the items "Clear data" and "Clear cache". You shouldn't click on these points easily. This saves saved games or settings / passwords from the app. You should only do this if you are absolutely sure or nothing works (see screenshot on the left).