The Game Center on iOS is the game interface for exchanging multiplayer games, high scores and much more. In this tutorial we want to explain how you can easily and quickly change your Game Center name on iPhone 7, iPad and iPod Touch from iOS 7.
There are various tutorials on the Internet on this topic, but these are usually out of date. We also looked for it recently and for a long time did not find anything suitable from iOS 7, since the screenshots and tutorials on how to change your Game Center name were still valid for the old versions.
Accordingly, we show you in this article how you can change your name if you no longer like the previous one. Your successes, high scores and friends will of course be preserved.
Tutoral: This is how you can change the Game Center name
So that you can quickly and easily understand our tutorial, we have again created a few screenshots that illustrate the steps again. Once you know where to find the options, it's no longer complicated.
Change name in iOS settings
In the first step, you now go to the settings of your iOS device (iPhone, iPad). Important: You don't have to open the Game Center app, you really go into the settings.This could be of interest to you Our smartphone recommendations for Christmas 2019 – Find out more!
How it works: Change Game Center name
If you are now in the settings, you scroll down a bit. There you will find "Game Center". For us this is the 5th block, together with iTunes & App Store, music and Co. So now tap on "Game Center".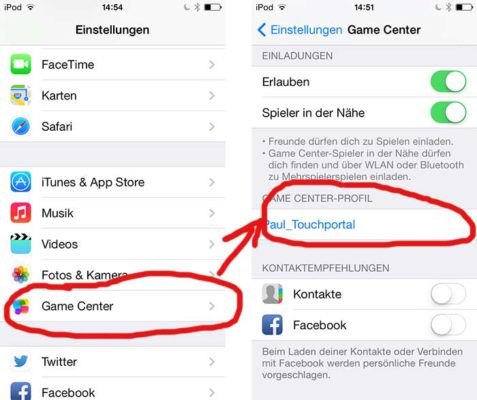 Tutorial: How to change the Game Center name in iOS
Here you can not only define invitations, but also change your name. You can find that a little further down on "Game Center Profile". First you have to confirm that you are the owner (enter Apple ID and password). After that, you can now simply set a new Game Center name.
Important: The new name must of course still be free. Otherwise the whole thing does not work.