In this tutorial we want to show you how you can redeem a Google Play voucher in order to use it to pay for apps and in-app purchases. Furthermore, we have summarized frequently asked questions on this topic and now want to inform you again in detail.
After the Google Play voucher cards came on the market, we reported about them in general . Among other things, where these are available and much more. Now we want to go into this topic again in more detail. This concerns the questions of how to redeem the Google Play voucher, why it sometimes does not work and whether you can distribute it to multiple accounts.
If there are further questions about the Google Play voucher and the credit, do not hesitate to write a comment. We or other users may be able to answer them.
Tutorial: How to redeem the Google Play voucher
First, let's get to how you can redeem the Google Play voucher. After you have bought it in the discounter, supermarket or wherever, you will usually receive a receipt that the card is now active. In the following tutorial we have listed the steps.
Step 1: scratch the code
The code itself is not on the receipt, but on the back of the Google Play card. Now remove the protection carefully with your fingernail (never with scissors or other sharp objects). If the code is no longer readable, you have put the money in the sand. So rub off carefully.
Step 2: Open Google Play on your Android device
In the second step you have to open the Google Play app. Now go to the icon with the three lines (see screenshot) in the top left, so that the sidebar opens. If the icon is not visible, click on the arrow in the top left until it appears. Usually it says "Play Store".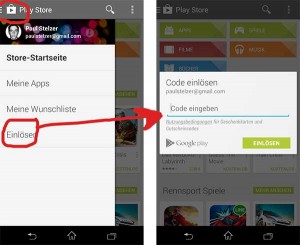 Redeem Google Play voucher
As can be seen in the screenshot on the right, you now have to enter the code from your Google Play voucher and if you have not made a typing error, the code has been redeemed and is now booked as credit.
Frequently asked questions about credit on Google Play
Once the Google Play voucher has been redeemed, we have credit on our account. We can now use it to pay for apps or make in-app purchases. But here too there are some questions. We have collected the most common times and try to answer them. We hope that this answer is also correct. If not, just report in the comments.This could be of interest to you Our smartphone recommendations for Christmas 2019 – Find out more!
How can I buy apps / in-app items with the credit?
If you have found an app that you want to buy, you can always see the price. Tap up there. Now a payment option is shown (e.g. the Google Play credit). If not, tap the arrow in the top right. This then brings "payment options". Tap up there and all the ways you can pay will be listed.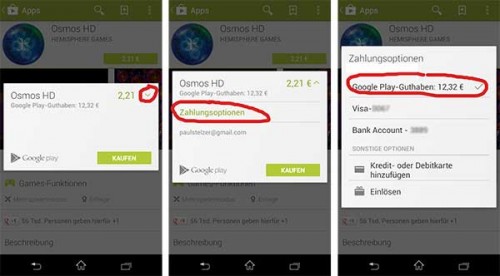 Use Google Play credit to buy apps
Finally, just click on Buy and the app is already purchased. The whole thing works analogously for in-app purchases.
Why can't I buy certain apps with Google Play credit?
Although credit is stored in Google Play, some apps cannot be bought with it. We have a guess in this regard, but we don't know if it's true. The developer of the app has options to set the price for a specific country. If he does not do this, but instead only deposits US dollars for the USA, for example, you can only pay by credit card, as it is probably not possible to convert dollars to euros.
Unfortunately, we cannot say whether this is really true.
Can I use a Google Play voucher for multiple accounts?
The cheapest Google Play card that you can buy is worth 15 euros. But sometimes you just want to buy an app for 0.89 euros. Can you transfer the credit to another account or use the card for multiple accounts?
This is currently not possible (status: 4.3.2014). We also cannot imagine that this will be implemented in the near future. In plain language: You can only use a Google Play voucher card for one account.