Downloading an app from the Google Play Store should work fine, but occasionally there are problems and an error code is displayed. We have listed some of the most common errors in the Google Play Store for you, tried to explain their meaning and offer a solution.
If you are unable to download an app because an error code has been displayed, you may find the appropriate solution below. If you have another problem with Google Play, just report in the comments. After all, we want to create a contact point here.
Google Play Store error code: meaning and solution
Now, however, we don't want to be bothered by long preambles, but rather list the mistakes and clarify their meaning. Further error codes are gradually added.
So that you can quickly and easily jump to the error that is displayed in Google Play, we have an overview for you here:
Error 498: The app could not be downloaded due to an error
Error 498 occurs more often in the Google Play Store. This usually has to do with the fact that the memory (usually the internal memory of the smartphone) is full. To do this, you must first look as in solution 1 (you will find the solutions below the problems) to see whether the storage space is really full.
Sometimes it may seem that there is still enough space, but error 498 is still displayed. So it's best to simply uninstall a few apps that are no longer required.
Otherwise, it also helps to move apps from the phone memory to the internal memory or, if possible, to move them to the SD card. If you have made space again, try downloading the app again.
If that didn't help fix Google Play error 498, then check out our other suggested solutions.
Google Play Store error 919: Unknown error code when downloading the app
From time to time, error 919 appears in the Google Play Store. This usually has to do with the fact that he choked somehow, whatever the reason.
We have described a suitable troubleshooting in solution 3, whereby many were able to fix the problem.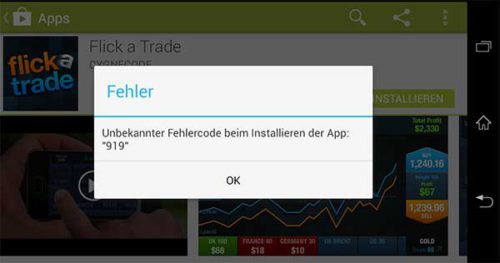 Google Play error 919: what can I do?
Alternatively, it is also a good idea to give it a try, because it can also be due to the internet connection.
Error code 923 in the Google Play Store
We haven't had error 923 yet, but other users have experienced it before. Accordingly, we have a suitable troubleshooting for you under Solution 2, which hopefully works.
Error 961: Unknown error code
Error 961 is also an unknown error code that occurs occasionally in the Google Play Store. For me, this arose when I wanted to install an app via a browser. Then this error appeared on the smartphone.
It is unclear exactly what caused this. Solution: Just try again or look at our suggested solutions 1 to 3.
Error code 491
Error 491 in the Google Play Store indicates that the memory is almost full and accordingly an update or the installation of apps fails.
If your device has a button to empty the working memory, press it. Otherwise just close all open apps or restart the device.This could be of interest to you Our smartphone recommendations for Christmas 2019 – Find out more!
And if that doesn't help either, an app may have something to do with the error code being spit out. Some users report that it can be the Firefox app. But of course it can also be another Android app.
Otherwise simply "Create backup and reset to factory settings" as described below in our solutions.
Error code 492: Can't download apps
This error should only occur very rarely, because if at all this error occurs only if there are problems with Google Play itself. This was the case a few years ago when the Play Store was completely redesigned.
Solution: Just try again later. If it doesn't work for days afterwards, try solution 3.
Resolving bugs in the Google Play Store
Now that we have introduced the individual errors to you, we have always mentioned which solution you should try. Unfortunately, there is no ultimate solution for all problems, but errors can be fixed several times with the same solution.
Solution 1: Check the storage space of your Android device
First, you should check whether there is enough space on your Android device. Even if you still have several hundred MB of free memory, problems can still occur.
So go to your Android Settings -> Apps. There you will find the device memory. If you swipe left you get to the internal memory and finally to the RAM (working memory).
If you notice that the bar is already 80% full, check whether you can move something from the device memory to the internal memory. Otherwise just uninstall a few apps. If you press the menu button or on the top right on the 3 dots (depending on the Android model) you can also sort by size.
Solution 2: reset app settings
To solve, among other things, error 923, you also have to go to the Android settings and then press "Apps". Now you are again in the overview, where you can see the storage space. Now press the menu button or (if you no longer have such a button) on the top right on the 3 dots. There is: "Reset app settings".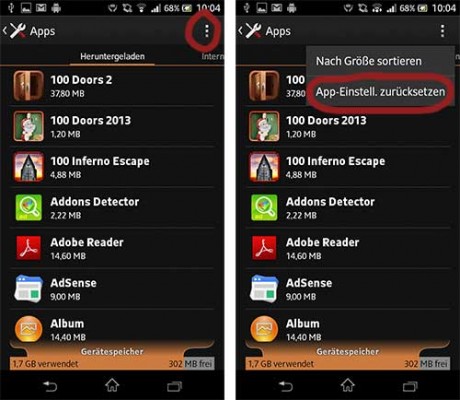 Reset Google Play app settings
Solution 3: Clear Google Play cache, clear data and try again
Another solution to fix the errors: Clear the cache of the Google Play app and delete the data. To do this, go to Android Settings -> Apps and then best to "All". Now search for Google Play in the list.
Now you can find data there (as shown in the screenshot) and clear the cache. Tap both and then restart the store.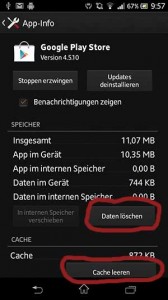 Clear the cache and clear data from the Google Play Store
Solution 4: uninstall updates from Google Play
To uninstall the updates from Google Play, proceed exactly as described in solution 3 (first paragraph). There you will find "Uninstall updates" above. Then you may restart your Android device and then open Google Play again.
More troubleshooting solutions
The bug is still there? Then just try the following options:
In addition to Google Play, there is also the so-called download manager. Clear the cache and delete the data here too
Perform a soft reset. That means: shut down your device by holding the power button for a few seconds. Now, if possible, remove the battery. Wait a few seconds, reinsert the battery and restart Android.
If nothing helps: create a backup and reset it to the factory settings
If the error does not go away due to the presented solutions and still occurs days later, you should consider re-installing the smartphone. It is advisable to create a backup first (e.g. using the Helium app ).
Now you go into the Android settings and select "Backup & Reset". There you will find the item "Back to factory condition". Important: All data will be deleted from the smartphone. If you don't want to do everything new, make a backup.