If you already have a WhatsApp account and change your phone, you can easily migrate the chats and data from the application to that other phone. You will only have to install the app on the new mobile phone, verify your phone number (by entering the numeric code that you must request by SMS or call during the initial configuration of the app) and finally restore your application data, which are normally stored in the WhatsApp cloud, and it is something that is also asked during its configuration.
But this could also be done by a third party. I would only need access to your phone number temporarily to receive the verification code and could restore your WhatsApp on another device to see your chats. If this happens, the only thing you will see on your mobile will be something similar to the image below. You will not be able to determine who did it or on which device your account was registered.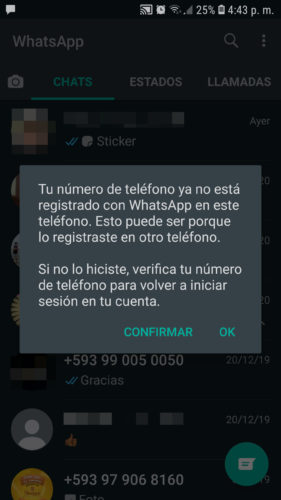 Two-step verification prevents that from happening. When you activate it, your account is protected by a password. Before your data can be restored on another device, you will have to enter that password or else there will be no access to the account.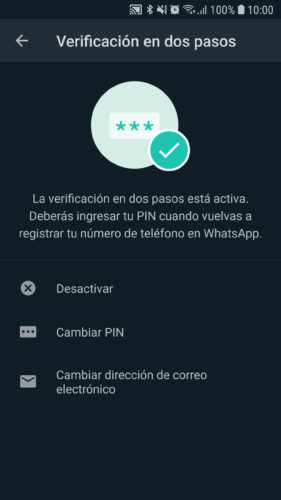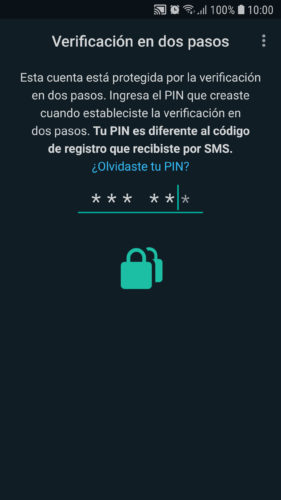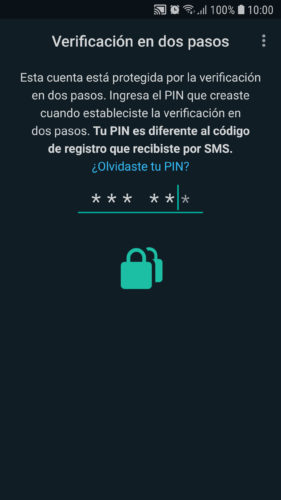 To activate two-step verification simply go to WhatsApp settings (three-dot button at the top), Account, Two-step verification. Enter the 6-digit password and optionally an email address. It is HIGHLY recommended to indicate a valid email to deactivate the verification in case you forget the password.
How to recover the account without the password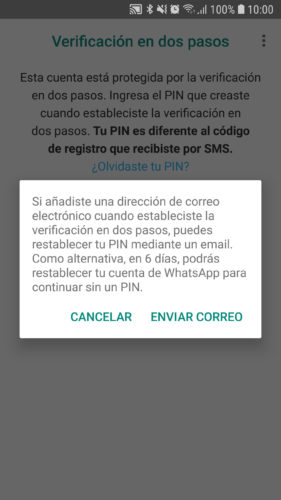 WhatsApp is always requesting the password from time to time (behavior that cannot be disabled), just to prevent you from forgetting. However, if this should happen, you should be able to request the deactivation of the key by email (from the option Forgot your Pin? During the initial WhatsApp configuration) to access your account again.
Another solution is to wait six days. After that time, WhatsApp will allow you to access the account without having to enter the password. Also, if you let 30 days go by without entering the code, the chats and data will be automatically deleted and you can create a new account.
conclusion
Although it may bother you having to enter the password from time to time, it is worth it to prevent someone from hijacking your account in the way indicated at the beginning. Indeed, you could recover the account in that case too, even if the other person has set up their own password and recovery email (by re-verifying your number, entering the verification code received by SMS or call, the access of the other person should be lost). However, while doing that they may have already seen your chats and calls. On the other hand, in case you inherit a phone number recycled by the operator or someone else, you should not worry about having to ask the previous owner of the line for the password, something that would be absurd. With phone number control, you should still be able to force a verification of the number and take control of the account associated with it.
More information
How to know if your WhatsApp is spied, cloned, hacked or intervened
Police can now legally spy on people's WhatsApp in Germany
How to PROTECT my cell phone from viruses, spies, interventions, etc.
Receive updates: SUBSCRIBE by email and join 10,000+ readers. Follow this blog on Facebook and Twitter.