To make a passport (or card) size photo you only need its correct measurement, according to your country, and if your cell phone camera is good enough, also a mobile app or online tool that will help you obtain a good result.
In some countries they still require as a requirement that you submit one or more passport photos to issue this document to you. It is recommended that you do them in a professional studio. But if time or money is a problem and your cell phone camera allows it, you could take some acceptable photos that you can then edit, cut and even formalize with a suit or shirt, through online applications or utilities.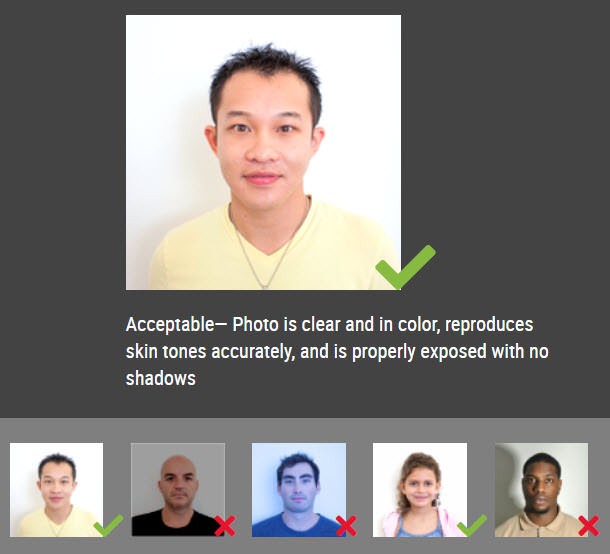 Do you need a photo to get your passport?
Before getting down to the task of making a passport photo, find out on the official website of your country if you really need it (in addition to the other requirements). In some countries you no longer have to take your photo, because they take it at that time. This is the case in Mexico , Peru , Venezuela , Colombia or Ecuador , where the document is known as an "electronic passport".
Passport size photo measurements
If this is not your case, the first thing you should do is find out from official sources the size of the passport photo (2 × 2, 3 × 4, 5 × 5, etc.), since the measurements are NOT THE SAME everywhere. To get the United States passport , the measures in the photo are different from those required by the Spanish or Argentine government:
USA : One 51 x 51 mm (2 x 2 inch) photo. It is the same that they request when applying for a visa.
Spain : A 32 x 26 mm photo.
Mexico : No longer necessary (previously 35 x 45 mm).
Cuba : A 45 x 45 mm photo.
Argentina : Three 40 x 40 mm photos (electronic passport does not require photos).
Other photo requirements
In addition to the size, check other requirements that the photo must meet. Some countries agree on certain things. For example, it should be a recent photograph, clear and frontal, without retouching and on a white background. As for sharpness, look for the highest possible resolution. Preferably at least 300 ppi.
How to make a passport size photo
  Passport Size Photo Maker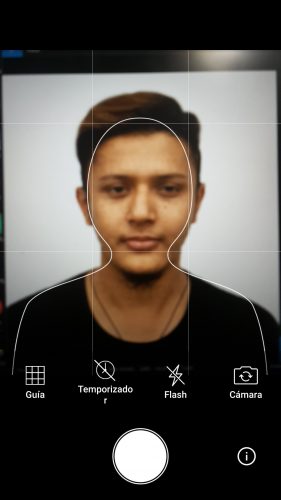 This Android application is one of the most prominent in the Play Store for homework. It tells you exactly how to take the photo and can crop the result quite well. However, the suggested measurements for certain countries are incorrect, so be sure to check them.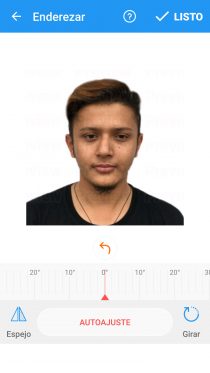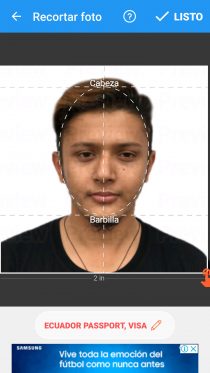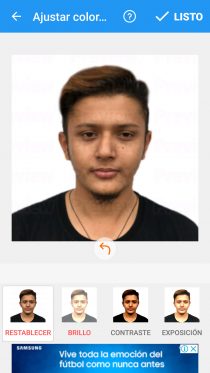 Always take the photo on a white background in good condition, because otherwise you will have to delete it and this APP only allows you to do it for a fee. There are free apps that remove the background from a photo in the Play Store, but that involves extra work. The other option is to use Passport Photo Creator (link) that includes this function for free, but does not have the guides to take photos.
Be sure to follow the instructions in the app. For example, the head must fill the circle. Eliminate lights or luminaires on top that can generate shadows. Position yourself as close to the bottom as possible to avoid shadows behind.
The editing tools will allow you to accurately correct the tilt and rotation of the photo. What you should avoid is the use of the available filters, because if you abuse them, your photo may be rejected at the chancery or civil registry.
Download from Play Store
Visaphoto (online)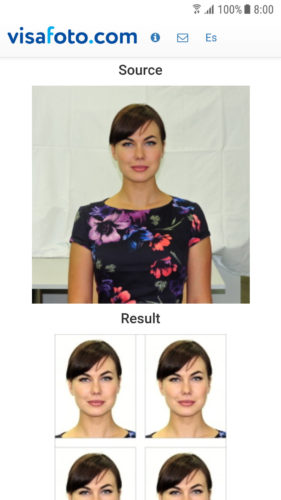 If you have a good quality photograph saved on your cell phone or PC, the visafoto.com page can help you convert to a passport photo easily. It is in charge of trimming and editing automatically (although only basically). And the measures established are correct (at least in the countries indicated above).
Make Passport Photo (online)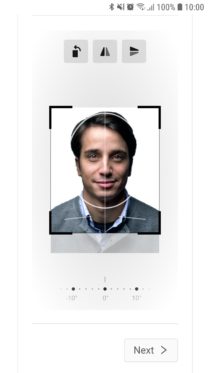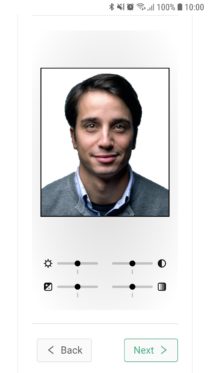 I just met the page makepassportphoto.com and although it is in English, I really liked it because it allows you to independently control the brightness, contrast, exposure and saturation of the photo, in addition to being able to add a formal suit for men or women (shirt, jacket and tie), and other less formal ones like only shirts and jackets. Obviously you can also crop the photo and precisely center it. And if you buy the paid version (3.99), they can erase the background and other benefits, although to avoid that I recommend taking the photo with a white background.
Its disadvantage is that, in addition to not being in Spanish, it does not have the passport photo sizes of certain countries in South America, although if you know the measures you could choose one of the available countries where the same ones are used as in yours.
Passport photo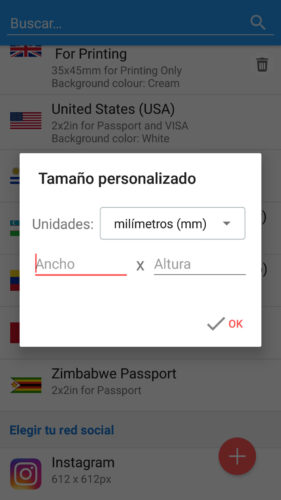 The APP Passport Photo Maker (link) also allows you to create photos with a custom size. This option can be used to create passport-size photos. Similarly, the measurements in this photo vary by country. While in Spain the photo card size is 32 x 26 mm, in Ecuador it is 32 x 43 mm. Therefore you should check the measure required by the institution where the procedure is being applied.
2 APPS to mount your photo in a men's suit
The 3 best APPS to erase imperfections in your photos, body or face
How to put people in photos (photomontage)
Receive updates: SUBSCRIBE by email and join 10,000+ readers. Follow this blog on Facebook and Twitter.