BLU has just officially announced which are the brand's phones that will receive an update to Kit Kat, through a statement on their official Facebook page.
According to the company, "the first" mobiles that will receive the precious update to Android 4.4 KitKat will be the following: Life Play, Life 8, Dash 5.5, Dash 5.0, Vivo IV, Neo 4.5, Studio 6.0 HD and Studio 5.5.
This is the official statement of Blu, published on his Facebook page, along with the image of all the indicated devices:
Dear BLU Fans, here are the models confirmed that will support Kit Kat upgrade. We're putting the final touches on testing and will begin releasing these in the coming days, one at a time. If your device is not supported at this time, we will do our best to do so in the future. We hope this clears the air on questions as to which devices will be supported with Kit Kat upgrades. Please remember BLU is always working hard to make our customers happy and constantly improving, unfortunately sometimes things take time. Thanks for your patience. #KitKat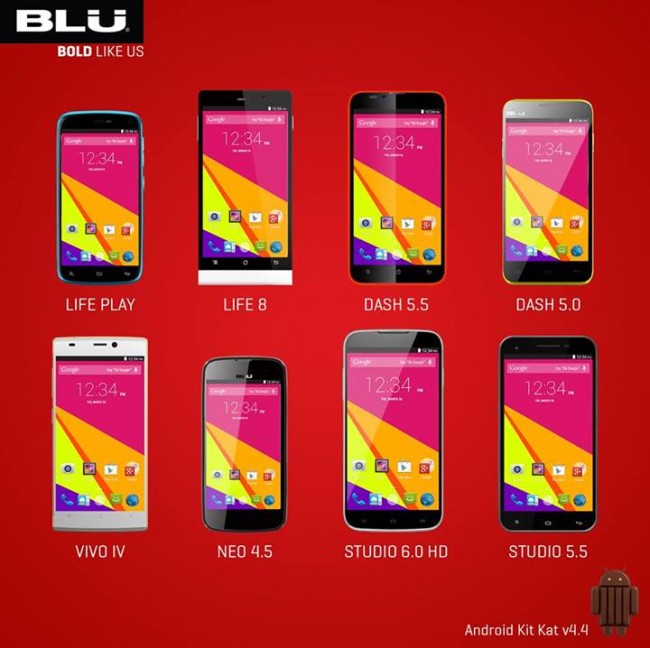 Basically it is indicating that those are the BLU models that will be updated to Android Kit Kat in the coming days: "one mobile at a time". If your phone is not on this list, BLU will do its best to keep it updated in the future. This clarifies the doubts about which BLU devices support the Android Kit Kat update, it is indicated.
Note that here we talk about Kit Kat Android 4.4. Currently the latest version of Android available and stable is Android 4.4.4 (Android L is still in the testing phase).
It is interesting to know that there will be Android Kit Kat for BLU models that were not expected, such as Neo 4.5 or Life Play. The company is not used to integrating the latest version of Android in the mobiles it has just put on the market, such as the Vivo IV, so this update is more than welcome, even if it is the first version of Kit Kat.
Update : The BLU company appears to be providing email support when it comes to a software issue. This is what he has posted on his Facebook fanpage:
The latest software update for the BLU Studio 5.0 is now available for download. Please contact [email protected] in order to receive the instructions on how to download this update. The update corrects bugs on apps such as: Netflix, Skype, among other patches to make the phone work better and faster. This is not an upgrade for Android. This is just a software update for the current Android 4.1.2 software.
It speaks exclusively of the BLU Studio 5.0, but this support can probably be applied to any model of Blu phone, an opportunity that can be used to cite some of the drawbacks that the update to KitKat mentioned here, which has been disclosed by our readers in the comments.
Update 2 : We are told that BLU technical support would have said that Android KitKat is being tested on BLU Studio 6.0 HD (AMONG OTHERS), which may explain some bugs of various models cited in the comments. He would also have said that the only solution to remove KitKat from a phone is to send the device to BLU (round-trip shipping at their expense) to be responsible for reinstalling Android 4.2 or the original version that the phone has had before to update. This process may take time as the phone has to be "rated".  Thanks Héctor Jiménez!
BLU announces Lollipop 5.0 update for 10 Android phones
BLU Vivo XL and Vivo 5 announced with octacore CPU and 2/3 GB RAM starting at $ 150
Mediatek SU, exploit rooting nearly 100 devices, inc. Sony, Nokia, Alcatel, BLU and Amazon
Receive updates: SUBSCRIBE by email and join 10,000+ readers. Follow this blog on Facebook and Twitter.