If it is a job that can be delivered to you online, an app to hire online services can help you find candidates .
To search for the services of an editor, researcher, programmer, or any remote job that you do not want or cannot do,  Fiverr is one of the best applications in this category. In a matter of minutes and absolutely free you will be able to find people who offer you these services and also hire them immediately.
How to contract services in the Fiverr APP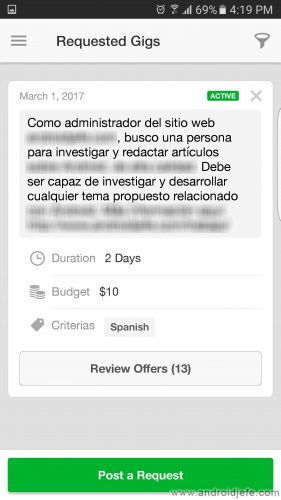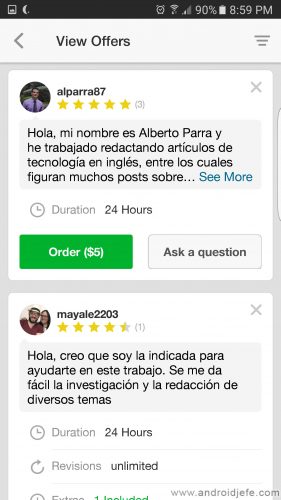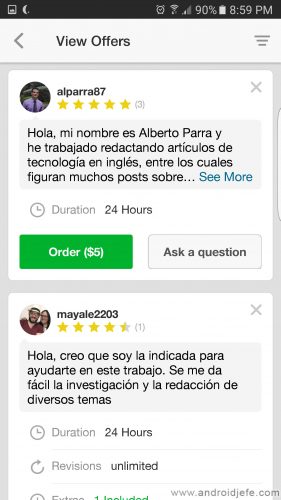 You have to create an account in the application and publish the request («Gig») with the required data. After it is approved by Fiverr (it may take several minutes), candidates will start to send you their proposal and fee. Fiverr requires you to indicate a budget of at least $ 5, but the amount can be agreed later with the applicants.
From the same app you can chat with those interested, asking all the details. You can exchange contact information and even files.
Payment can be made directly through the application, by credit card or PayPal. Fiverr apparently charges the $ 1 tax on each transaction. You don't necessarily have to pay before. You can agree the details with the person.
Search or find services in Spanish in the APP
The entire Fiverr interface is in English, but you can hire services and people who speak Spanish, indicating it in the data of your request. The offer of services is wide in this language, as I have been able to verify.
It is impressive how effective this Fiverr service is. In just a few minutes I got several responses, after posting my request. There are other similar services such as Freelancer or Truelancer (with their respective apps), where I have not been able to obtain even 10% of proposals than Fiverr. In fact, in Freelancer so far my request has not been published.
If you want to find someone to do a design task (logo or banner), writing, translation, digital marketing, or the like, the first resource you should visit is Fiverr. It costs nothing to post a job offer. In professional networks like LinkedIN you need at least $ 200 to put an ad looking for that person. Placing an ad on Google or Facebook also comes at a cost, and specifically for my offer I didn't get anyone interested there.
Sell ​​your services
If you do not want to sell your services online using Fiverr , you cannot do it from the mobile app. You must use the web version of the service . Specifically, go to fiverr.com/start_selling.
Download Fiverr : play.google.com
Badoo really works?
Gruveo, online service for calls and video calls, without applications or accounts
Where to get an online number to verify services by SMS
Receive updates: SUBSCRIBE by email and join 10,000+ readers. Follow this blog on Facebook and Twitter.