These are the best FREE soccer apps . Download to be instantly informed of the results of your team in any league in the world.
It doesn't matter what football results interest you. Any of the Soccer APPs below will let you know in real time what is happening with your favorite national team. They will also inform you of the results of championships in other countries and international competitions.
FREE soccer apps
1. Soccer Scores (FotMob)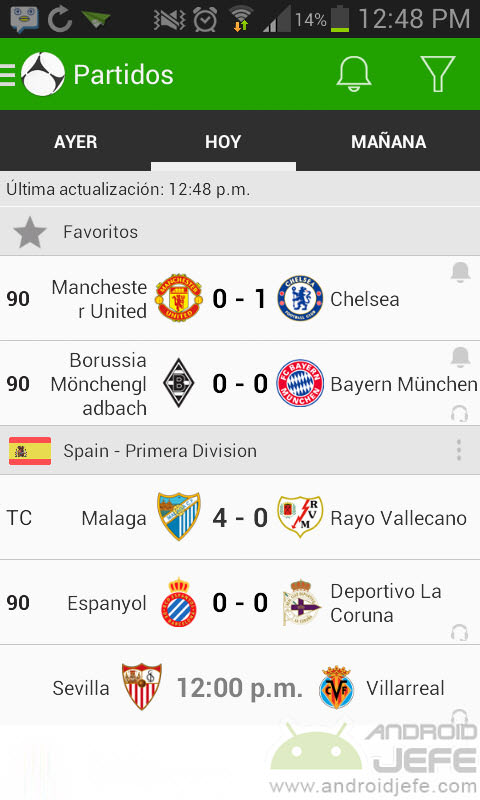 This is one of the most complete applications. With it you will be able to know football results from any country in the world. Even famous competitions like the premier or champions. It will even help you to know the results of the World Cup.
In addition, it will inform you of the time and date of the next matches and activate alarms to notify you of upcoming matches (although the application requires an internet connection for this). You also have recent news in the same App.
Download : Soccer Scores
2. One Football
It is almost as complete as FotMob, but you may not find football results here in small countries like Ecuador.
In this soccer APP you also have the information of the most important leagues in the world. In this as in the previous application, you can define your favorite team or teams to give them a special follow-up, as well as see real-time information about football matches that are being played right now.
Link : OneFootball
3. ESPN FC Soccer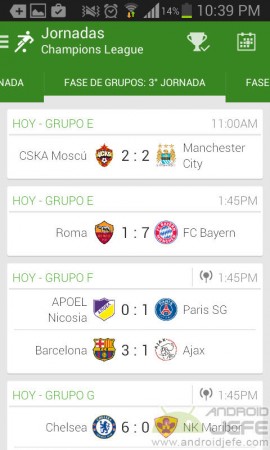 Above: OneFootball vs. ESPN FC Soccer
If you get lost with all the menus, tabs and options offered by the previous apps, ESPN FC (official ESPN app) is much cleaner in this regard.
But it also offers the same functions: results, notifications of upcoming matches, favorite teams. Here is also news updated all the time. Almost every soccer league in the world is available.
Link : ESPN FC Soccer
4. LiveScore
This is the fastest soccer app of all, although it has no options to schedule alerts of upcoming matches, follow up on favorite teams or watch news.
It is an exclusive application to know world soccer results and upcoming matches. It offers real-time information, extracted from the LiveScore portal. The disadvantage is that, although it is simple, it has an intuitive interface and is in English.
Download APP : Live Score
5. FIFA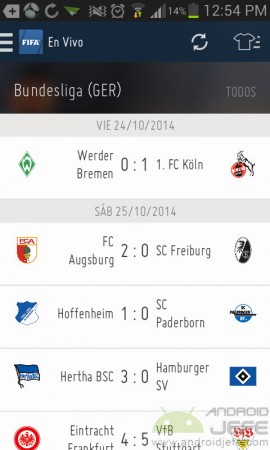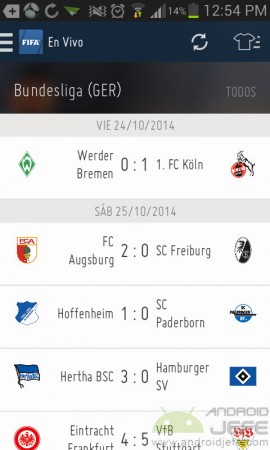 Above: LiveScore vs. FIFA
The official application of FIFA is not very fast loading new information. Although you can track favorite teams and certain leagues, it does not provide notification of upcoming soccer matches.
However, it is good at giving football results in real time, from games that are being played right now anywhere. News and information with images and videos on world football is another of his strengths.
It also stands out for indicating the FIFA ranking and information on national teams. It does not allow to follow up on international leagues such as the Champions League or the Europa League.
Download Application : FIFA
Which soccer APP do you use to follow the results?
If you are a soccer fan, tell me below which soccer application you use to follow the results of your team.
Download FIFA 15, 16, 17, 18 for Android from the Play Store (with or WITHOUT the Internet)
3 APPS you need to play GUITAR
Receive daily Bible verses with this APP
Receive updates: SUBSCRIBE by email and join 10,000+ readers. Follow this blog on Facebook and Twitter.