There are things about a new version of Android that are almost never officially disclosed by Google. They are "little details" that you only learn when you start exploring that new version on a device. For many users, those little details often turn out to be much more interesting than the main changes announced by Google itself. They can be decisive when you want to upgrade to that new version of Android or wait to buy a device that comes with that new system.
Below you can see the list of those «little details» added in the new Android 5.0 Lollipop version. It is a compilation of the first details that begin to come to light thanks to the first tests with this system released by enthusiastic users on the subject, on websites such as Reddit and XDA-Developers.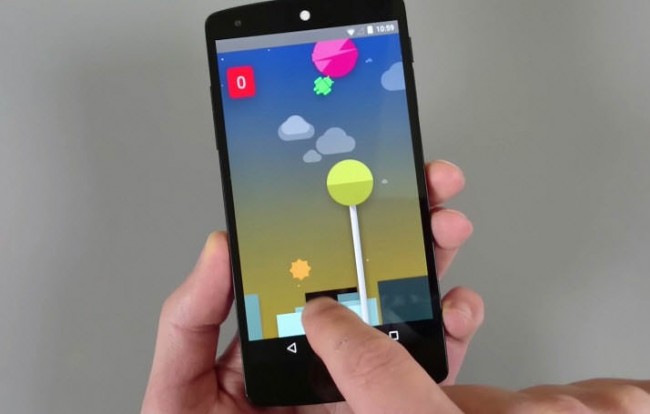 1. Lock the phone in a single application before lending it to a friend : Only one application can be used while this "Screen pinning" or "Screen Pinning" functionality is active. Incredibly useful in case you have to lend the phone to someone who wants to play a game, use an application, make a call or send an SMS. You can only do one of these things at a time, without being able to browse private things on the device. If you try, the system lock screen will be visible, depriving you of this option.
2. Automatic Activation of Mobile Data when there is no Internet via Wifi : If there is no Internet access via Wifi, the system automatically switches to the Mobile Data connection to stay connected. In addition, when there are connection problems both by Wi-Fi or mobile data, the system will now display an exclamation mark (!) Next to the respective icon, to indicate that there is something wrong with the connection.
3. Turn off notifications to not be disturbed : Something like putting the phone in "Do not disturb" mode. This feature allows you to disable all notifications generated by applications for a period of time or indefinitely. You can also configure that only important notifications are displayed. Basically, this is done by choosing "priority applications" that will be able to show notifications for a period of time. The device will display a star icon in the status bar indicating that it is in this mode.
4. Orange status bars and navigation to alert that the "Battery saving mode" is active  : The battery saving mode can be activated when the battery is low, to give extra minutes of life to the device, when canceling applications and tasks that are not important. When activating this mode, the system will turn the navigation and status bar (the upper and lower bar) orange, as an alert that this mode is active (which would imply that the battery is low). This coloration of both bars is maintained in any open application.
5. Copy the data from your old Android to a new one : If you bought a new Android and want to transfer the data from your "old" phone to the new one, now you can do it with a "new" function of Android 5.0 that allows you to restore data from a specific device in your account and select individual applications of that device, a function that appears in the initial configuration of the device. Basically with this feature you can copy the data from your old phone to a new one and choose which applications from the old device you want to restore to the new one (which must have Android 5.0, obviously).
6. Chrome tabs on Recent Apps screen : Pressing the box button on the Android 5.0 navigation bar is when recently used apps appear. In this new version of Android, Chrome's open tabs will also appear here. With many tabs open this can be a problem finding recent apps. Fortunately this feature can be disabled in the Google Chrome settings, "Combine tabs and applications" option.
7. Switch to activate the flashlight available in the Quick Settings menu : The quick settings are those that appear when sliding the status bar or Android notifications, where the switch appears to activate or deactivate the wifi, data, bluetooth, etc. In Android Lollipop a switch is added right there to activate and deactivate the flash of the device, if it has one.
8. NEW!   Guest mode : This is the mode you want to activate for when you have to lend your mobile to a family member, friend or acquaintance. Basically, the person receives a clean phone, without saved data, and there they can synchronize their contacts, their photos and even download applications from Google Play. Once it's done doing what you need to, you can delete everything you've saved in this guest mode. All your data is never accessible to this person.
9. NEW!  Screen light according to the amount of ambient light : This function called «Adaptive Light», exclusive feature of the Moto X, is also available in Android 5.0. Adjusts the light on the screen according to the amount of ambient light. At night, for example, this would minimize screen light to a minimum to avoid causing a negative impact on the eyes.
10. Battery percentage appears when sliding the status bar : Apparently only appears when the notification bar is lowered in Android 5.0. There is no native option for it to always be visible on the same battery icon. This could be possible only with extra applications available in the Play Store.
11. COMPLETE integrated Google 2-step verification in the system : In previous versions of Android, when trying to enter an application with a Google account that had two-step verification activated, there were two problems: the process was sent to load in the default browser and, additionally, the account password had to be entered there again (having already entered this data the first time in the application). This is fully integrated in Android 5.0, which means that data entry is now done only once and the process is done on the same screen of the application you are in (including entering the verification code).
12. Recent apps will not be erased when rebooting the device : The recent apps screen that appears when you press the box button on the navigation bar in Android 5.0 will keep the list of recently used apps, even if you do a reboot of the device . We assume this will work the same way, even if the phone is turned on again after it has been turned off for a period of time.
13. System share menu prioritizes the most used destinations : If you tend to share things on Facebook, in Android 5.0 Lollipop the system Share menu will now show you the Facebook option at the top of the list of available sharing applications.
14. Faster, less invasive face unlock : In theory, face unlock now detects the owner's face in less than a second. Also, the face detection process is no longer displayed in full screen, but only in the form of a small icon at the bottom of the screen.
15. Know which application generated a notification by pressing and holding it : When a notification appears in the status bar, you can now see which application generated that notification by pressing and holding on that notification.
16. The wallpaper of the clock application changes color depending on the time of day : For example, it will be blue at noon and black when night falls. This only applies to the native Android 5.0 clock app
To all these "hidden" news in Android 5.0 Lollipop are added the multi-user support, the OK Google function with the screen off, the fantastic battery saving mode and the option to wake up when picking up the phone, already explained in this article.
Note : All these features have been seen in the "Preview" version of Android 5.0 Lollipop. They are expected to be confirmed in the final version of the system, which would apparently be released in November.
Update : Check the official features of the final version of Android Lollipop 5.0.
Receive updates: SUBSCRIBE by email and join 10,000+ readers. Follow this blog on Facebook and Twitter.