Although Xiaomi devices with international firmware have Google services and the Play Store, unlike their Chinese counterparts, there are sometimes problems with contact synchronization. The problems are caused by the MIUI Android variant, but there is a solution. Here we explain how to synchronize your Google contacts.
The problem with MIUI and the Google contacts
Although international firmware is installed, problems with Google services can sometimes arise with smartphones imported from China. On Xiaomi smartphones, it happens that Google contacts do not synchronize, even if the remaining Google apps work without problems.
The problem is found more often on Xiaomi smartphones than expected. Behind it is the heavily customized Android interface MIUI. Sometimes the system is a little overzealous when it comes to conserving battery life or saving memory, and tends to block processes that it thinks are useless.
Sync Google contacts on Xiaomi MIUI
Syncing Google Contacts is easier than expected. It is important that the necessary app is installed:
Opens Settings
Selects installed apps
Searches for Google Contacts Sync .
If it does not exist, you can download the APK file manually .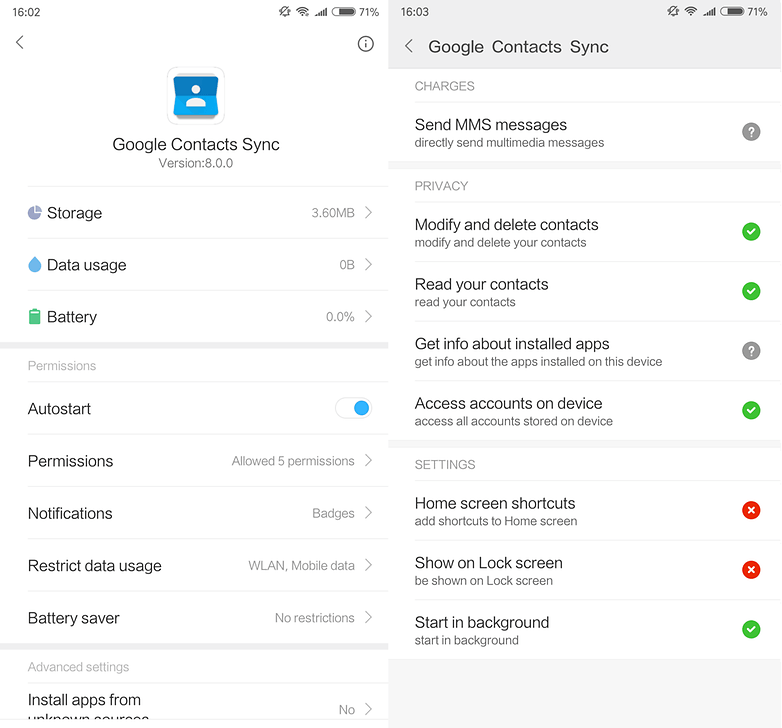 To solve the problem, MIUI has to be told to allow synchronization.
Follow the steps above to select the app.
Then activates the autostart
The following changes are then necessary in the Permissions submenu:

Change and delete contacts
Access to contacts
Access to accounts
Start in the background

You set no restrictions in battery saving mode
Now you have to restart the smartphone. Then you can check whether it syncs correctly. It takes a few minutes to download all contacts. But that's about it!
Opinion by Luca ZaninelloSmartphones imported from China always have problems with Google services.Do you agree?505055 participants
Did this guide help you fix the problems? Do you have any other problems with Xiaomi smartphones?