Facebook Wi-Fi finder
An app that is probably already installed on your smartphone can find WLANs after an update. On the options page of your Facebook app you will see the new entry Find WiFi between Pages and Saved . Facebook read out the log-in data for the respective WLAN from the restaurant or cafe owners on their Facebook page.
So if you no longer have access to a mobile data network, you can shuffle from WLAN to WLAN.
Free internet via Instabridge
After the first start, Instabridge downloads an offline map for your area and offers a download section for further WLAN maps. Depending on the location determined, you will be notified of known networks nearby. The app automatically dials you in with the corresponding WiFi passwords.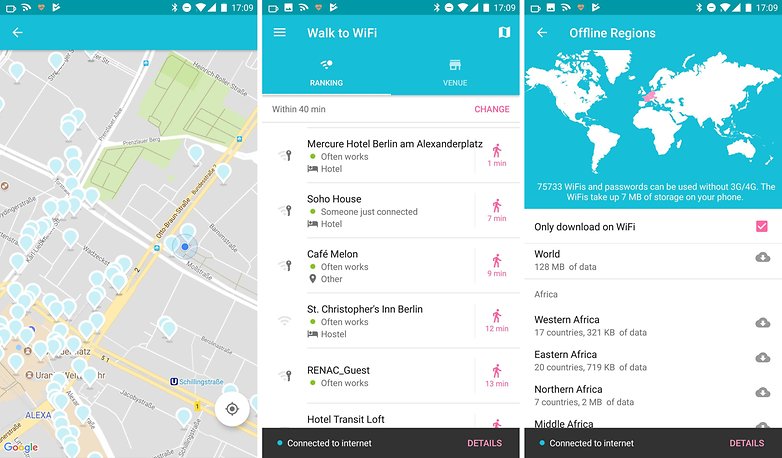 You can also share your own WiFi network from the app and make it available to others. If your data volume is scarce or you don't have a data flat rate, Instabridge is the right choice and connects you to the Internet free of charge.Free WiFi – Instabridge
OpenSignal WifiMapper
Another free app that you should keep on your smartphone when searching for free internet is the WifiMapper from OpenSignal. Unlike Instabridge, the hotspots must always be obtained online. And the WifiMapper does not know the password for all of the listed networks. The app also has no offline maps and is therefore not suitable for tough offline use.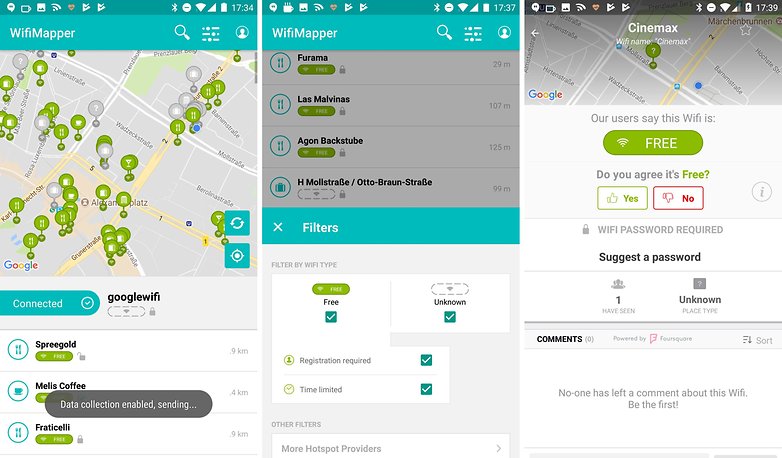 Freifunk: Free as in Freedom
Freifunk is to become a closed, decentralized network of WLAN routers. Thanks to him, you get a constant, encrypted internet connection – that's the theory. Unfortunately, the network in Germany has not yet developed so well that a seamless internet connection is possible.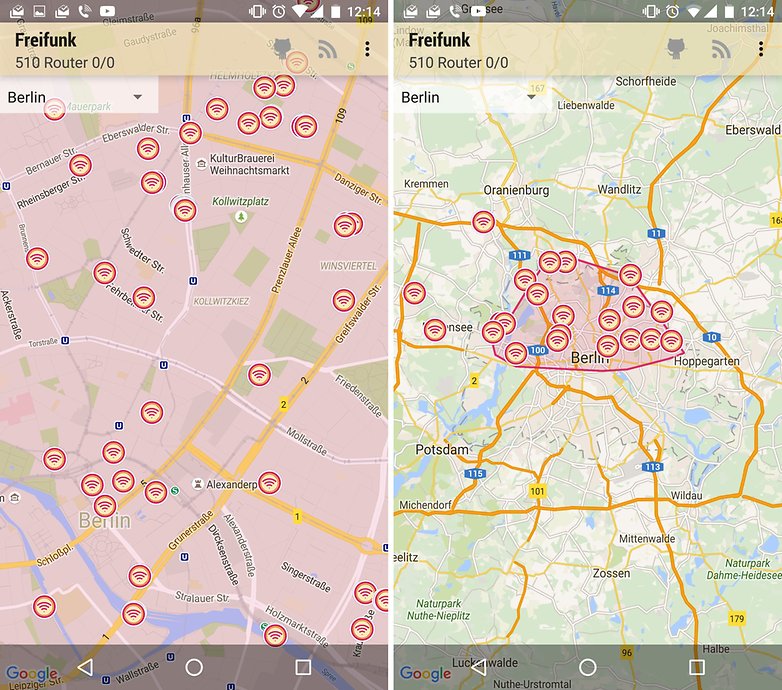 The best Freifunk app is called Freifunk and leads you to a compatible router near you. The app is designed for the DACH region and therefore also works on vacation in one of the Alpine republics.free radio
WLAN hotspots of the providers
Vodafone and Telekom each offer a nationwide hotspot network. If you are not a Vodafone or Telekom customer, you may only surf for free temporarily, if at all. After that, fees are due. Vodafone customers pay an additional 4.99 per month , while Telekom customers can use the HotSpots with their ID at no additional cost.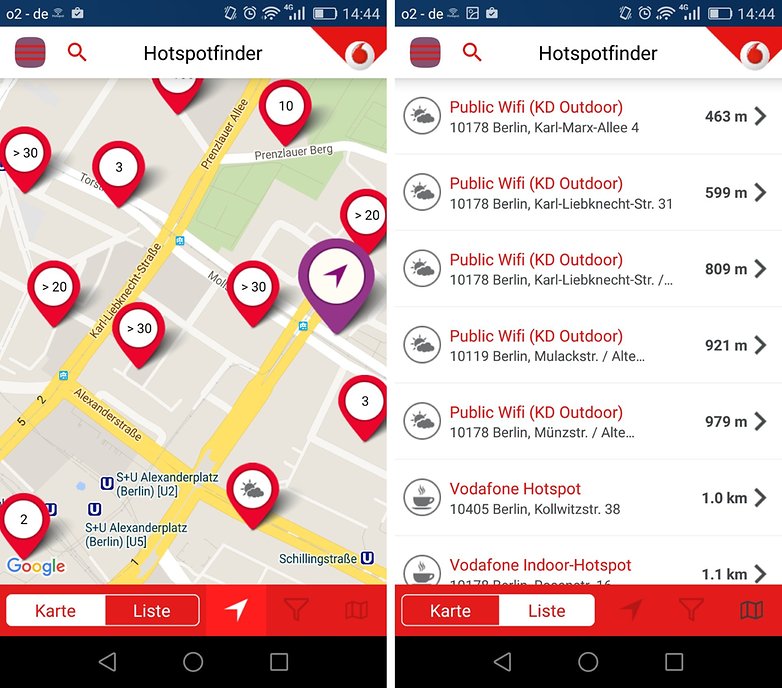 Vodafone hotspot finderConnect App – HotSpot Manager
What about interference liability?
Your WLAN hotspots, be it with the guest WLAN of a Fritzbox or with a free radio setup, have been legally problematic. Because if a user in your network downloaded copyrighted content, you could face claims for damages and warning fees. This has not been the case since October 12, 2017. Since then, the malicious liability for interference has been abolished, which has always stood in the way of the free distribution of WLAN access.
Open WLANs
Free public WiFi
Public administration has long been aware that WLAN coverage can be very practical. And so many cities and municipalities have set up their own hotspot networks so that citizens and tourists can surf. But what use is it if nobody knows about it? That is precisely why the municipalities provide information about your projects on websites. We have put together a few important pages here:
Free internet: cafes and restaurants
A number of bar owners will tell you which password the local WiFi has on request. Occasionally it is even on the drinks menu. Here we list well-known examples of restaurant chains that offer free WiFi:
Free internet: airport and train station
Fortunately, several airports around the world offer free WiFi. This comes in handy when you want to tell home that you've arrived safely. At Schönefeld and Tegel airports, the offer is reduced to 60 minutes. The Telekom HotSpot will then be charged. In Frankfurt you can get WLAN access completely free of charge.
In German train stations, the train is not very generous. Here, too, the HotSpot partner is Telekom. However, you are only paid for the first thirty minutes. Then you have to register for a fee. The tariffs cost a maximum of 29 euros per month.
You can also surf on planes and trains. You can find airline tariffs here. In the ICE, however, surfing in 2nd class is becoming increasingly free, although the connection often breaks.
Security warning
Open WLANs are a security risk for several reasons. Clever fraudsters can use a laptop to open a hotspot with the same name and fish out your data. And connections without a password are unencrypted and therefore technically readable for everyone like a postcard.
So in addition to WiFi, you should also use a VPN connection with a VPN server of your trust. Only then is it safe to do private or business things in particular via free WiFi networks. Our cooperation partner NordVPN also has some tips ready.
Free mobile data
Telekom: twice 5 GB free
Yes, Telekom is giving you 10 GB of data volume – as part of the Data Comfort Free tariff . This gives you the opportunity to unlock a data packet of 5 GB twice. This has to be done within six months. For the beach vacation on the North Sea an ideal tariff to make your friends on Instagram & Co. jealous with your current beach status. Incidentally, there are no further costs and the contract is automatically deactivated after six months. Just a shame: you cannot reorder the tariff as often as you like.
Free internet: "Sponsored Surf-Basic" mobile tariff from netzclub.net
Free internet flat rate with a monthly data volume of 100 MB at a data speed of up to 7.2 Mbit / s. Where's the catch There is no such thing with the offer of Netzclub.net , at least with regard to free surfing the Internet. So if you get a SIM card from Netzclub.net, you can surf on the go. If the high-speed volume is used up, the system throttles to 32 Kbit / s, but does not block it.
The scope of the "Sponsored Surf-Basic" offer also includes free shipping of the SIM card. If you want to make calls or send SMS, you pay 9 cents per minute in German networks. There is no contract and there is no monthly fee.
If you get the tariff and don't send SMS or make calls, you can actually enjoy free internet. If you want to call someone, you can top up your credit by direct debit or an O2 credit card.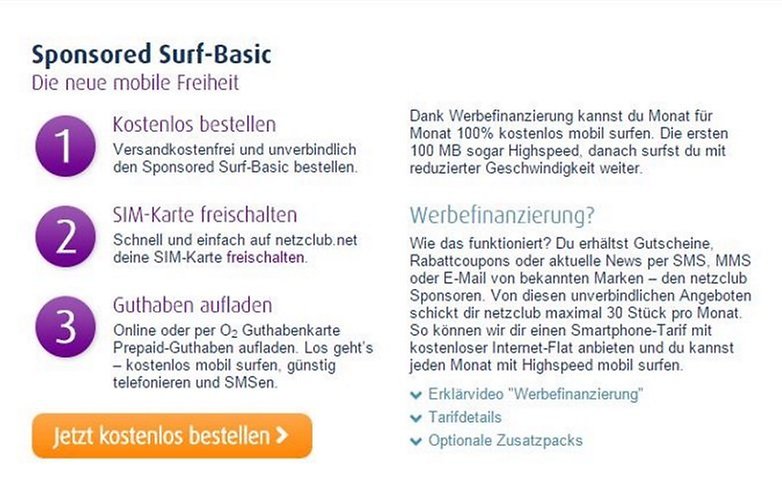 Since quite a few customers use the service only for going online, the tariff is co-financed by advertising. The user receives advertising by SMS, MMS or email at regular intervals. According to several reviews, these reports do not bother you every hour or every day. Supposedly you only get advertising mail from Netzclub.net every two to three weeks.
The Netzclub.net "Sponsored Surf-Basic" tariff is certainly not suitable for everyone, because many people don't just go online with their smartphone. And very few will last for 100 megabytes of high-speed volume per month.
As an alternative to surfing for free, this mobile tariff is highly recommended. However, it remains to be seen how long this offer will continue to exist and whether more advertising will soon be sent to customers.