Pushbullet is probably the best Android app in 2014 . But it is still valid and below we present its 3 best features.
This program allows you to link your Android with the PC or other mobile devices wirelessly to perform multiple tasks. For example, send files, view mobile notifications on the PC, send the clipboard from one device to another, among other things.
To use pushbullet, you must install the application on your phone (or phones) and the desktop client on your PC or PCs. This is necessary for the devices to link to each other.
1. View and respond notifications from PC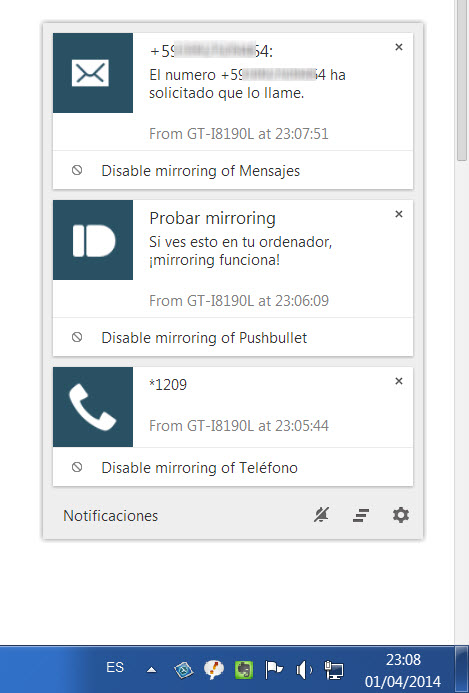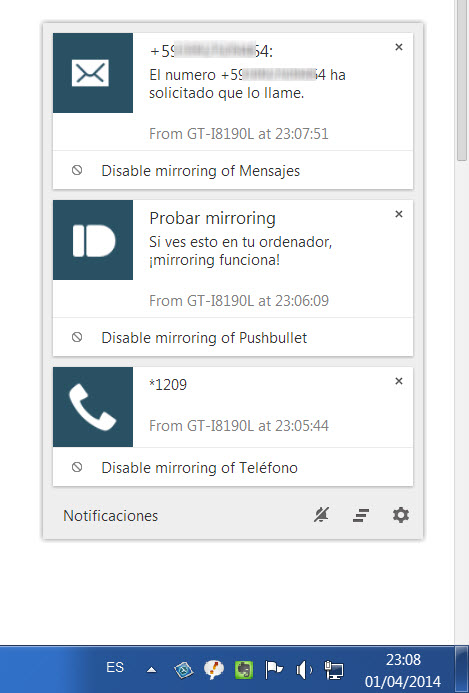 This is how notifications are displayed in Windows 7 with Pushbullet
Pushbullet software allows you to view cell phone notifications on PC and also reply to them. For example, replying to messages from Facebook Messenger, WhatsApp, Line, Telegram or Hangouts.
When a new message arrives through these systems, Pushbullet generates a notification on the PC in which there is a Reply button , from which you can compose and send the response.
2. SMS client for PC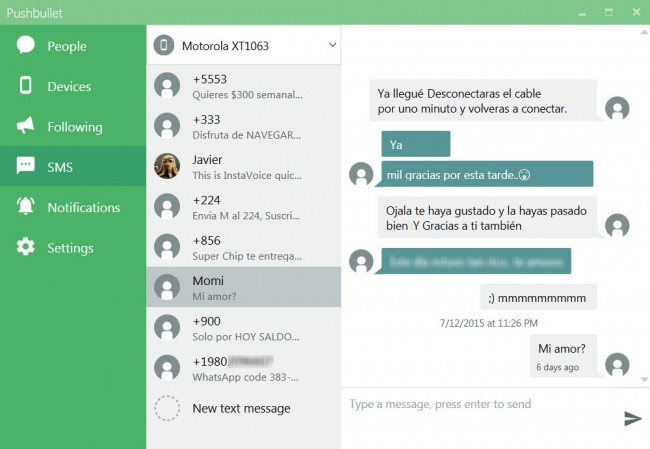 Pushbullet not only allows you to view and reply to messages from the PC. It also offers a complete SMS client, which is capable of displaying the complete threads of SMS conversations. This way you can review all the previous messages of a conversation -the context- before responding appropriately, something that was not possible before.
Pushbullet also has extensions for Chrome, Firefox and Opera. Through them you can also send SMS.
3. Copy files from PC remotely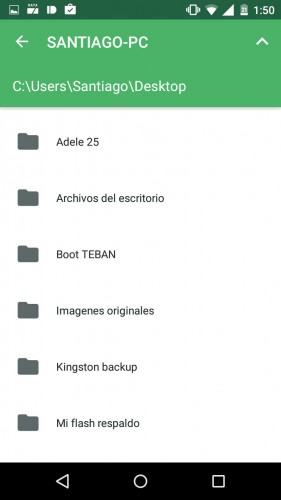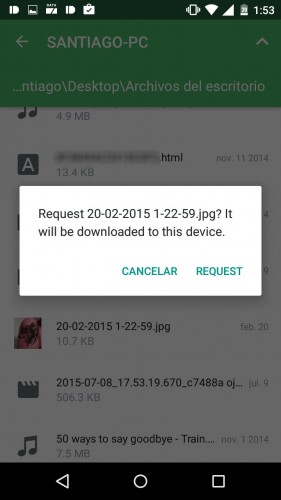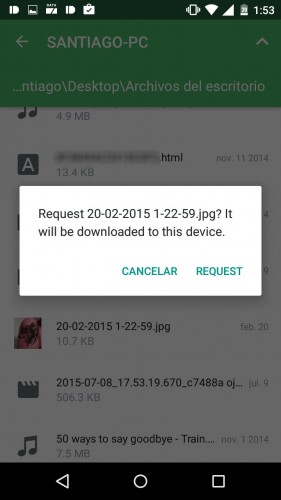 This functionality allows you to view and copy files from PC to cell phone easily. Just activate the Remote Files function on the PC and you can access them from your Android.
The most interesting thing about Pushbullet Remote Files is that your devices don't need to be nearby. You could get a file from your PC at home from your mobile on the other side of town. And you can get any file from that PC (not just files inside a Public Access folder or the like).
Free Alternatives to Pushbullet Pro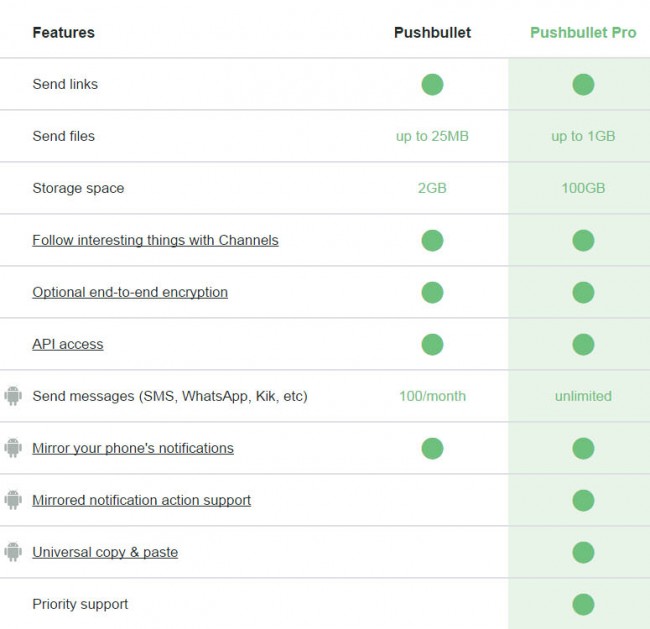 Pushbullet is an all-in-one application to integrate Android and PC. It allows you to send files and copy paste text between the two, manage notifications and answer SMS / instant messages (WhatsApp, SMS, Facebook, etc.) from the PC, among other things. Unfortunately, some features are exclusive to Pushbullet Pro, the paid version of Pushbullet. If you are not able to pay the subscription, we will tell you what are the best free alternatives.
Airdroid
Perhaps the best and most complete alternative to Pushbullet right now.
It allows sending files ( Send files ) of up to 30MB in size between Android and PC on a local network or over the Internet, viewing notifications on the PC ( Mirror phone notifications ) and unlimited replying to SMS, Whatsapp, Facebook Messenger, Telegram, etc. from the computer. Allows you to share the clipboard between the phone and the PC ( Universal copy & paste ). This application also allows you to see the Android screen on the PC (something that Pushbullet does not have). All these functions are completely free.
Does not allow managing notifications from the PC ( Mirrored notification action support ) and does not offer storage ( Storage space )
The premium version of AirDroid ($ 1.67 per month or $ 20 per year) allows you to send files up to 1GB in size.
It is compatible with Windows, Linux and Mac PCs.
Download AirDroid : airdroid.com
Pushline
It can show notifications on the PC and allows sending SMS and controlling calls from the computer. It also allows copying / pasting text and sharing links between both teams.
You cannot transfer files, there is no cloud storage and you cannot send SMS, instant messages via WhatsApp, Facebook, etc., or manage notifications from your PC.
It is compatible with Windows, Linux and Mac. It does not have a native client for PC, but only an extension for the Google Chrome browser.
Download PushLine :  getpushline.com
Dukto
It allows to send and receive files between PC and Android under the same network, without Internet. It is also possible to synchronize the clipboard between both computers.
You cannot view or manage notifications on your PC, and you cannot reply to instant messages or SMS.
It is compatible with Windows, Linux and Mac PCs. It is completely free and open source.
Download Dukto :  msec.it/blog/?page_id=11
KDE Connect (Linux)
It allows you to share files and links, view notifications on Linux and share the clipboard between Android and PC. It offers encryption, it is free and open source. It has support to control the PC from the Android.
It does not offer support for answering SMS, instant messaging, it does not provide storage and it does not allow managing notifications.
Download KDE Connect : kde.org
Unifunctional alternatives
If you only use one or the other PushBullet function, there are several possibilities.
For example, check the following link about applications to see notifications on the PC.
To copy paste text between Android and PC (sync clipboard), try ClipSync ( bdwm.be/cs/ ) and Alt C ( altcopy.net ) applications.
To reply to SMS and instant messaging, you can use WhatsApp Web ( web.whatsapp.com ), Telegram Desktop  ( desktop.telegram.org ) and MightyText ( mightytext.net ), which currently offers various functions, such as notification mirroring and managing calls and SMS.
For storage and file sharing, you can use Google Drive or Dropbox .
Download Pushbullet
Remember that you must download and install Pushbullet on all the equipment that you are going to interconnect. You can find the respective clients at pushbullet.com .
How to PASS files from cell phone to PC (and vice versa)
5 APPS to control Android from PC
How to send big or HEAVY files by WhatsApp
Receive updates: SUBSCRIBE by email and join 10,000+ readers. Follow this blog on Facebook and Twitter.