"Reset to factory settings" deletes all data on the Android phone? Not correct! We show you how to remove important and personal data thoroughly and, above all, safely. Then you can also sell your smartphone carefree.
ResetAndroid correctly and safely© Fotolia / kebox
Let's start with an example: You sell your Android phone. First, reset it to factory settings and then send it to the buyer. If he is familiar with the matter, he can partially or completely restore and use your data. You can prevent this with the following tricks!
Very important: back up cell phone data
Before preparing your cell phone for sale, remove the SIM and micro SD card from the device. Back up your data before resetting! In this article, we explain in detail how to create a corresponding Android backup, whether locally, on a PC or in the cloud .

Factory reset Android
To restore the delivery state of the cell phone, proceed the same for all androids. First remove your Google account in the settings under "Account". Then navigate to "Backup and reset" and tap on the entry "Reset to factory settings". Then confirm the command via "Reset device". With it you delete all settings, apps and personal data from the internal memory make sure that the checkmark for the "Back up my data" option is deactivated and that it is deactivated for "Automatic recovery." If you continue to use the smartphone yourself, you can of course leave the recovery activated.
The best smartphones under 300 euros!
Reading tip: Delete Android apps completely – how it works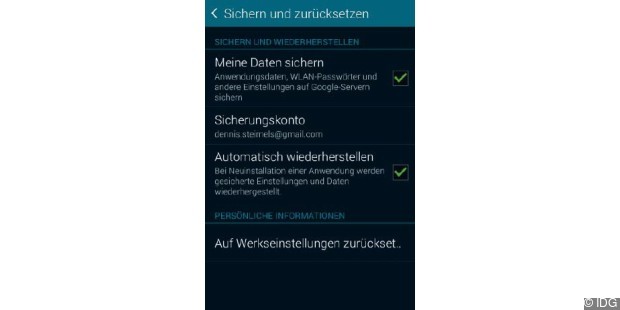 EnlargeLeave the checkmark for data backup activated, then reset the smartphone to the delivery state.
Reset Android correctly and safely
Your data is now obviously deleted, and a normal user will not be able to restore the data or even remember it. Nevertheless, a buyer of your smartphone could restore and use your data even though you deleted it. And you can avoid that.
Manual: After resetting to the factory settings, set up your smartphone again. Ideally, use a fake Gmail address. Then manually copy arbitrary, non-private photos to the phone, create imaginary contacts and install apps that you have never used. This is how you overwrite your old data, which means that it completely disappears from memory and is very difficult or even impossible to restore. Then reset your smartphone again.
With shredder apps: Alternatively, use apps that specialize in secure deletion. They also overwrite old storage space so that no data can be restored. To do this, download the iSchredder app, for example down. Now you can choose from five different deletion methods, whereby old data are overwritten with random values. Then reset your smartphone again. Now you can safely sell or give it away without a third party being able to restore your data.
Recommended reading: Sell your old cell phone for as much money as possible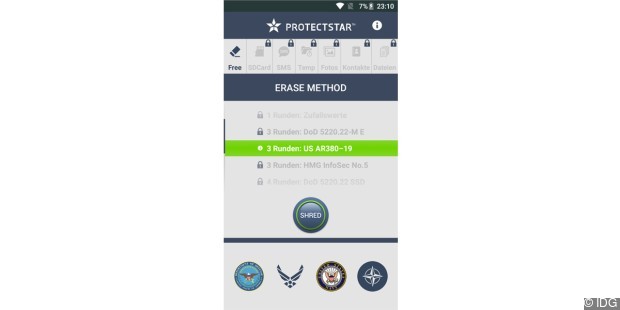 EnlargeThe app iSchredder can safely delete your data as it overwrites the old memory with new values.
Factory condition despite unknown password
If you have forgotten the set password, you can reset the password or the pattern lock using the Google device manager in the PC browser . You can then carry out the reset.
Alternatively, boot your cell phone into the recovery mode of your smartphone – this usually works with the key combination power and volume up. For Samsung devices like the Galaxy S8 for example, hold down the volume up key, the power button and the home button during the boot process. Then use the volume up / down rocker to navigate to the "wipe data / factory reset" item. Confirm with the power button. Then navigate to "Yes – – delete all user data" and press the on / off button again. The data will then be deleted. Then you have to set up the device with the previously activated Google account in order to finally reset the system.