We have translated the Chinese recovery and we show you what each of its options means. And which one you choose to do a reset factory or hard reset.
Virtually every Android phone comes with a special boot mode called Recovery, which is used to "recover" the phone in case of problems. Unfortunately, in some Chinese mobiles (including cell phone counterfeits) the menu of this recovery comes completely in Chinese language. For this reason it may be impossible to know what each of your options means (at least for a person who does not know this language).
Recovery in Chinese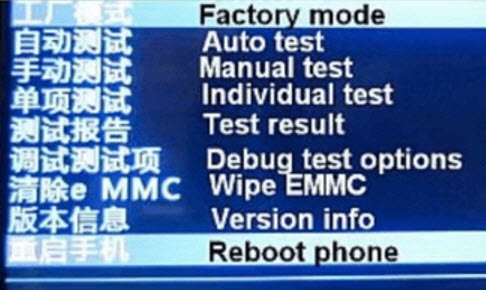 Above you can see what each of the lines mean in the Chinese recovery (English translation on the right). If you want to get out of this Chinese menu, just choose the last option "Reboot phone".
Hard reset
When entering this recovery menu, one of the most used options is the Factory Mode, Factory Reset , Hard Reset or Factory Reset . It is the one that allows you to restore the data of the equipment to its factory state, a typical solution when the phone is not working well. This option generally has the letters eMMC (which refer to the internal storage of the device). That is, according to the image above, to do a factory reset in the Chinese menu you must select the option "Wipe EMMC". This is the same as "Wipe Data Factory Reset".
DO NOT choose the «Factory Mode» option, because it is used to verify the correct operation of the phone.
Translate Chinese menu from recovery mode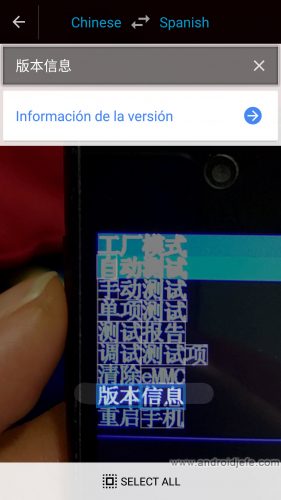 If the recovery menu has other Chinese letters than the first image, another way to see the translation is to use the Google Translator application. This APP has an option that allows you to translate a text with the camera. In this way, the only thing that would have to be done would be to use a second cell phone that has this tool installed and focus the camera on the text of the recovery menu on the Chinese cell phone to translate it, as seen in the previous illustration.
In this case the translation is not always accurate, but in most cases it is good enough to understand what each option means in the recovery and choose the one you are looking for. It comes in handy when you don't even know how to get out of that special mode without touching or changing anything.
Obviously, this advice to use the Google translation application not only applies to the recovery mode of a Chinese cell phone, but also to the fastboot mode or any other boot mode, screen or application that is in Chinese.