Most people are familiar with the situation: you delete several photos from your smartphone and seconds later you realize that you have deleted the wrong photo. Before you bang your hands over your head in such a case, don't worry: you can restore the photo on your Android device. The most important thing is that you stay calm and act early.
The sooner you realize that you have deleted a file, the better. Because when you delete files (music, photos, videos, etc.), they are not really removed until this area in the device memory is overwritten by other data. So they are still physically there and specialized software can still save the data. That is why it is so important to act early.
Recover deleted pictures without root
A simple, good app to undelete deleted pictures is DiskDigger. The user directories are crawled without root. With root authorization, the areas that are actually inaccessible to you are searched. But this is not absolutely necessary to quickly restore photos. Diskdigger may not restore the images to their full resolution, but instead looks for thumbnails.

DiskDigger is free and without ads. We tested the app on Android 7.0 Nougat. The disadvantage of the app is that it cannot write the backup to the SD card. So you absolutely need free space in the cloud or on an FTP server.DiskDigger photo rescue
Recover deleted photos on SD card
If your photos are on the SD card, you're in luck. An SD card is much easier to check for deleted pictures than the internal memory of your smartphone. So take the card out of your smartphone and connect it to your computer.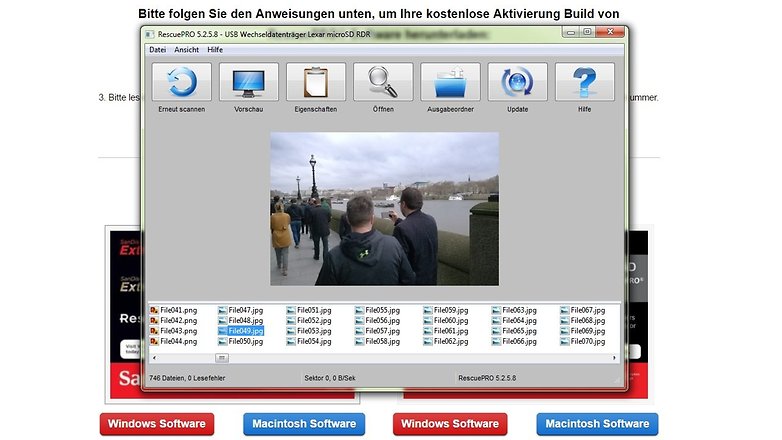 Sandisk and Lexar include activation codes for data recovery software on some SD card models. At Sandisk it is the Extreme and Extreme PRO models (not Extreme PLUS) that are provided with a code for RescuePRO . At Lexar, the SD cards of the Professional series are given a code for Image Rescue . Both tools help you to restore the accidentally deleted data on the SD card. Just follow the software instructions.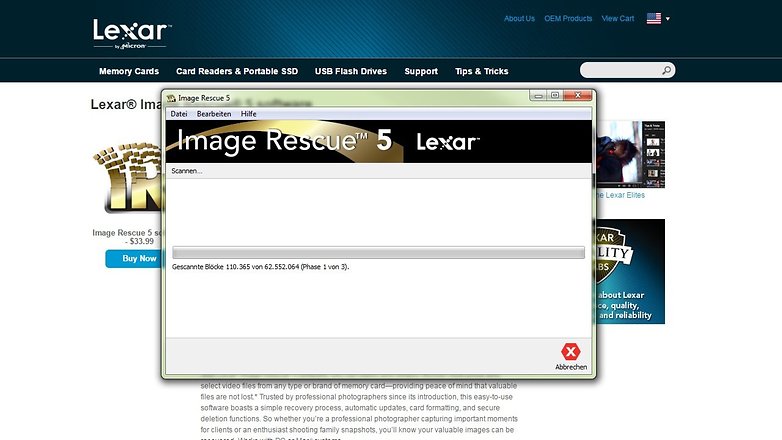 Data recovery the hard way with Dr. Fone
Dr. Fone costs money, roots your smartphone and thus nullifies your warranty claims for the device. But what does the guarantee mean when it comes to important data? Sets Dr. However, it is better to use the Fone only if you are aware of the disadvantages. Deleted contacts, pictures, SMS and WhatsApp messages can be saved with a high success rate, even if your display is already broken and the smartphone can no longer be operated.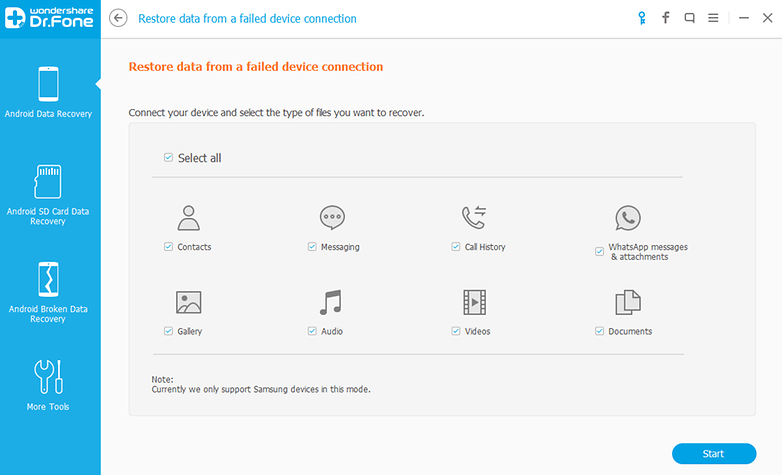 The full version of the software costs just under 50 euros , but can be worth it if the data to be backed up is more valuable to you and your loss would be more expensive.
Recover deleted SMS on Android
You can also use Dr. Use Fone. The steps are the same as for recovering deleted photos, see above .
Secure SMS messages permanently
To restore SMS to new devices, a sustainable, continuous backup solution is the only sensible option. A simple solution is available as an ad-financed app and is called SMS Backup & Restore.SMS backup & restore
Typed when you first open the app assurance, to see the menu.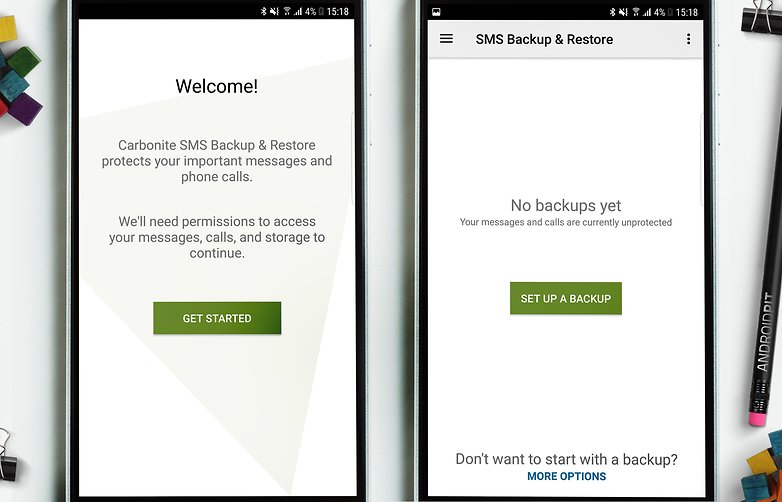 Select here which SMS you want to save – you can also save all SMS in one go.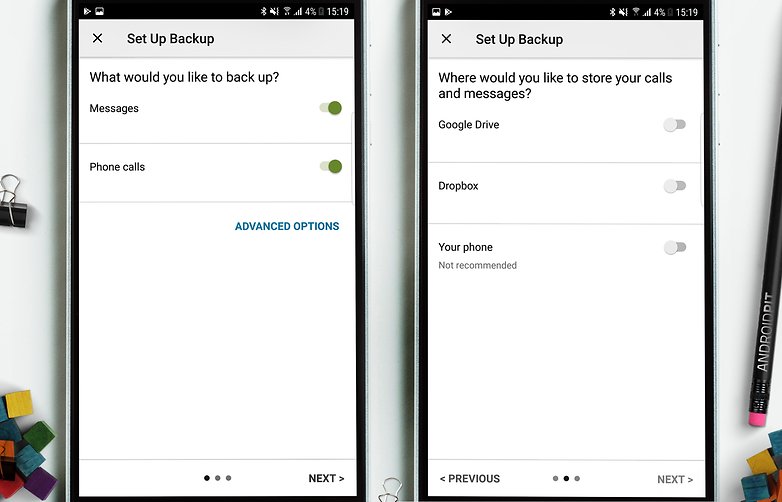 Then you can determine where you want to place the copies. Saving on Dropbox and Google Drive is possible.
By the way, SMS Backup & Restore offers a whole range of helpful additional options. For example, you can set schedules with which your SMS are automatically saved.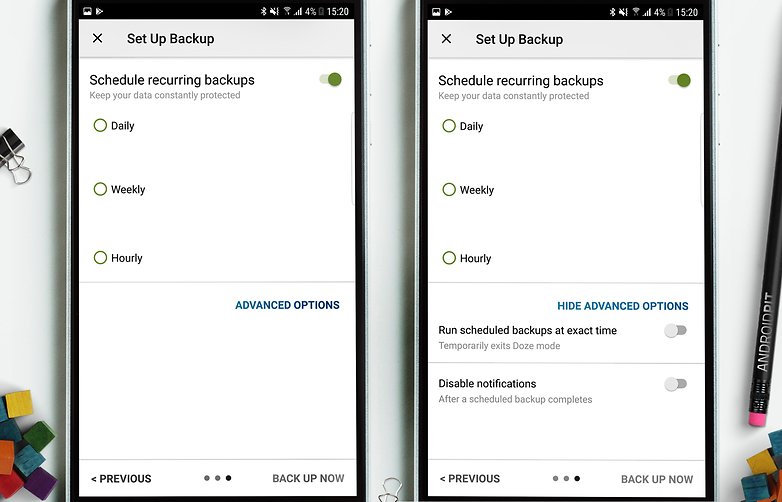 To restore saved SMS, tap Restore on the app's home screen .
Then simply select the content you want to restore and press Restore . The data is already back.
Dumpster: the trash app
Deleted photo album and quickly regretted it? Dumpster brings the trash popular from Windows to Android and makes deletion processes reversible. The app becomes an integral part of Android. In addition to media files, Dumpster supports documents and archives of all kinds, making it more versatile than DiskDigger .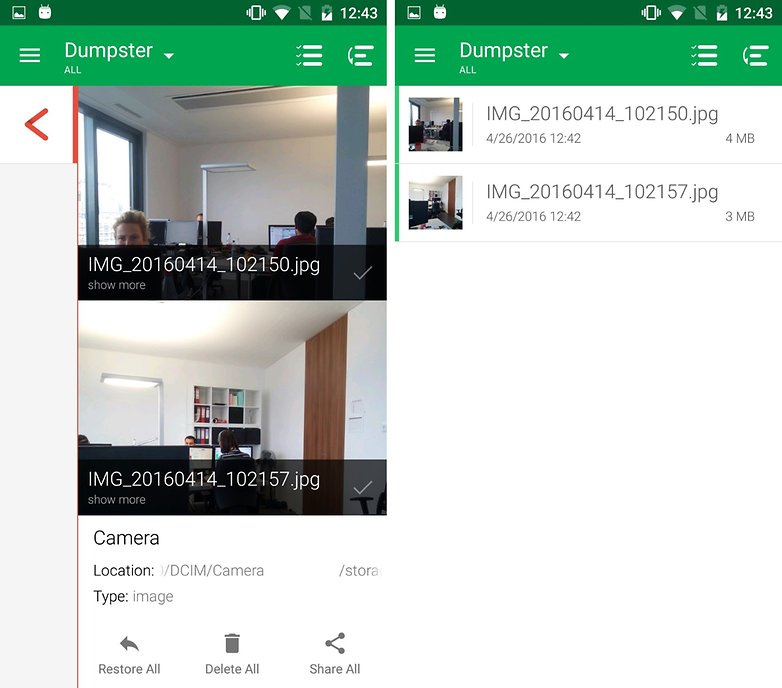 If you clean up directories from time to time and want to free up space, it can happen that you delete one file too much. Unfortunately, Android is fairly rigorous about this, and with luck, you only have a few seconds to tap "Undo" before the file is deleted forever.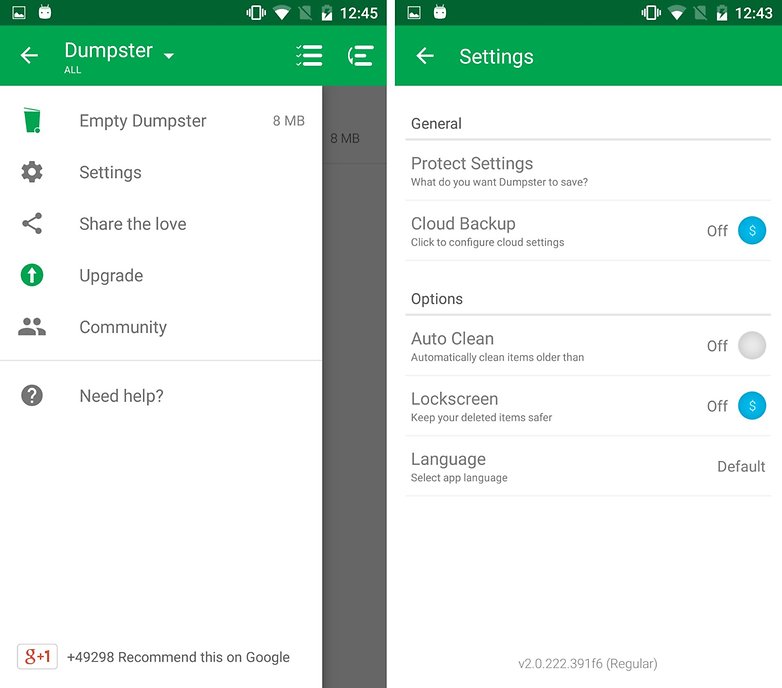 The functionality of Dumpster is deeply embedded in the Android system. In future, all deletions of supported file formats will be intercepted by the app and acknowledged with a "moved to trash". This can be viewed at any time and restored bit by bit or in its entirety or finally emptied. You can also have the elements automatically removed after a certain period of time.
Dumpster can be given root privileges to improve its performance, but the app also works without root. In addition, you can invest € 2.99 per in-app purchase and remove the advertising banners and unlock additional features. There is even a cloud function with which your waste paper basket no longer takes up space on your smartphone. But that costs extra, depending on the storage space up to 29.99 euros per month.Dumpster trash
Uses the cloud
Backing up to the cloud on an Android smartphone is now extremely convenient and – if you don't need a lot of storage space – free of charge. Google Photos, Dropbox, OneDrive, Box – there are countless cloud storage services that you can also use in parallel to ensure security with redundancy and not to chain yourself too much to a single provider. So if you have prematurely deleted a picture or another file from a saved location on your smartphone, it will quickly get you back from the cloud storage and everything will be fine. But don't wait too long, because depending on the setting, cloud services will also delete photos that you removed locally the next time they are backed up from the cloud backup.