With Project Treble, Google has introduced a modular system that on the one hand makes it easier for manufacturers and network operators to play updates, and on the other hand can provide Android smartphone users with faster security patches and updates. We show which smartphones support the system.
What is Project Treble?
With Android 8.0, Google introduced a new system that will bring updates to users of smartphones and tablets faster in the future. Put simply, Google divides Android into two levels. The upper level is maintained by Google directly, so that security updates can be adapted quickly. The lower level in turn is left to the manufacturers of smartphone, processor and Co.
One could almost say that with Project Treble a kind of division of device drivers and bios from the actual operating system takes place, as is known from the Windows PC. If there are updates at the lowest level, i.e. the software layer that communicates directly with the hardware, the manufacturers of the smartphones or components can update them without updating the upper layer, the actual OS.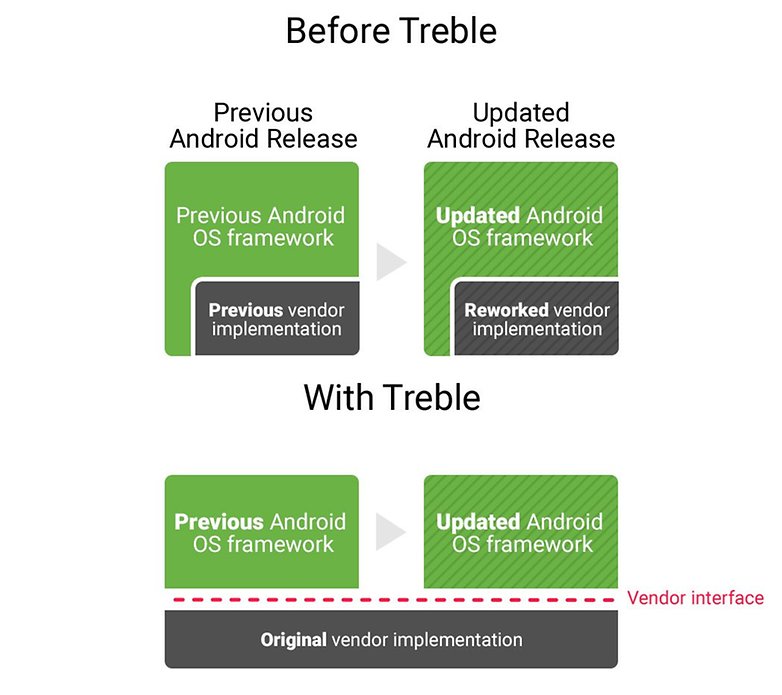 Project Treble works in the same way if Google now wants to update or upgrade its Android OS. Here, too, you no longer have to wait for the hardware manufacturers to deliver optimized and adapted software. That sounds exciting in and of itself and brings the user an accelerated software update procedure; and not only that:
Which smartphones get Project Treble?
All smartphones that the manufacturer ships with Android 8 Oreo support Project Treble – this is a requirement of Google. These include the second-generation pixel phones, the HTC U12 +, Sony's XZ2 and XZ2 Compact, as well as the Huawei Mate 10 (Pro) or the Honor View 10.
Smartphones that are only upgraded to Android 8.0 Oreo can, but do not have to run with Project Treble activated. Therefore, below is our list of smartphones on which Treble was activated with the Oreo update.
Smartphones that get via Update Project Treble:
Elephone U Pro
Huawei Mate 9 / Mate 9 Pro
Sharp Aquos S2
Xiaomi Redmi Note 5 Pro
Not all smartphones with an Oreo update use Project Treble
Since Project Treble requires partitioning of the memory, the feature is not activated by update on all older smartphones. Google itself lets the feature slumber on the Nexus 6P, the Nexus 5X and the Pixel C. OnePlus has officially announced that Project One will not be activated for the OnePlus 3 / 3T.
At that time, HMD Global also commented on Project Treble and initially denied activation for the existing portfolio of devices. HTC will also only offer Project Treble on new models with Oreo, not via update.
This is how you check whether Project Treble is activated on your smartphone
Shortly after the interest in Project Treble became large enough, there was already a Checker app in the Play Store:Treble check
There you will get details about Project Treble again. The app also checks whether your smartphone supports the A / B updates that have been available since Android Nougat , with which system updates can be installed in the background.
If you discover that your smartphone has received Project Treble support via update, but was not listed here, please let us and the other interested readers know in the comments.