With Pokémon GO, Niantic has been a real hit. The game is still one of the most popular in the Play Store and is still played with dedication by many people. With our tips and tricks, we will show you how to become a better Pokémon trainer.
What is Pokémon GO?
Certainly you have noticed groups of people this year, some of them typing wildly gesticulating on their cell phones and looking very happy. These people would have played Pokémon GO for sure. It is a game that appeals to the nostalgia factor and the desire to collect. In the game you have to find and catch Pokémon, small pocket monsters, and use them to defeat the Pokémon of others.
The interesting thing about the game is that it uses your GPS position. You can only find new Pokémon and so-called arenas if you move around a lot. Since Pokémon is a brand that already existed in Gameboy times, many are also addressed, of course, who grew up with the games.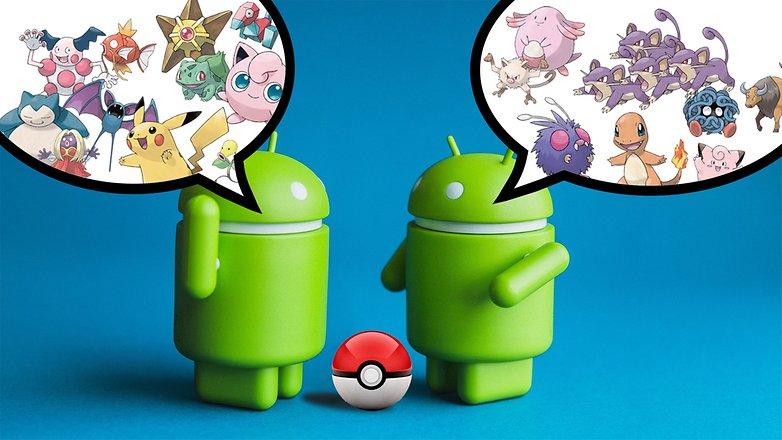 How does Pokémon GO work?
Of course, you first need the Pokémon GO app. If you have downloaded this, you can log in with your existing Google Account or create a new one. Then you have to come up with an in-game name and you're ready to go.Pokémon GO
When chasing the little pocket monsters, the app has to stay open and you have to walk around. It is important, of course, not to stare at the display while running. This is not necessary because the smartphone vibrates briefly when important events occur. Important events here are wild Pokémon. As soon as the smartphone vibrates, you will notice a small Pokémon on the displayed card. With a short tip, the snap screen opens. This will first start the camera and show you the Pokémon in the real world. This is called augmented reality and is intended to increase fun.
You can find further explanations about the gameplay and functions in the following tips.
Play with incompatible smartphones
There are some smartphones on which you cannot find Pokémon GO in the Play Store, although they should be compatible according to hardware requirements. Niantic has not yet commented on this, but there are ways to install the game anyway. To install the game, your smartphone needs the following system requirements:
Android
Android 4.4 or later
Root devices are not supported
Location service and GPS
at least 720 x 1280 pixel resolution
Gyroscope equipment for AR mode
iOS
iPhone 5s or newer
iOS 9 or later
GPS and location services
Devices with a jailbreak are not supported
If your smartphone meets these requirements, but you still cannot find the game in the Play Store, you have to obtain the APK in another way. Since there are always incorrect versions in circulation, we recommend downloading APKMirror . There you can always download the latest version and you don't have to worry. When you have downloaded the app, go to the settings of your smartphone and activate the unknown sources under device security . Then you can install the app without difficulty. Then you should deactivate this option again in the settings.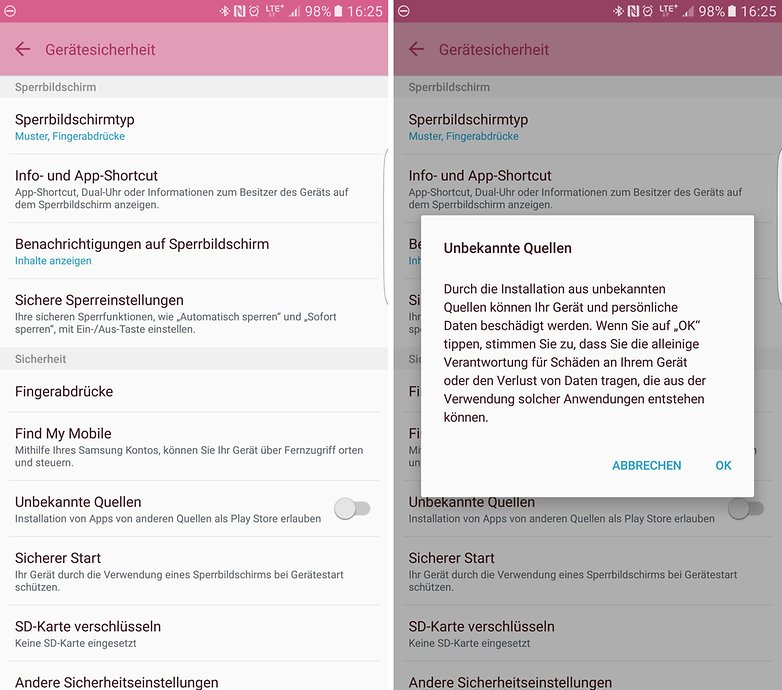 Eggs:
You will always find eggs in the game. These contain Pokémon and must be hatched by walking around in the real world. However, in order for you to hatch an egg, you need an egg incubator. Select an egg and place it in the available incubator to start brooding. There are eggs that hatch after 2 kilometers, but there are also eggs that hatch after 5, 7 or even 10 kilometers. Under point 16. When will my eggs finally hatch? you will find a list of which Pokémon can be hidden in it.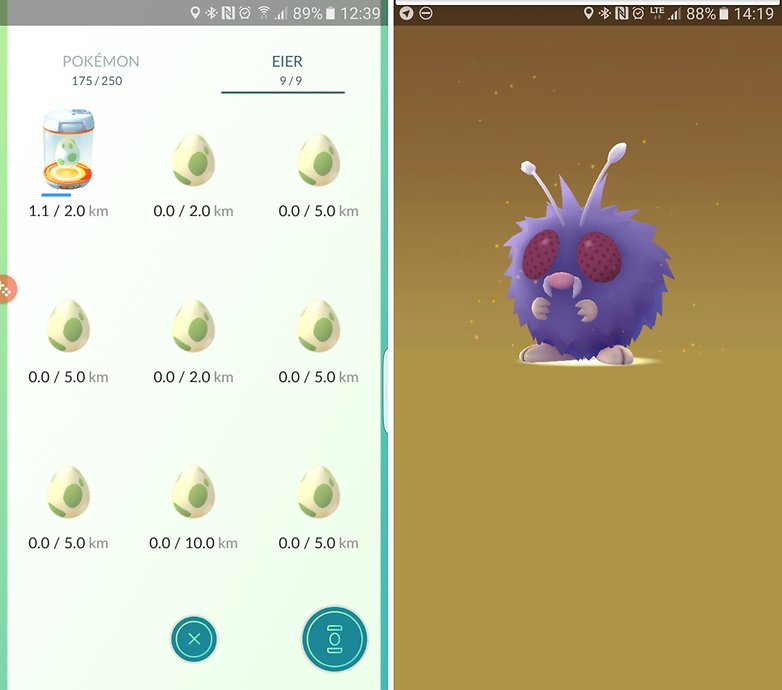 Items:
There are a lot of items in the game. You need these for various actions. I will introduce you to the most important ones here.
Poké Balls : With the balls you catch wild Pokémon. At the beginning you will receive Pokéballs, then Superballs and later Hyperballs. There is also the premier ball especially for raid fights.
Potions and animators: From level 5 you also receive potions and animators, since you can only attack arenas from this point on. If your Pokémon are injured in the process, you can then heal them with these items.
Smoke: Smoke is used to attract more wild Pokémon for 30 minutes and thus play even more effectively. By the way, if you run 100 meters within 5 minutes, more Pokémon will appear than if you just stay lazy at one point. Since you don't get the item very often, it is better to use it wisely.
Lock modules: Lock modules are even more effective than smoke. You can use these at PokéStops and wild Pokémon will appear for all players in this area for 30 minutes. See also the section below on lock modules.
Lucky eggs: You can activate these eggs to get more experience points for 30 minutes. How you best use this time, I explained in tip 3: More experience points with lucky eggs .
Berries: From level 8 you can enjoy berries. You can use these on wild Pokémon before throwing a ball. Raspberry: This makes these Pokémon easier to catch and they do not flee as often – helpful especially if you meet a strong but stubborn Pokémon. Sanana Berry: If you successfully catch a Pokémon, you will receive double the number of candies. Nanabbeere: Pokémon move slower and so you can hit them more with the Poké Ball.
Dragon Skin : Develops Seemon to Seedraking
King-Stein: Develops Quaputzi into Quaxo and Flegmon into Laschoking.
Metal jacket : Develops Onix into steel and Sichlor into Scherox.
Sonnenstein: Develops Duflor to Blubella and Sonnkern to Sonnflora.
Up-Grade: Develops Porygon to Porygon2.
Special Candy: Can be converted to any Pokémon's Candy.
Instant TM: Changes a Pokémon's default attack.
Charge TM: Changes a Pokémon's charge attack.
Star Piece: Increases Star Dust by 50% for 30 minutes
PokéStops:
PokéStops can be found everywhere on the virtual map. At these points you will receive new items and 50 experience points. The items can vary depending on the level and initially you only get Poké balls – later potions, animators and other items.
Arenas:
You will certainly have noticed the colored PokéStop-like structures. These are arenas and will be exciting for you from level 5. From level 5 you can take this by fighting with your Pokémon and receive experience points and Pokémon coins as a reward, which can otherwise only be acquired with real money.
Poké Coins:
This is the game's in-game currency. With this you can acquire special items that are rarely available when leveling up. So they are not absolutely necessary, but they will get you moving faster.
Teams:
Again and again you will hear the question about your team. You can choose this from level 5 by tapping on an arena. There are three teams in the game to choose from: Team Red (daring), Team Yellow (intuition) and Team Blue (wisdom). A big movement has made itself felt on the Internet, which has a little bit of fun about Team Yellow, but don't let your choice of these funny pictures influence you. It is best to choose a suitable team together with friends.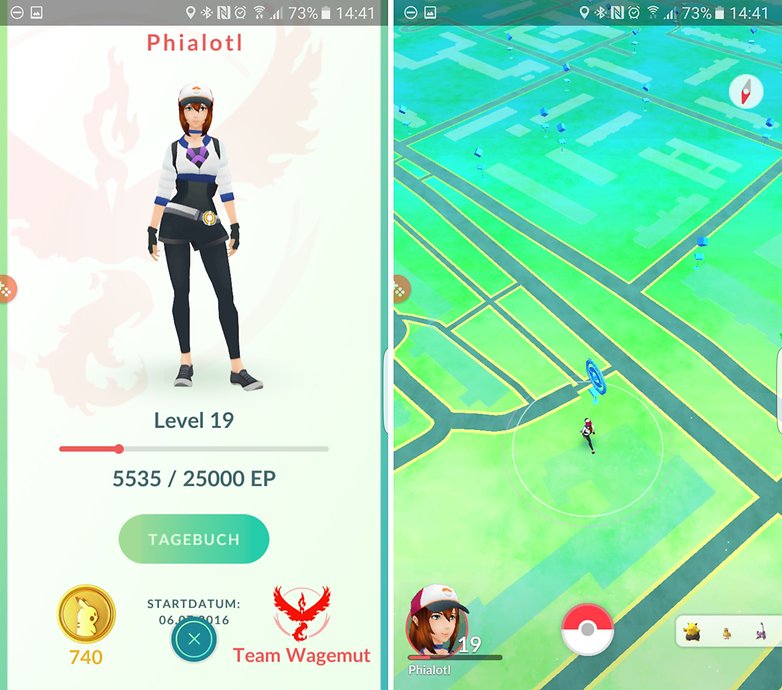 WP competition points:
Each Pokémon has these points and they indicate the strength of this Pokémon. The higher the number, the stronger the Pokémon.
1. Find a Pokémon nearby
The new tracking function has been active since December 1st, 2016 and shows you Pokémon near PokéStops. You can tap a Pokémon at the bottom right and you will be shown directly on the map where you have to run. So the haphazard search has finally come to an end.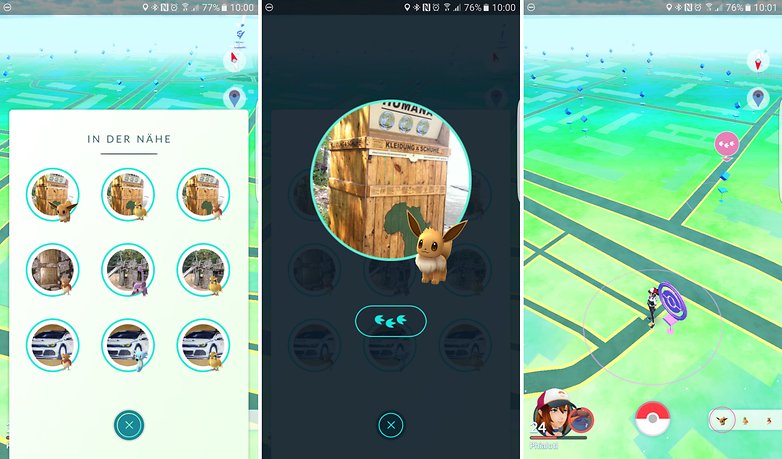 2. Use public transport
PokéStops are very useful to collect your Poké balls and other items and they can also be activated perfectly from the track. So leave your car at home and switch to the train because you can easily activate several PokéStops on your way to work and your Poké Balls will never run out. It protects the environment and is also safer than people who put themselves and others at risk while playing Pokémon at the wheel.
3. More experience points with lucky eggs
A lucky egg doubles your experience points for 30 minutes. In order to collect even more experience points in time, a lock module activates at a PokéStop or Rauch. So you will hardly be able to catch Pokémon and your experience points will increase. You can increase the whole thing with Taubsis. Since you also get a lot of experience points for each development and Taubsi only needs 12 Taubsi candies, you can quickly get from level 10 to 12 with this very common Pokémon.
4. Collect items automatically
One of my favorite tips to save time couldn't be easier, but I found it out by accident. If you activate a PokéStop by turning it, you don't have to tap each item individually to put it in your bag. It is sufficient to press the X at the bottom of the screen. So all items are automatically collected.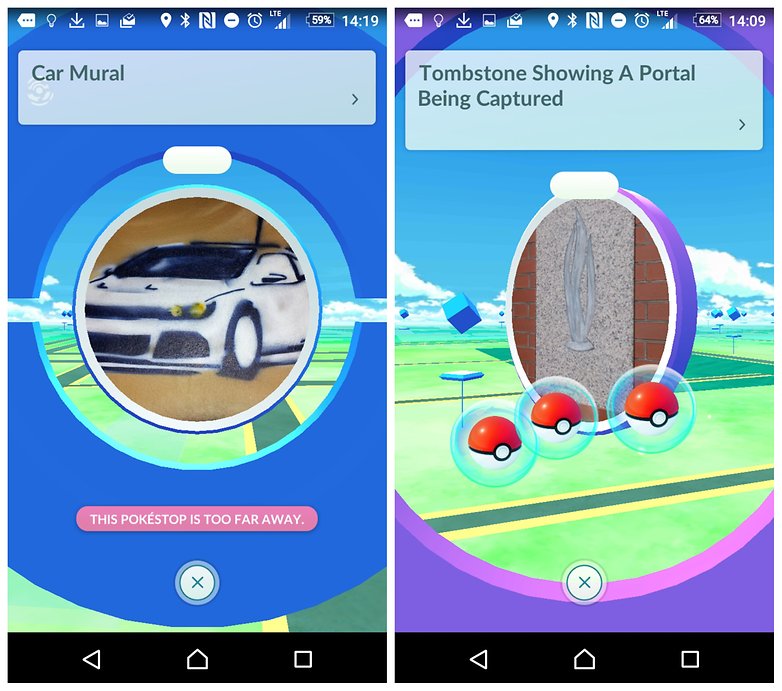 5. Grab them all!
You should catch every Pokémon, even if you already have it. For each catch you receive experience points, stardust and sweets of the respective kind. You need these to develop your Pokémon or to increase the WP. You will also receive another candy if you send the Pokémon to Professor Willow.
6. Only give your candy to a Pokémon
Sweets are required to develop Pokémon and are only ever suitable for the respective Pokémon. That means you need a lot of Taubsis to develop only one into Tauboga, and it would be a waste to try to develop them all. Therefore, concentrate on a Pokémon of a type in which the attacks suit you the most and in which the so-called IV values ​​are correct.
7. Save battery
You will all have noticed that Pokémon GO uses a lot of battery power. Internet, GPS, the camera and the screen are constantly on. To make your Pokémon adventure last longer than an hour, simply go to the app's settings and activate the battery saver.
If you turn the phone upside down now, the display goes dark and the game continues. Your kilometers are counted for the eggs and the cell phone vibrates with wild Pokémon. Another point that is very important: Disables the AR function. This makes catching Pokémon a little less fun, but it saves a lot of battery.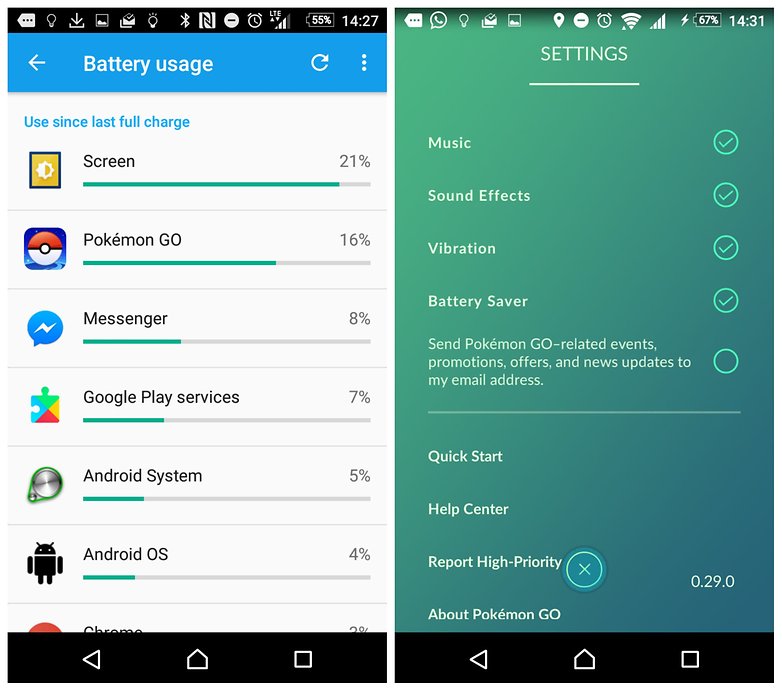 8. Use lock modules
With smoke, only one person benefits from the effect that more Pokémon appear. All players who are close to the PokéStop benefit from the lock modules. So you can share your lock modules with friends and find more Pokémon and have fun together.
Since there have already been cases in America in which robbers have attracted unsuspecting trainers, I ask you to be careful here. It's best not to go to such places alone to secure yourself.
9. Pikachu as a starter Pokémon
Did you know there are more than three starter Pokémon? In addition to Bulbasaur, Squirtle or Charmander, you can also start with Pikachu and do not have to accept the first offer from the professor.
When you see the three Pokémon, just keep running until they appear several times. After a few repetitions you will encounter a Pikachu that you can capture.
10. Know your limit
Of course you can't catch every Pokémon you would like to have, but there is a good indicator to see how difficult it will be. Just look at the round ring and its color. If it is green, it is very easy to catch, if it is orange it gets tricky and a red ring makes it almost impossible to catch the Pokémon. So save yourself the Poké Balls and try another Pokémon or use berries to soothe the Pokémon.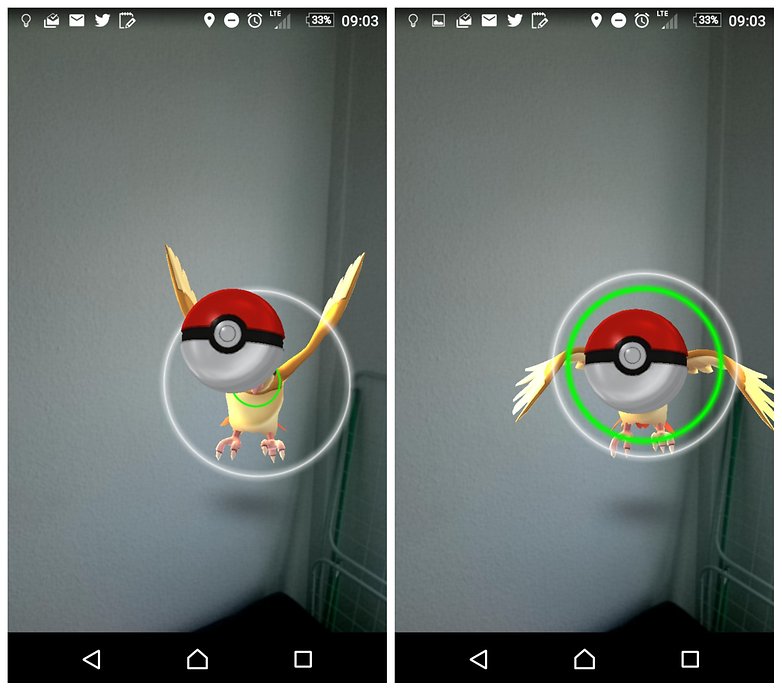 11. Spread your wings
Of course, it is important to catch many Pokémon of one species in order to develop them faster. But you also need other Pokémon to survive in arena battles. Since Pokémon can be found in many different locations, you should go to many different locations to discover new species. The locations of the Pokémon also change again and again during the so-called nest change, which takes place every two weeks on Thursday.
12. Rustling leaves
Surely you have already discovered the rustling leaves on the map? There are mostly wild Pokémon that you want to catch. Even if there is no guarantee, it is always worth taking a look.
13. Extra experience points for wild Pokémon
If you cut a Poké Ball diagonally, as if you want to turn it, it becomes a so-called curved ball and you get a few points in addition to the 100 experience points for a successful catch. Even a ball that is thrown at exactly the right time earns you extra experience points and does not let the Pokémon escape so easily. Throw the ball into the circle when it is smallest.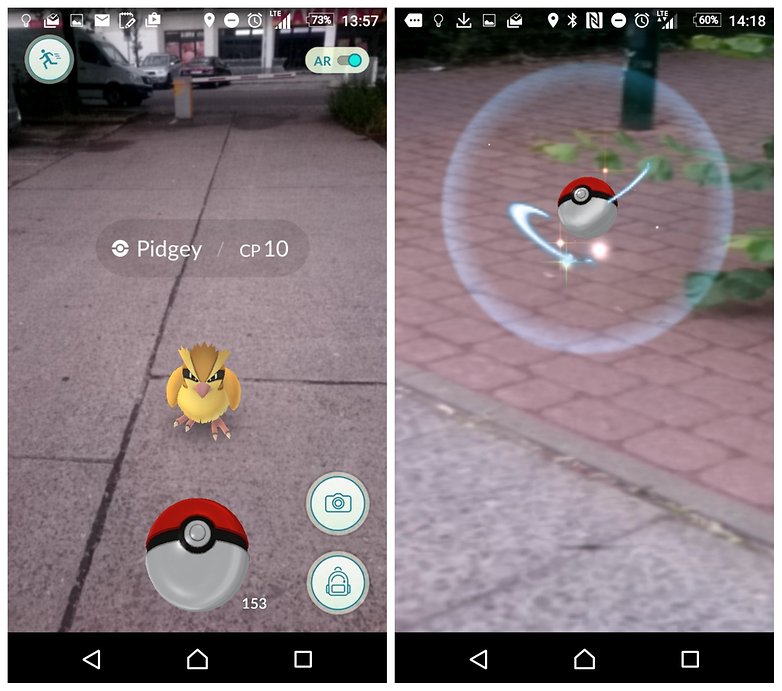 14. Disables AR
You can disable the AR feature when catching Pokémon to make it easier to catch. So you no longer have to hold your cell phone in a certain direction, but can move freely.
To deactivate this function, you have to tap on the small AR symbol in the top right corner of the snap screen. Since it destroys the feeling of the game a little, I recommend that you only do this if you really want to catch a Pokémon or your battery is running low.
15. Use your coins wisely
Don't waste your coins on Poké Balls. These are available in unlimited amounts of PokéStops, which you can find in many places on the map. In addition, you can reactivate the PokéStops after 5 minutes and therefore do not have to wait long for replenishments. If you want to spend coins, invest in lock modules, smoke and pouch and item extensions.
16. When will my eggs finally hatch?
During your trip you will find many Pokémon eggs and of course you want to hatch them as quickly as possible. Unfortunately, it is not enough just to get into the car or the train and cover the 2 to 10 kilometers. You have to cover them on your bike (please do not use your smartphone actively here) or on foot, as faster movements are not accepted by the app.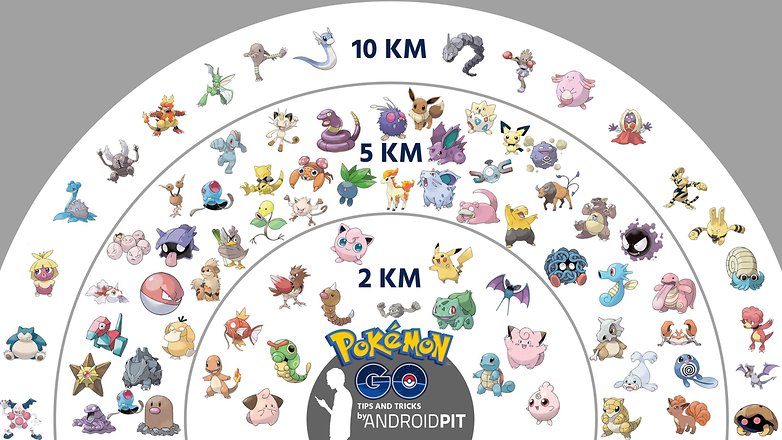 The following list gives you an overview of which Pokémon can hatch from which eggs. We have sorted these according to the respective Pokémon generations.
2 kilometers: Machollo, Muschas, Pichu, Pii, Fluffeluff, Togepi, Quiekel, Fiffyen, Schwalbini, Stollunior, Wailmer, Wablu, Schmerbe, Seemops, Liebiskus, Zirpurze, Staralili
5 kilometers: Onix, Schlurp, Tangela, Sichlor, Evoli, Amonitas, Kabuto, Girafarig, Tannza, Pottrott, Mantax, Rabauz, Kussilla, Elekid, Magby, Geckarbor, Flemmli, Hydropi, Loturzel, Wingull, Knilz, Makuhita, Azurill, Nasgnet , Kanivanha, Camaub, Tuska, Krebscorps, Puppance, Liliep, Isso, Schneppke, Chelast, Panflam, Plinfa, Haspiror
7 kilometers: Alola-Sandan, Alola-Vulpix, Alola-Digda, Alola-Mauzi, Alola-Kleinstein, Alola-Sleima
10 kilometers: Chaneira, Porygon, Relaxo, Dratini, Voltilamm, Larvitar, Bummelz, Knacklion, Perchwa, Palimpalim, Kindwurm, Tanhel, Sheinux, Riolu
17. Receive Poké Coins for free
You get Poké Coins by occupying arenas, but you get a maximum of 50 Poké Coins a day. Another option is to purchase them via in-app purchase. But you don't have to spend money on it. With the Google Surveys app, you will receive surveys from Google at irregular intervals and in return receive a few cents for the Play Store. I have already accumulated 150 euros in four years.Google survey app
18. Items by level up
Every time you level up, you will receive exciting new items that you can use for the game. I have compiled a list for you with the respective items for level up to level 20.
Level 2: 10 x Poké Ball
Level 3: 15 x Poké Ball
Level 4: 15 X Poké Ball
Level 5: 20 X Poké Ball, 10 X Potion, 10 X Animator, 1 X Smoke
Level 6: 15 X Poké Ball, 10 X Potion, 5 X Animator, 1 X Incubator
Level 7: 15 X Poké Ball, 10 X Potion, 5 X Animator, 1 X Smoke
Level 8: 15 X Poké Ball, 10 X Potion, 10 X Raspberry, 1 X Lock Module
Level 9: 15 X Poké Ball, 10 X Potion 5 X Liver, 3 X Raspberry, 1 X Egg
Level 10: 20 XPokéball, 20 X Supertrank 10 X Liver, 1 X Raspberry, 1 X Egg, 1 X Rauch, 1 X Incubator, 1X Lockmodul
Level 11: 15 X Poké Ball, 10 X Super Potion 3 X Animator, 3 X Raspberry
Level 12: 20 X Superball, 10 X Super Potion, 3 X Livener, 3 X Raspberry
Level 13: 10 X Superball, 10 X Super Potion, 3 X Livener, 3 X Raspberry
Level 14: 10 X Superball, 10 X Super Potion, 3 X Livener, 3 X Raspberry
Level 15: 15 X Superball, 20 X Hypertrank, 10 X Liver, 10 X Raspberry, 1 X Smoke, 1X Egg, 1 X Incubator, 1 X Lock Module
Level 16: 10 X Superball, 10 X Hypertrank, 5 X Livener, 5 X Raspberry
Level 17: 10 X Superball, 10 X Hypertrank, 5 X Livener, 5 X Raspberry
Level 18: 10 X Superball, 10 X Hypertrank, 5 X Livener, 5 X Raspberry
Level 19: 15 X Superball, 10 X Hypertrank, 5 X Livener, 5 X Raspberry
Level 20: 20 X Superball, 20 X Hypertrank, 20 X Liver, 20 X Raspberry, 2 X Rauch, 2 X Egg, 2 X Incubator, 2 X Lockmodul
19. What are IV and how do I find out my Pokémon's IV?
IV stands for individual value and means something like individual value. Every Pokémon you catch has this. The higher this percentage, the better a Pokémon. Since the value is not displayed in the game, there are various pages and apps for calculating this value. Probably the best app for Android is called Calcy IV and shows you the value with just one click. Calcy IV
20. Pokemon Go Messenger
Unfortunately the game does not have its own chat and therefore communication with other players is difficult at first. In most cities, however, there is a large fan base and players use Discord and Telegram for communication in addition to WhatsApp, which is rather questionable due to the member limitation and data protection. On the Silphroad page you will find a map with direct links to the respective chat groups. If your city is not listed there, it is advisable to go to larger raises and to approach fellow players there in the most old-fashioned way. They usually invite you to your chat groups.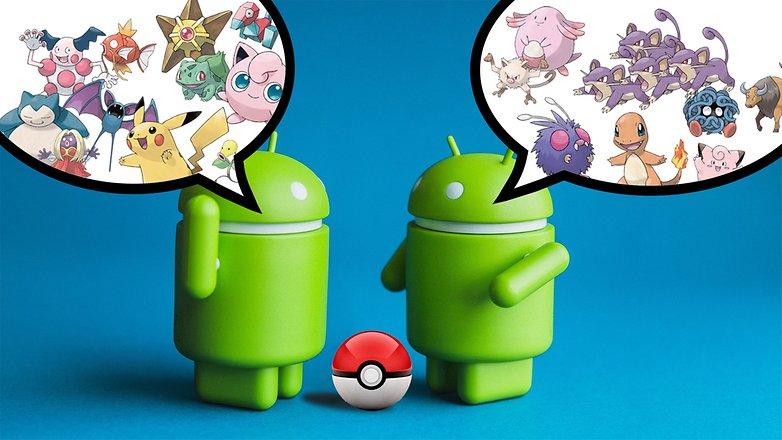 Server problems
Every online game only works as long as the servers are online. If your game doesn't work, you should first check whether there are server problems. There is also the Pokémon Server Status page . If no difficulties are displayed there, it is probably up to you or your smartphone.