BlueStacks Player – BlueStacks.com
In this tutorial we want to show you how you can use Android games apps and applications on your PC. Android games like Simpsons Springfield or Nemos Reef are very popular. But these games do not exist on the PC, i.e. on the notebook or desktop computer. Accordingly, you need an iOS or Android smartphone or tablet. However, when you're at home, you don't necessarily want to play on the small display. Alternatively, the smartphone or tablet is currently lent to the wife / girlfriend or children.
UPDATE: This tutorial originally came from November 10, 2013. We have updated the tutorial to the latest version of the BlueStacks App Player (as of July 28, 2014).
But there is a possibility to use Android games apps or applications on Android in general on the PC. This is made possible by PC emulators that simulate Android. One of the best freely available is the BlueStacks Player.
You can download it free of charge at bluestacks.com for Window XP, Vista as well as for Windows 7 and Windows 8, as well as for the Mac. How you set this up, we want to introduce you in the following tutorial.
Tutorial: This is how you can play Android game apps on your PC
We have already given you the first step. First download the BlueStacks Player either directly from the provider or from alternative download platforms such as Chip.de. This is a normal installation file.
Install the BlueStacks Player as normal as with any other program. After that it gets interesting and our tutorial.
Step 1: Add a Google account
If you have installed the BlueStacks Player, you have to open it. An apps folder is automatically created on your PC. Once you have opened the BlueStacks Player, you can immediately search for apps that can be obtained from different sources.
For Google Play you need a Google account. You usually already have this, so you simply have to enter your username and password. You can now download apps from Google Play.
UPDATE: After starting the BlueStakcs App Player, "Enable App Store" is displayed. Alternatively, this window appears when you are looking for an app on Google Play. Click on Continue and enter your Google Account. If you cannot enter an @ (at) character, use the key combination "Alt" + Q or, for others, Shift + 2.This could be of interest to you Our smartphone recommendations for Christmas 2019 – Find out more!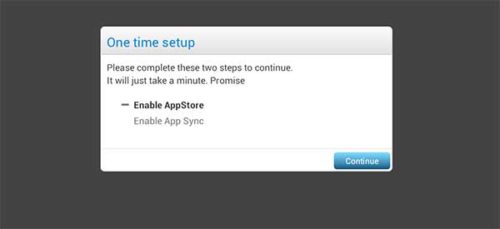 Click Continue to set up Google Play in the BlueStacks Player
Step 2: Find and download games apps
We want to explain this using the example of Jetpack Joyride. If you click on "Search" on the top screen of the BlueStacks Player, you can now enter the name of an app. The BlueStacks Player already has some games and apps, such as Jetpack Joyride. You can now install this directly or search for it on Google Play. There you click on "Install" as usual with Android / Google Play. Now Jetpack Joyride is installed in the BlueStacks Player.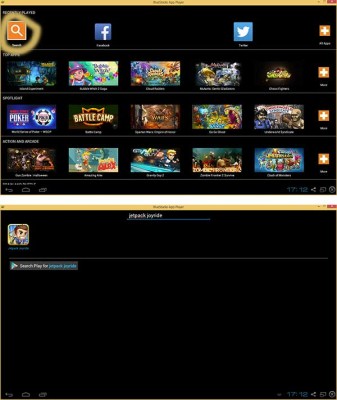 At the start click on Search at the top and search for your game there
Step 3: Start the Android app in the BlueStacks Player
Now that the download has been completed, you can either start Jetpack Joyride directly from the BlueStacks Player or you can use the "Apps shortcut" stored on the desktop during installation.
You can install other games apps and applications for Android from the Google Play Store using the same principle.
Notes and problems with the BlueStacks Player
Finally to the tutorial a few comments and problems with the BlueStacks Player. This is an early version in beta status. Accordingly, it is the case that some apps still run quite slowly or crashes.
For example at Jetpack Joyride. The first time we started, the picture was frozen. After restarting, the Android app is then started. Jetpack Joyride did not run completely smoothly. Nevertheless, the BlueStacks Player did a good job, so that you can now play a number of Android game apps on your PC.
Problems and questions with the BlueStacks Player
If you have any problems or questions about the BlueStacks Player, please feel free to report in the comments. Maybe we can help you with certain questions or problems.
Otherwise, the BlueStacks Player is a good way to play Android games apps on the PC, which is otherwise not possible. Especially with games like Simpsons Springfield, this is a good way to play this app on the PC.