Clash of Clans for Android was recently released. If you already had an iOS device and now want to have the same game status on Android, you have to transfer it. In Clash of Clans this means: Link devices.
In this article, we want to show you how you can link your devices (iOS, Android) for Clash of Clans. The whole thing of course also works with two iOS or two Android devices.
Clash of Clans is one of the most famous games in this genre. It is important to build your own village and protect it with defenses. At the same time, you build your own army to duel with other players and pillage their resources and to find fellow players in clans.
Clash of clans: transfer the game – how it works
To transfer the game status into Clash of Clans, you have to go through a few steps. We want to show you the whole as a short form and as a detailed tutorial how something like that works.
First of all in short form how you can link your devices and thus transfer the game status. Below you can find the whole thing with screenshots:
Connect Android to Google+ and iOS device to the Game Center (click on the bottom right to get to the Clash of Clans settings)
Then click on "Link devices" and select the old (where your correct settlement is) and the new device (to which the settlement should be transferred).
On the old device you will receive a code that is valid for five minutes. You have to enter this code on the new device.
Note: Both the iOS and the Android version of Clash of Clans can be linked to Facebook. It didn't work for us.
Step 1: Connect smartphone / tablet to Google+ or the Game Center
In the first step we have to connect our Clash of Clans with the Game Center (iOS) or Google+ (Android). This can usually be done quickly and easily.
To do this, first click on Settings (bottom right, the gear symbol). There you can now find the Game Center item on iOS or the Android version of Clash of Clans Google+. The connection with Facebook hadn't worked for us.

Clash of Clans Linking – Step 1This could be of interest to you Our smartphone recommendations for Christmas 2019 – Find out more!
Step 2: old and new device for Clash of Clans
Now that you have connected to Google+ and the Game Center, you have to select the old and new device in the second step.

Clash of Clans Linking – Step 2
Of course, this is different for everyone. The old device is where you want to get the game from, usually your main settlement at Clash of Clans, where you are farthest. You want to transfer this save to the new device.
For us, iOS is the old device and want to transfer our game status to Android. As can be seen in the screenshot, we select the old device and then what we want to transfer the whole thing to. In our case on Android, so we choose "other device".
Step 3: link devices
In the last step to transfer the game status in Clash of Clans, we only have to complete the device link. On our "old device" we see a code (see screenshot left on iOS). We have to enter this code on our new device (for us Android – see screenshot). Then we are asked whether we want to use the settlement, because the existing settlement will be overwritten on the new device.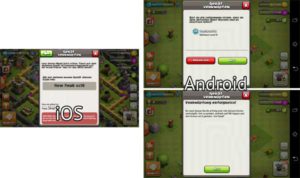 Clash of Clans Linking – Step 3
From now on your devices are linked to each other or rather your settlement of Clash of Clans. This means that you can only enter the settlement from one device at a time. If you are in the game in Adnroid and then want to connect to your Clash of Clans settlement with your iOS device at the same time, you will receive a warning that another device is already accessing.
Possible problems when connecting the devices
The same mistakes or problems are often described in the comments. We would like to answer these frequently asked questions.
On my new device, a town hall larger than level 4 already exists. What can I do?
Option 1: You want to transfer the whole thing to your Androi device. Then you should remove all data and connections here. Now set up a new Google Account and log in with this. Now you have a level 1 town hall at Clash of Clans and you can easily connect
I have more than 2 devices I want to connect, what can I do?
If you now have 3 devices, you have to decide which devices should be linked, because it only works between 2. First, check in the Clash of Clans app whether you can remove a connection. If not, then try the following: Delete and uninstall the "city" that you no longer need (e.g. on Android). Now hope that Clash of Clans has announced that the app has been uninstalled and a connection has been broken, so I can now connect devices again. However, I don't know how long it took until the function was available again after uninstalling Clash of Clans on Android.