There are many innovations in Android 4.4 KitKat. Among other things, there is no longer an SMS app. In this tutorial for Android 4.4 we will show you how you can still write and read SMS. We also show you how you can use Hangouts as a standard SMS app on Android 2 and Android 4.
With the latest update of Android, which was initially only installed on the Google Nexus 5 (other manufacturers will certainly follow up with updates), many will miss the SMS app. After all, it is still very popular today, even though most have now switched to WhatsApp and other services.
The Google cloud has also entered Android 4.4. Various documents, images and much more are stored on Google's servers and can then be further processed on the PC if you wish.
Android 4.4 tutorial: writing and reading SMS
So far there was always an SMS app for Android, which you could reach with a tap if you put it on the screen. As of Android 4.4, this is no longer available. Accordingly, we want to show you in this tutorial how you can still write and read SMS here.
Here's how: Open the Hangout app
The new Hangout app from Google is available in Android 4.4, which was introduced by Google+ and replaced Google Talk. Not only can you exchange messages or hold video calls, but you can also manage, write and read the SMS from Android 4.4.
Advantage: The whole thing looks much more modern and everything else remains the same. So the SMS are billed as normal via your mobile phone tariff. You can access the Hangouts app via the app overview.This could be of interest to you Our smartphone recommendations for Christmas 2019 – Find out more!
Use Hangouts as the default SMS app on Android 2 and Android 4
If you want to use Hangouts as a standard SMS app before Android 4.4, you can of course also do this. To do this, simply go to the Hangouts app and tap on the 3 dots at the top right or on the menu icon of your device. Now go to the settings and find "SMS" there.
There you tap "Activate SMS" at the first point and you will receive your SMS directly in the modern Hangouts app. The following again as a screenshot: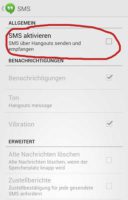 Enable SMS on Hangouts on Android
Should you have any further questions about SMS, reading and writing on Android, you are welcome to contact us in the comments