With Office apps, you can open, create or edit Word documents, Excel spreadsheets and PowerPoint presentations on an Android smartphone or tablet. We compared some office suites for Android that are also available on other platforms. Some of them allow cross-platform collaboration.
The line between mobile and desktop platforms is blurring. Some Chromebooks now start Linux applications as well as Android apps. Samsung is experimenting with Linux on DeX-enabled Note devices . Upcoming tablets are expected to be shipped increasingly with Chrome OS instead of Android. We have therefore expanded our test course with an Acer Chromebook 14, on which we tried out the office apps.
For day-to-day office work, it becomes more important and at the same time easier to transfer office documents from one platform to the next. The connection to the ubiquitous cloud storage saves moving documents between devices and at the same time reduces the risk of data loss.
But which office suite is the best for Android? In a short overview we want to introduce popular candidates and show what makes them special.
Microsoft Office Mobile
Who are these office apps suitable for? For users who want to edit their Microsoft Office documents on their smartphone or tablet.
In January 2015, Microsoft released Word, Excel and PowerPoint for tablets. Since the end of June 2015, the three Microsoft Office apps have also been available for Android smartphones , making them accessible on all Android platforms. Users of the Microsoft Office package for the desktop PC can now also edit the office documents on their smartphones. The range of functions of the tablet and smartphone versions of Word, Excel and PowerPoint is identical.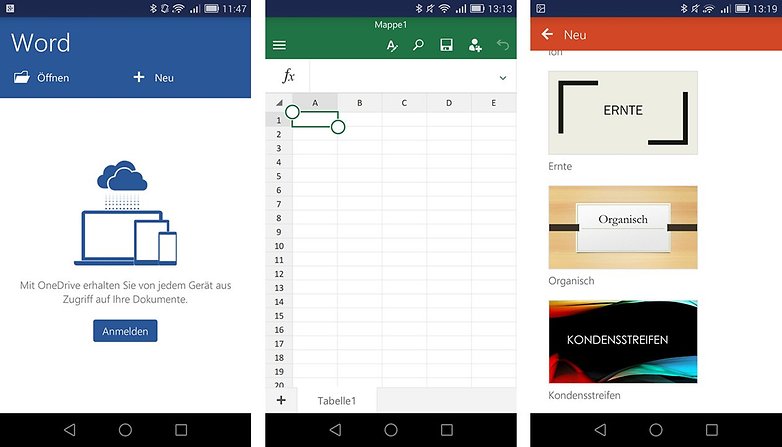 In order to create and edit documents, you need a Microsoft account, which you can get for free. By registering, you can also store documents in the cloud, whereby among other things Microsoft's own cloud service OneDrive and Dropbox can be used. The Google Drive connection is activated with the paid Office 365 subscription . The subscription also includes functions such as checking changes and adapting page layouts in Word.
We cannot try the free version of Microsoft Office on our Chromebook: From a screen size of 10.1 inches, Microsoft requires an active Office 365 subscription. There is a full recommendation for the Microsoft Office apps, especially for those who are already subscribed to Office 365.Microsoft WordMicrosoft ExcelMicrosoft PowerPoint
Softmaker Free Office Apps
Who are these office apps suitable for? These free office apps are almost as good as the Microsoft apps.
If you don't want to subscribe, but still need a powerful office suite for Android, Softmaker has a very good solution. The apps are called Textmaker, Planmaker and Presentations. The smartphone versions are free of charge, there are costs for tablet users.
In terms of features, the apps are well equipped and support all important formats. The three apps are also characterized by simple and intuitive operation of Microsoft documents, as well as some useful extras.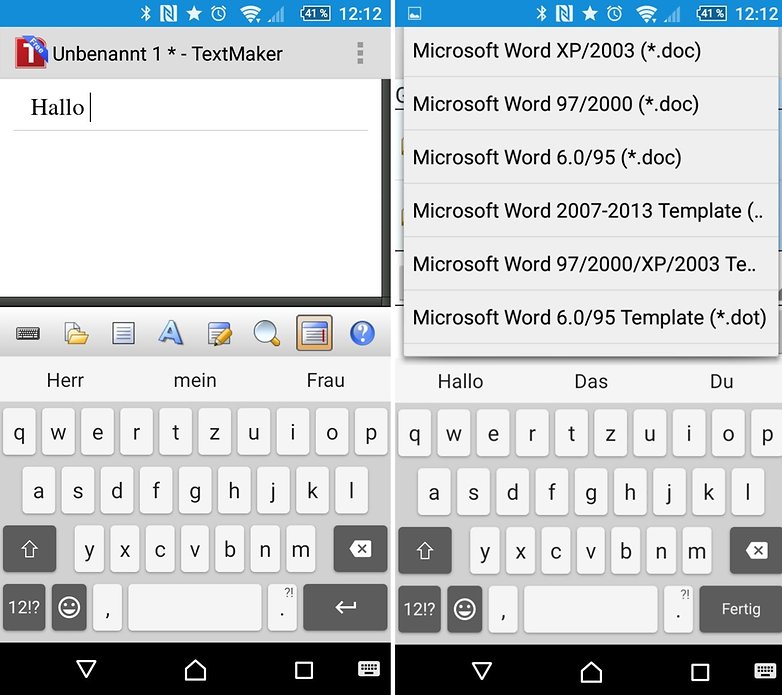 The Softmaker apps can access documents that have been stored in Google Drive or Evernote, for example. But also the processing of Doc documents or PowerPoint files works excellently on both the smartphone and tablet. Own texts, tables or presentations can of course also be created with the help of the free office apps for Android. These can then be saved in various formats such as PDF, docx or HTML.
Softmaker has sorted its office apps into versions for smartphones and tablets. Smartphone users use the free office version, the paid versions no longer have any recognizable feature advantages. There are free, premium and trial versions on tablets, so Textmaker, Planmaker and Presentations each have five different apps in the Play Store. The smartphone versions are now almost two years old.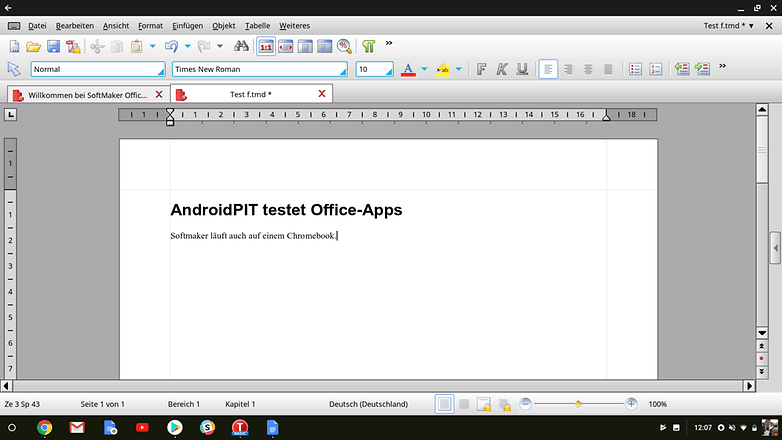 The Softmaker apps pass the ChromeOS test, but there are problems: First, Textmaker HD Basic starts in a very small window that can be maximized. But then the app restarts. So be careful in everyday office life. The interface is like a normal desktop software. Functionally, Softmaker is also a good choice on a Chromebook.FREE Office: TextMaker MobileFREE Office: PlanMaker MobileFREE Office: PresentationsOffice HD: TextMaker FULLOffice HD: PlanMaker FULLOffice HD: Presentations FULL
AndrOpen Office
Who are these office apps suitable for? If you want Open Office on your mobile device, get AndrOpen Office
AndrOpen Office is basically just a copy of Open Office for mobile devices. Instead of complicated redesigning the menus, AndrOpen Office simply brings the familiar design to mobile platforms. The porting of the original software has the advantage that even the most complex documents created on the PC can be opened and edited on the tablet or smartphone without any problems. New documents can also be created using the Office app for Android. Access to cloud storage is possible.
But be careful: AndrOpen Office is actually not suitable for smartphones. The user interface is designed for large tablets or even Chromebooks. It is a shame that many icons are only available in low resolution, so that they pixelate badly. AndrOpen Office runs reasonably well on our Chromebook. Unsurprisingly, AndrOpen Office restarts if you change the size of the window. Scrollbars cannot be moved using the touchpad, which should be cumbersome for larger documents.
The AndrOpen Office office app can be installed free of charge, and there are advertisements from time to time. If you don't want to see the advertising, install the Professional Pack for EUR 3.49 (as of March 2018).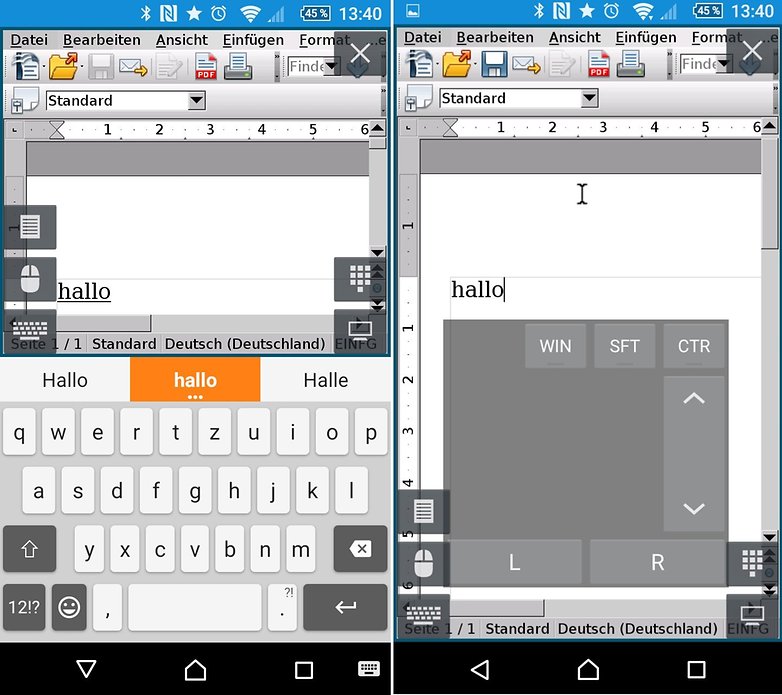 AndrOpen OfficeProfessional pack
OfficeSuite + PDF Editor
Who are these office apps suitable for? OfficeSuite + PDF Editor offers three Office applications (Word, Excel, PowerPoint) in one app.
Office Suite + PDF Editor from MobiSystems offers a program for word processing, spreadsheet and an application for presentation purposes. PDFs can also be edited. The functions of the four programs are really impressive, but they are not as extensive as the Microsoft applications and the individual apps from Softmaker Free Office. For normal use, for example writing a simple text, this free version of the Office app (with advertisements) is more than sufficient.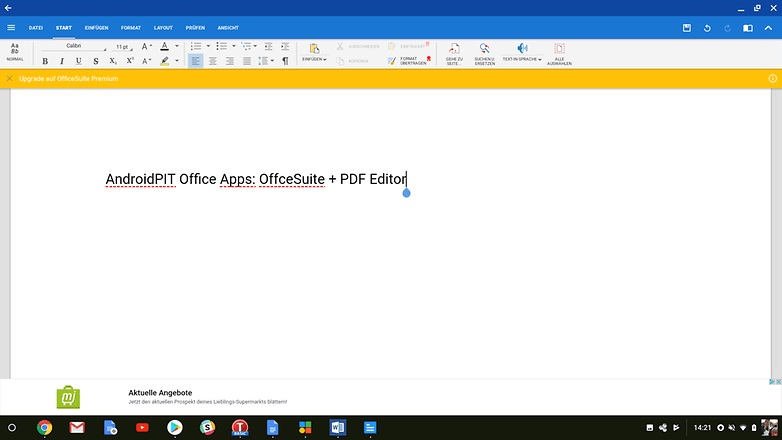 Chromebook owners are also well advised to use this office app: The OfficeSuite survived a change in window size without the hassle of restarting other apps. And otherwise this Office app on ChromeOS cuts a very good figure.
For 14.99 euros (as of March 2018), the advertisements disappear and you can protect your documents with passwords, receive improved Excel support and you can use older file formats.OfficeSuite + PDF EditorOfficeSuite Pro + PDF
WPS Office
Who is this office app for? Who would like to have different office applications in one app.
WPS Office is a small one, so I'm referring to the small app size, all-in-on solution among the office apps. This allows you to create documents, tables, presentations and more and, thanks to numerous plugins, interact with ZIP, PDF, RAR and PPTX files. Thanks to Miracast support, you can also stream your presentations directly from the app to the big screen.
If you want to use WPS Office without advertising, convert PDFs to Doc format and digitally sign PDFs, you have to choose the premium subscription, which is debited either monthly or annually. WPS Office – Word, Docs, PDF, Note, Slide & Sheet
Google Docs, Sheets, Presentations
Who are these office apps suitable for? Who wants to use office applications on several mobile devices.
Nowadays, it is not uncommon for a document to be worked on on the go using a smartphone or tablet and then called up again later on the desktop PC. Other office apps for Android also offer this function of storing documents, spreadsheets or presentations via cloud, but the advantage of Google apps is that they are very well integrated into the Google network – at least if the app user wants it and himself with it feels good.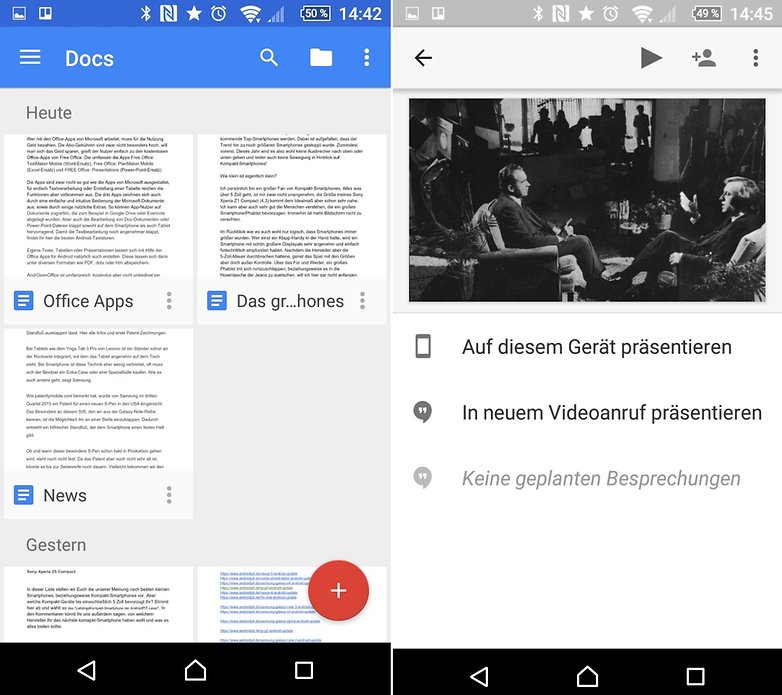 This makes it easy to share documents with other Google Docs, Sheets, and Slides users. The Office applications also have enough setting options to make changes to documents or presentations.
The Google Office occupies a special place in ChromeOS. Because ChromeOS shows a link to the Google Docs web app right from the start. Alternatively, you can also install the Google Docs Android app, which works a little faster. Google Docs accepts changes to the window size without restarting and the user interface is tidy. A real recommendation for ChromeOS.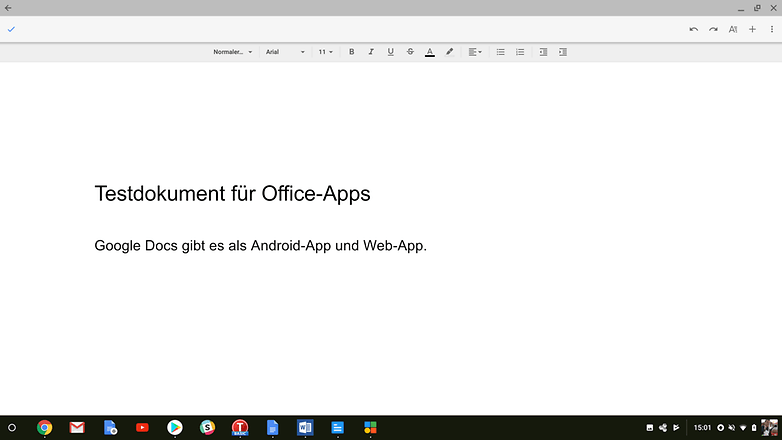 Google DriveGoogle DocsGoogle SheetsGoogle presentations
Conclusion: Working with Android and ChromeOS is quite possible
In many cases, the question of the ideal office app should be unnecessary: ​​If you have an Office 365 subscription, you probably take the Microsoft apps. Google's office suite is suitable for many everyday tasks, but is focused on cloud services, which not everyone likes. Other office suites such as those from Softmaker or MobiSystems score points when editing, but should not be used in confusion with MS Office and other systems – display errors are then the order of the day.