HMD Global has launched three new Nokia phones for cost-conscious users. It starts with the Nokia 1.3, which will be available in April for 110 euros.Reading time:1 min.Save in pocketRead outPrintviewRead comments18posts
In addition to the higher-priced Nokia 8.1, HMD Global also has news for cost-conscious users. Nokia 1.3 and Nokia 5.3 are conventional smartphones and run on Android 10. The Nokia 5310, on the other hand, is a feature phone with a classic cell phone keyboard that runs with its own Nokia OS.
Nokia 5.3 with quad camera
With a suggested retail price of 210 euros, the Nokia 5.3 is the most expensive among Nokia's new entry-level models. It has a 6.5-inch screen with a resolution of 1600 × 720 pixels, which is interrupted at the top by a teardrop-shaped notch. The phone is powered by a Snapdragon 665 and works with 4 GB of RAM. The storage space is 64 GB, the battery holds 4000 mAh. A jack socket is available.
At the back of the Android 10 cell phone sits a quad camera, the main sensor of which is 13 megapixels. Next to it is an ultra wide-angle camera with 5 megapixels as well as a macro and a depth camera with two megapixels each. The selfie camera has 8 megapixels. The Nokia 5.3 will be sold in May and will then cost 210 euros.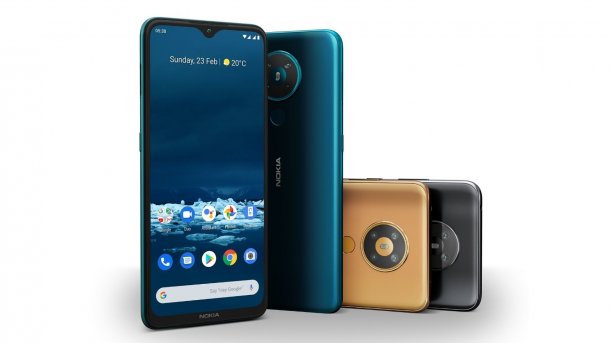 Android 10 Go for Nokia 1.3
The Nokia 1.3 is a beginner's phone with detoxified Android 10. (Image: HMD Global)
The new Nokia 1.3 is weaker than the Nokia 5.3 and can be bought for April for 110 euros. It runs with a Qualcomm 215 and a single GB of RAM. Nokia is therefore equipping the cell phone with the Go version of Android 10 , which should ensure operation even on low-performance cell phones. The camera equipment is also minimal: an 8-megapixel camera sits at the back and a 5-megapixel camera at the front.
The display of the Nokia 1.3 is 5.7 inches in size and has a resolution of 1520 × 720 pixels. With a height of 15 and a width of 7 centimeters, the entry-level mobile phone is kept quite compact for modern conditions. The Nokia 1.3 has a jack and an SD slot, with which the 64 or 128 GB of storage space can be expanded. Slightly backward: The Nokia 1.3 is still charged via micro USB.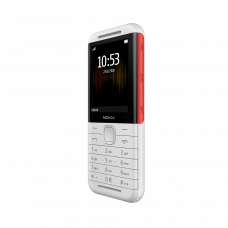 If you like it classic, the Nokia 5310 will appeal to you. It is a feature phone in the historical form factor including a physical keyboard. Nokia primarily advertises the device as an MP3 player and emphasizes the built-in buttons for playback control. But there is not much space for MP3 files: The 5310 has just 16 MB of storage space, a "significant" part of which, according to Nokia, is occupied by the system software. Cards with up to 32 GB of storage space can be used via the SD slot. How much the Nokia 5310 will cost and when it will be launched in Germany is not yet known. ( there )