Nokia's first 5G smartphone costs 650 euros. There is a decent amount of memory and a quad camera.Reading time:1 min.Save in pocketreadPrint viewread comments37posts
Actually, it should have been that far at MWC Barcelona: after the trade fair was canceled in February, HMD Global presented its first 5G smartphone online on Thursday evening. The Nokia 8.3 comes with a quad camera and a three-year warranty on monthly security updates, but without Qualcomm's current top SoC. It costs 650 euros and is expected to come onto the market in the second quarter.
Despite 5G, Nokia remains well below the 1000 euro mark with the current edition of the 8 series. This also has to do with the SoC used: In the Nokia 8.3 it is not Qualcomm's Snapdragon 865, but also the new Snapdragon 765G , which is the first Qualcomm chip to have an integrated 5G modem. In combination with 8 GB of main memory, the SoC can still handle all current applications.
The 128 GB flash memory can be expanded by means of a microSD card; a version of 6 or 64 GB, which has also been announced, will not be released in Germany. Pleasing: The dual SIM-capable device comes with a headphone jack. The battery holds 4500 mAh. The fingerprint sensor is integrated in the switch.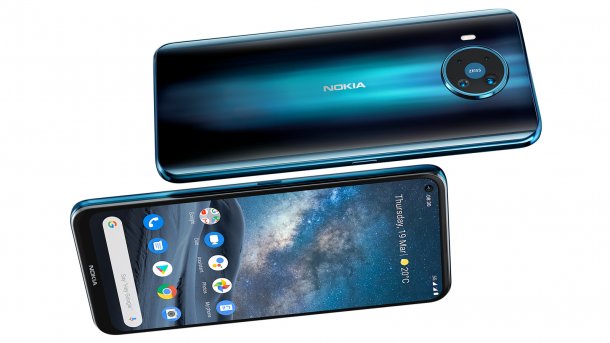 Large display & Android One
The 6.8-inch display in 20: 9 format has a resolution of 2400 × 1080 pixels. Thanks to a special Pixelworks processor, video content should always be displayed in HDR quality. Nokia calls this technology PureView, which suggests that, like previous PureView displays, it is an IPS panel – and not a higher-quality OLED. The data sheet does not provide any further information on the display.
The quad camera takes three different focal lengths. A 64 MP main camera (f / 1.89) is supported by an ultra wide angle (12MP, f / 2.2) and two further 2 MP sensors. One of these sensors is only suitable for macro shots. Nokia specifies a minimum distance of 3.6 centimeters from the object. The fourth camera only collects additional image information and cannot be controlled.
The Nokia 8.3 comes with unlocked Android 10 without bloatware. The device is future-proof thanks to Android One. Devices of this program will receive monthly security updates and two upgrades to new Android versions for three years from the date of publication. ( rbr ) Read comments ( 37 )Go to the homepage