If you don't want to pay Spotify Premium or use pirated APKs, you can download NetEasy . It is the completely free Chinese alternative.
NetEasy Music is a service similar to Spotify Premium ($ 6 / month) and Google Play Music All Access ($ 7 / month), but at NO COST. It allows you to listen to music without limits from a huge catalog of artists worldwide. It allows you to download MP3, play without restrictions of jumps or order and even synchronize music between devices. All these functionalities completely free.
NetEasy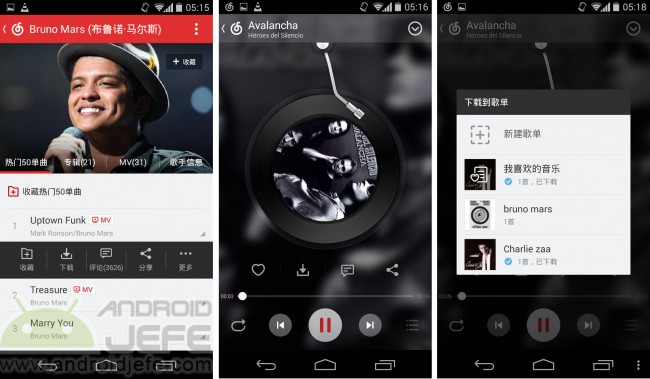 One of the most interesting features of NetEasy is that it allows you to download free songs in super high quality MP3 format at 320Kbps (it also offers a quality of 96Kbps and 160Kbps for devices with little storage) and listen to them using any player. You can even share MP3s with friends. Listen to 320Kbps is only possible in Spotify Premium (the premium version of Spotify), which does not allow download MP3 loose songs or play music in another application.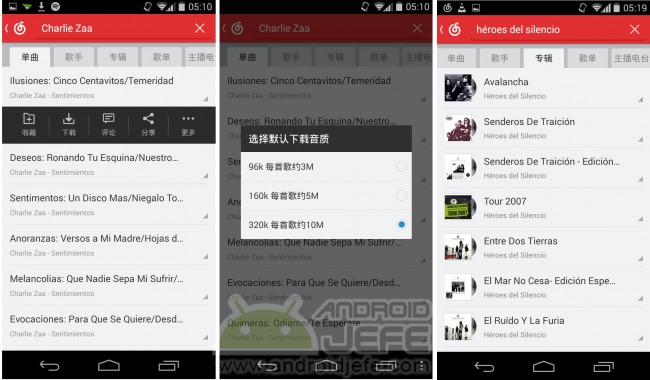 It also allows music to be synchronized between different devices, although for this it is necessary to create an account in the NetEasy system, dealing with the language.
The song catalog can be inconvenient due to its Chinese origin. Music from local (non-international) artists may not be available on this service.
Obviously, the great disadvantage of NetEasy that the application for Android -and the app for the other platforms- are in Chinese, so it is difficult to understand how it works. The icons can help a little when it comes to getting around: the magnifying glass at the top allows you to search for songs, the icon with a down arrow allows you to download the MP3 of a song, the + symbol allows you to add music to a playlist , etc.
The Net Easy Music Android app does not have the random restriction and jump limit that the Spotify app does for non-premium users. Locks that, incidentally, were previously circumvented with these Spotify Premium APKs.
Download Net Easy
Net Easy Music  has clients for Android (APK), iOS, Windows, Mac and Windows Phone, which can be downloaded from the page music.163.com/#/download/ . It even has a web version that can be accessed from music.163.com .
The APK or installable file for Android that can be downloaded on the page mentioned at the beginning is virus free, according to the online scanner VirusTotal. Its disadvantage is the large number of permissions that it requires in order to be installed, which can be a problem for the user's privacy. Consider this before installing this app.
NetEasy Cloud Music APK in Spanish
There is a Spanish translated version of NetEasy, posted on the HTC Mania forum, in case you can't use the Mandarin version. Just keep in mind that it's a job done in 2015, making it an outdated app, although it may still be functional.
Related articles :
Spotify Premium Free: The legal, illegal and its risks
Where are the Spotify songs downloaded?
How to set Spotify music as alarm
Receive updates: SUBSCRIBE by email and join 10,000+ readers. Follow this blog on Facebook and Twitter.