When someone browses those photos and videos on your mobile phone that are very private (or have such intentions), it's time to put a little security there.
If you only want to protect images and videos on your cell phone, the easiest, most practical and safest way is to use an application, and one of the best for Android is KeepSafe .
KeepSafe Free
It is one of the friendliest applications I have come across. It is well designed, in Spanish language, it is intuitive, easy to use and it is free. And don't get me wrong: Behind that simplicity there are several interesting features.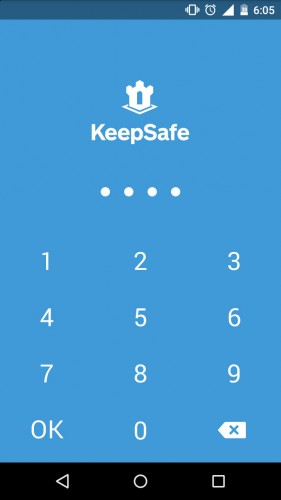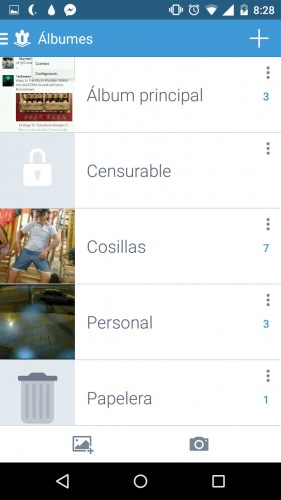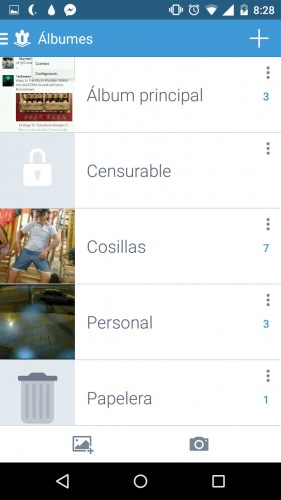 This application is like a trunk on your Android mobile, protected with a security key (PIN), which only you can access to see the photos and videos that you hid. There you can add images and videos that are in the memory of your device or that you take directly with the camera. You can organize your multimedia in albums and you can unhide anything when you want, that is, make it visible again on your phone (Be careful, if you are going to uninstall the application, unhide all the content beforehand so as not to lose it).
There are other things: in addition to the normal Android way to share a private photo, the application has a Secure Send , through which the recipient can only see for 20 seconds what was sent. If you need to save the most important thing, it offers you a private cloud to backup up to 50 images with the possibility of synchronizing them between devices. Also, when you turn your device upside down, the app will automatically crash.
KeepSafe Premium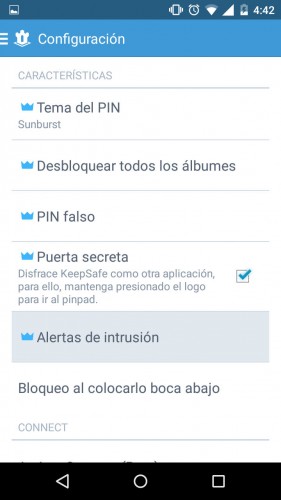 You can use KeepSafe for free as long as you want, without paying. You can optionally add the professional KeepSafe Premium features listed below (before deciding, you can try Premium for free for a month).
Secret Door : to disguise KeepSafe as a totally different application in the system.
False Pin : entering this pin will open an alternate version of KeepSafe.
Album Lock : You can individually lock albums within KeepSafe, with a different PIN than the app.
Largest Private Cloud : Allows you to privately save up to 5000 photos and videos on the Internet and sync this content with other devices.
Other premium features include intrusion alert, PIN timeout, trash recovery, album cover customization, premium support, and login screen themes. All functions are self-explanatory with their respective descriptions, but if you have problems with any, you can use  Help  to find out what each means or how to use it.
Keepsafe Download
The safest way to get Keepsafe is from Google Play. However, here you will only get the latest version. To get older versions of Keepsafe you should look for its APK. The safest website is APKmirror. However, here you will find versions as old as 2017. If you need an older version, UpToDown has them. Once you download the APK you are looking for, I recommend you as a precaution to analyze it with virustotal.com.
15 Free KeepSafe Premium Accounts
Once your month of free Premium trial ends, you will have to pay for this version, keep its free basic functionality described at the beginning or participate in one of the 15 Free KeepSafe Premium accounts that the creators of the application generously want to give to readers of Android Boss: 5 one-year accounts (each annual account normally costs $ 36) and 10 six-month accounts. Enter the following page to participate:  bit.ly/1HKfW2D
Participation is simple: leave a comment in this article arguing (convincingly!) Why you want to win a KeepSafe Premium account. We will choose the 15 best comments to give away the licenses, in order of importance. If you want to have more possibilities («votes» for your comment), you can tweet this article, follow the account / page of Android Boss and KeepSafe on Twitter and Facebook.
We will choose and publish the winners right here and in 5 days. Good luck to everyone!
Update (09/12/2015)  : Contest ended. Xavier is the winner of a one-year KeepSafe Premium license. Thanks for participating!
How to protect your photos from the Internet or cell phone
How to protect my profile PHOTO on WhatsApp?
How to LOCK apps on Android
Receive updates: SUBSCRIBE by email and join 10,000+ readers. Follow this blog on Facebook and Twitter.