An improved hinge is said to make Huawei Foldable Mate Xs more resistant. The smartphone comes without Google services.Reading time:2 min.Save in pocketreadPrint viewdigg8posts
The Foldable Mate X is barely on the market when Huawei announces the successor Mate Xs. The changes are not recognizable at first glance, but in contrast to the Mate X, the Xs should also be available in Germany – without Google services.Image 1 of 6
Huawei Mate Xs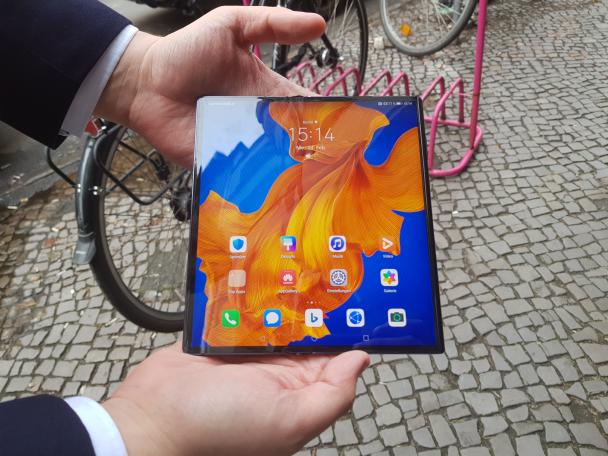 When opened, the Mate Xs doesn't have to shy away from the size comparison to tablets …Image: heise online / rbr
The Mate Xs is more of an update than a successor to the Mate X. Like Samsung for the Galaxy Fold, Huawei mainly improves the hinge. Huawei's "Falcon Wing" folding hinge is said to be more durable than its predecessor. In addition, the folding phone – like its predecessor – makes a solid impression, but it also cannot completely compensate for the weaknesses of the design: the display makes a slight ripple at the kink, and the Mate Xs is also a very nice hummer. As with the Samsung Galaxy Fold, the display film must not be removed.
Current SoC with 5G
Huawei has also updated the hardware inside. With the Kirin 990 with integrated 5G modem, Huawei's current top SoC does the work in the folding phone. In the Mate X, Kirin 980 and the in-house modem Balong 5000 provided 5G capability.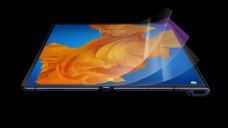 Little else has changed: As with the Mate X , the outside OLED measures 8 inches when unfolded and displays content with a resolution of 2480 × 2200 pixels. When folded, the screens show 6.6 inches and 6.38 inches. The concept of the external display has advantages and disadvantages. In contrast to the Samsung Galaxy Fold and Galaxy Z Flip and Motorola Razr with mini displays on the outside and main display on the inside, the Mate X is easy to use even when it is closed.
In addition, the device is very flat with 5.4 mm. On the other hand, the only display of the device is always unprotected on the outside – it is accordingly sensitive to falls. When closed, it is 11 mm thick due to a small air gap. In order to be able to install cameras and a USB-C socket despite the flat housing, the device is significantly thicker on one side and offers a kind of handle, which Huawei calls "grip pad". The stand-by button with integrated fingerprint sensor is also located there. The battery holds 4500 mAh and is filled to 85 percent with the 55-watt power supply in half an hour.
Triple camera, no Google services
The triple camera consists of a wide-angled main camera (40 MP), an 8-megapixel telephoto, which is enlarged three times optically and enables up to 30 times digital zoom. A 16-megapixel ultra-wide-angle camera and a depth sensor complete the setup.
The Mate Xs comes with the latest Android 10 and EMUI-10 user interface – but without Google services. Huawei has replaced the Google services with its own Huawei Mobile Services (HMS). However, the selection in the in-house AppGallery is currently very limited, with the Mate 30 Pro, which is also sold without Google services, a number of applications installed via APK did not run in the test.
The Huawei Mate Xs should be available with a memory capacity of 8 GB RAM and 512 GB for data from mid-March. The manufacturer calls for a proud 2499 euros.