The downloads made from the Google Chrome browser on Android are right there. The user only has to press the Chrome menu button, "Downloads" option to see them.
Previously, viewing Chrome downloads was relatively complicated. You had to go to the Download  or Downloads folder  of the Android system, which is normally in the internal memory and contains the downloads of all the apps (not just those of Google Chrome).
Chrome now has a shortcut that allows you to view all web pages and open downloaded files  exclusively with this browser.
Chrome download folder on Android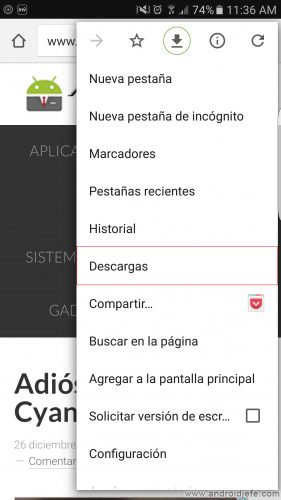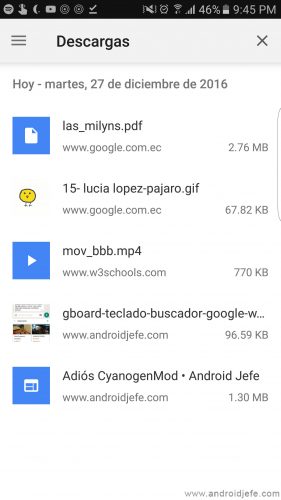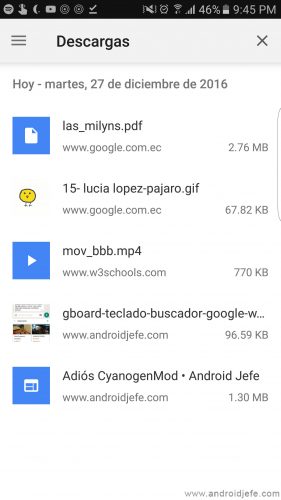 Not only that. You can also manage downloads from there and delete or share. For example, if you download an animated GIF, it will be very easy to share it on WhatsApp.
Organized and useful download history
Downloads can be organized by type: web pages, images, audio, videos, documents, and more. All these files and web pages (which are downloaded with all their images) can be viewed without the Internet at any time.
In this Chrome download history, the user can see the total space that those downloads are occupying in the storage, as well as the free storage that remains in the device. In case the phone is low on memory, you can choose to delete the downloads.
Files and web pages downloaded in one place
Previously, Chrome already allowed you to download images, videos and even save web pages on Android. The advantage now is that all those downloads have been unified in one place, which is accessible from the same browser. Downloads can be viewed and shared from Chrome itself. To download web pages, the procedure is now much simpler than before.
This way of viewing downloads has been tested in version 55 of Chrome for Android. This version is already available in the Play Store. Other novelties that this version brings is its operation with HTML 5 by default. Memory consumption has also been optimized by up to 35%, the effect of which will be much more noticeable on devices with 1GB of RAM or less.
How to download with Chrome
Chrome has a dedicated button for downloading web pages from the main menu (the down arrow button). The images or videos can be downloaded by long pressing on them. Not all videos may be downloadable, however. YouTube videos, for example, cannot be downloaded.
Download Google Chrome : play.google.com
file: /// sdcard /, or how to view and open your files in the browser
How to download or get the Beta version of any application
Why can I NOT download install applications IF I have space?
Receive updates: SUBSCRIBE by email and join 10,000+ readers. Follow this blog on Facebook and Twitter.