Currently, the "New Tab" page of Google Chrome shows what the user usually visits in the browser. This page also reveals the interests that user has, just by giving it a glance.
Sounds inhibitory. But not only that. That additional content that appears in the New Chrome Tab can cause the browser to delay loading it.
There is a way to remove all that information that appears in that New Tab and that does not appear again. This involves entering a type of Chrome "advanced settings" and disabling some parameters that generate this behavior.
Remove icons from most visited pages in the New Tab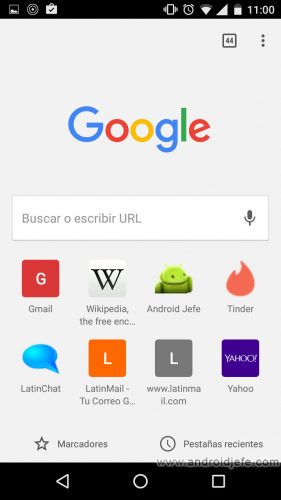 To permanently disable the icons of the pages visited and / or frequent in the New Tab, the following two parameters must be disabled in the Google Chrome browser on Android:
Deactivate "Show popular sites on the New tab page":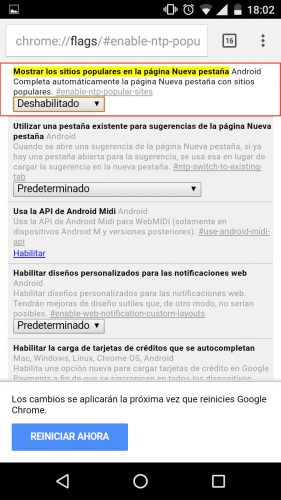 Open the following page: chrome://flags/#enable-ntp-popular-sites
Touch the small rectangle below to change the configuration: instead of "Default", the "Disabled" option must be selected.
Restart the browser with the "Restart" button that will appear automatically after making the previous change.
Deactivate "Show Physical Web pages on the New Tab page":
You have to do the same as in the previous case. In this case, the following page must be opened:
chrome://flags/#enable-ntp-physical-web-page-suggestions
Likewise, the value of "Default" is changed to "Disabled" and the browser is restarted.
The above two changes prevent those shortcuts to the most visited pages from automatically appearing in the New Chrome Tab. The icons that have already been added there previously will have to be removed manually. This is done by holding down each icon, and selecting the "Delete" option. No icon should reappear in the New Tab after using the browser.
Remove content suggestions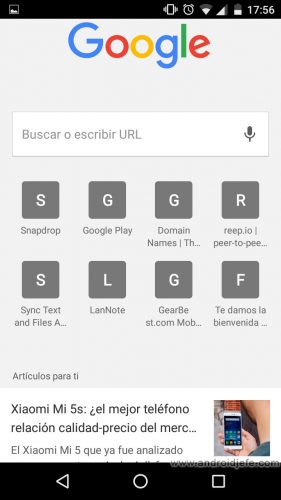 Suggestions for articles ("Articles for you") or pages below can also be removed and will not appear again. These are also based on the websites visited by the user or suggested by Google based on their interests.
Deactivate "Show content snippets on the New Tab page"
The process is similar to what was done before. In this case you have to open the page You chrome://flags/#enable-ntp-snippets
have to change the value of "Default" to "Disabled" and restart Google Chrome.
Privacy in Chrome
What is visited or searched through Google Chrome can not only be recorded in the New Tab. It can also be saved in the history or in the browser's search suggestions. All this can be manually deleted by the user. The other option is to use Chrome's "Incognito Mode". Nothing, absolutely nothing is saved in this browser while using this mode.
How to delete everything SEEN today in Google
How to delete installed apps history from Google Play
How to unlink from Facebook the web pages you visited or APPS you used
Receive updates: SUBSCRIBE by email and join 10,000+ readers. Follow this blog on Facebook and Twitter.