If you have purchased the Tinder Plus service, which serves to improve your chances of finding a partner in the Tinder application, you should know that once purchased, each month $ 5 will be automatically deducted from your credit card for this concept. You cannot unsubscribe from Tinder Plus on Android from the Tinder app itself. What you should do is cancel the subscription in the Play Store. In other words, just as any other subscription purchased through this store is canceled.
Tinder Plus subscription is canceled from the Play Store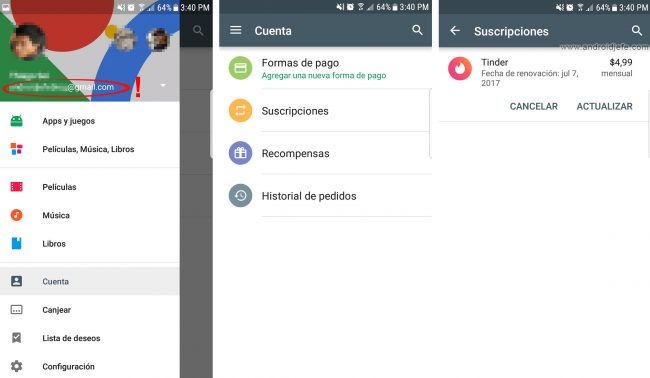 The standard method of unsubscribing from Tinder Plus is to open the Play Store application . Then, drop down the left side menu. In that menu, it is important that the gmail account you used to buy the Tinder Plus subscription is selected . Then, there in that same menu select « Account «. Then choose " Subscriptions ". You will see your Tinder Plus subscription there, as well as other possible subscriptions you have purchased. Tap the " Cancel " button . Finally, in the next window confirm that you want to cancel the subscription and you're done. A temporary floating notice will appear indicating «Subscrib. Cancel ».
If you do not see the Cancel button on the subscriptions screen and only the "View" button, it means that the subscription has already been canceled. If you see a message that says "You have no subscriptions for this account", surely in the Play Store the Gmail account with which you made the purchase is not selected, as indicated above.
Tinder Plus unsubscribe shortcut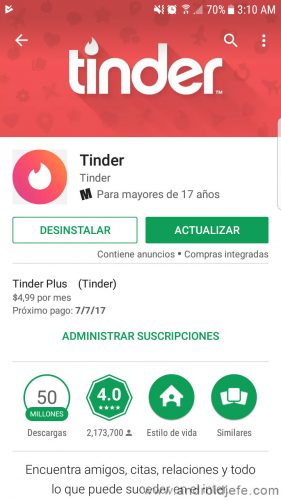 Another method you can use to unsubscribe from Tinder Plus on Android is to open the Play Store app anyway. You should look for the Tinder app. On the application screen you will see a direct access to the Subscriptions screen of the Play Store. From there you can cancel the subscription to Tinder Plus. It is practically the same as the previous method. But in this case, the subscription screen is reached through a shortcut . Similarly, in this case you must ensure that the account you used to buy Tinder Plus is selected in the Play Store application.
Tinder Plus Is it worth it?
Badoo really works?
3 basics of buying games and APPS on the Play Store
Receive updates: SUBSCRIBE by email and join 10,000+ readers. Follow this blog on Facebook and Twitter.