Google Now is a powerful service included in the «Google» application, which comes pre-installed on most Android devices. You can offer information based exclusively on the interests of the user. It advises things like the climate of the place where you live or where you work, latest news related to what interests you, sports, etc. This information can be read in the form of cards in the «Google» app, although the service automatically generates notifications about it (they are notifications that have a blue icon with a white «G» inside)
But Google Now can also continue to generate notifications on a topic that the user once was interested in, but is no longer currently. If that's the case, you can disable those notifications, keeping the rest.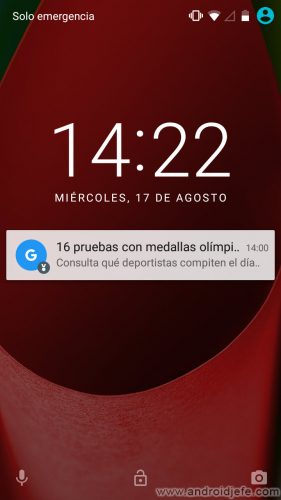 Stop receiving Google Now notifications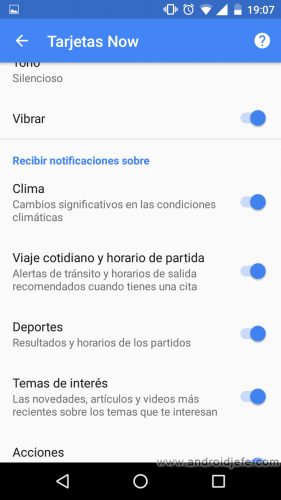 Open the «Google» application.
Bring up the left side menu. To do this, tap on the hamburger icon in the upper left.
Tap on "Settings".
Select «Cards Now».
In the section that says "Receive notifications about", disable the types of notifications you do not want to receive. The available options are «Weather», «Daily travel and departure time». Also «Sports», «Topics of interest», «Actions», «Places», «Elections», «Movies» and «Updates on price decreases […]».
This way you can disable only notifications of topics that are not of interest. For example, if you do not invest in the stock market, it would be logical to deactivate the notifications of "Shares" and keep the rest. These notifications can also be made more discreet. In this case, its tone or vibration must be deactivated. This would only affect notifications that the system deems important, however.
If any of these notifications are not desired at all, they can be completely disabled on the same screen. This would not be recommended in most cases. Notifications of weather, sports, favorite news, or some other of the mentioned topics are generally always of interest, useful and even necessary to know. It would also not be advisable to deactivate the cards, because this would completely deactivate the notifications and the information would disappear on the main screen of the Google app or on the left screen of the Google Now launcher (in case this launcher is being used).
What is Google Now, how to open and use it
OK Google: What is it and how to activate it on my cell phone
AutoVoice: Create advanced voice commands on Android (via Google Now and Tasker)
Receive updates: SUBSCRIBE by email and join 10,000+ readers. Follow this blog on Facebook and Twitter.