The Google Maps app for Android allows you to enter multiple addresses at once before navigating. This greatly facilitates a trip to multiple places or destinations.
Previously, only one place could be entered at a time in the Google Maps mobile app. Only when you got to that place you could enter another. A stop could be added within the route, such as a gas station, restaurant, store, cafe, but not a specific place.
Multiple addresses on the Map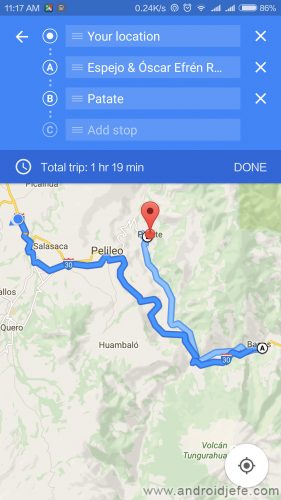 The multi-destination function in the Google Maps app allows you to enter up to nine places at once, before you start driving.
Apparently this multi-address function is only available if "Auto" is set as the transport method. You will not be able to use it if you use «public transport» or «walk».
Put multiple addresses on Google Maps Android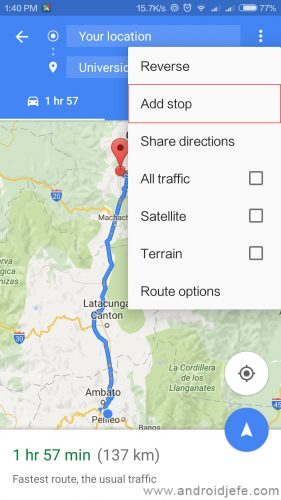 Open the Google Maps application for Android.
In the top search box, enter the first place you are going to.
Tap on the three dots, top right (If you don't see these dots, tap on the "Instructions" button which should appear at the bottom, or on the blue circular button with a white arrow).
Select "Add stop".
A new text box will appear for you to enter the second address or location.
Repeat step three, four, and five to add another address or stop, if required.
OPTIONAL: configure the order of stops. The first stop will be A. The second B, etc. Simply drag up or down, depending on how you plan the trip, or seeing the map (whichever is closest). You can also remove them, with the "X" to the right of each.
When you've added all the places, tap on the up left arrow (back).
Finally, press the "Start" button below to start receiving voice instructions.
In case you want to delete addresses after step nine, tap on the "Back" button on your cell phone to quit browsing. The three dots will appear again at the top right, from where you will see the option to "Edit stops".
Be sure to update Google Maps to the latest version so that it works as explained here.
More information : support.google.com
How to see the location history of your cell phone on Google Maps
How to see the PLACES where you have been or visited
How to add public or PRIVATE places in Google Maps
Receive updates: SUBSCRIBE by email and join 10,000+ readers. Follow this blog on Facebook and Twitter.