In addition to being able to translate with the camera, Google Translate is very useful as a real-time interpreter between two people who speak two different languages, or to learn how to pronounce in English and other languages. However, you may find that the app speaks very quickly in these situations. Fortunately you can change its pronunciation speed from Android settings.
The route to follow should be similar to the following: System settings> Language and Input> Text to Speech. You'll find a "Speed ​​Index" slider that you need to slide to the left so that all the narration apps on your Android, including Google Translate, speak slower. On the same screen you may have the option "Listen to an example" to hear the change.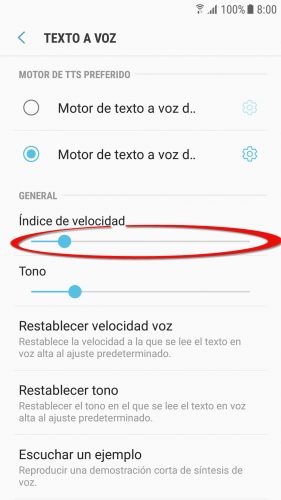 To reverse this change you will surely also have the option "Reset voice speed". Possibly you can also change the tone to make the voice higher or lower.
This feature is known as speech synthesis, text-to-speech output, or TTS (Text To Speech). Many applications, such as the Google assistant (voice search), Play Books, Google Translator and even third-party apps that allow you to read texts or PDFs (where perhaps you want the phone to speak faster) make use of this Android function to play or speak a text.
Some devices have Google's text-to-speech system at the factory, in addition to their own (that is the case of Samsung mobiles). Google's is more complete. If you go into its settings (by tapping on the cogwheel to its right), you can adjust the sound so that you hear clearly above other sounds, and change the intonation or "expressiveness" so that the pronunciation sounds more human or more robotics.
If you are on the website of the Google translator, on a PC, it will not do you any good to change the voice settings in Windows or the system, because apparently this section does not affect the browser. However, it may not be necessary. The second time you click the "speaker" button to hear the pronunciation, Google Translate automatically speaks in a slower voice.
APP to read PDF or text aloud on Android
How to apply fun effects to your voice (alien, robot, etc.)
Activate voice dictation on WhatsApp
Receive updates: SUBSCRIBE by email and join 10,000+ readers. Follow this blog on Facebook and Twitter.